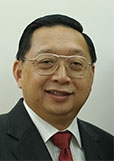 2006 University Fellow
Dr Patrick Lam See Pong
Dr Patrick Lam is one of the few local business leaders who have been able to make a name in the highly competitive global semiconductor industry. As co-founder and former Chief Executive Officer of ASM Pacific Technology Ltd., he has steered the company to achieve strong and sustained growth for more than three decades since its establishment in 1975. ASM has its research and development work deeply rooted in Asia. Under his able leadership, ASM has become the world's largest semiconductor assembly equipment supplier. Last year the company achieved a record turnover of more than HK$4.5 billion. Dr Lam was named as one of Asia's Top 10 Electronics Company Executives by the Electronic Business Asia Magazine in 1994.
Dr Lam is also an ardent supporter of higher education, particularly in the area of research and development. Over the years, he has collaborated with PolyU in applied research and has generously offered the University his support and wise counsel.
A dedicated Christian, Dr Lam retired at the end of last year and is now devoting most of his time to voluntary work and sharing his valuable experience with the younger generation. He is an exemplary model for aspiring industrialists and entrepreneurs.