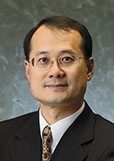 2006 University Fellow
Dr Jonathan Choi Koon Shum
JP
Dr Jonathan Choi and his father Mr Choi Kai Yau are well-known for their benevolent support for education. As President of the Sun Wah Group, Dr Choi is at the helm of a multinational conglomerate with diversified businesses in food, real estate, financial services, infrastructure, technology and the media.
Believing that education and technology strengthen nations, Dr Choi has not only donated huge sums, but also actively participated in advancing these causes. Dr Choi is the founder of the Chinese Academy of Sciences Honorary Academician Foundation, the Guangdong Sun Wah Education Institute, the Sun Wah International Business School of Liaoning University as well as various science and educational institutions, cultural facilities and foundations in China, Hong Kong and Macau. As a Council Member of PolyU from 2001 to early 2007, Dr Choi made an invaluable contribution to the development of the University. Under his leadership, the Sun Wah Hi-tech Group supported the establishment of a Linux training centre at PolyU in 2001. He made a major gift of $15 million in the name of Sun Wah Education Foundation to PolyU in 2003. More recently, Dr Choi has generously contributed towards the establishment of education centres at Michigan State University in the United States and Beijing Normal University, which develop educational models that integrate strengths of both Eastern and Western practices.
In addition, Dr Choi serves the community in many other roles, including Member of the 10th National Committee of the Chinese People's Political Consultative Conference, Member of the Committee on Economic Development and Economic Cooperation with the Mainland under the Commission on Strategic Development of the Hong Kong Special Administrative Region, Chairman of the China Trade Advisory Committee of the Hong Kong Trade Development Council, and Court Member of The Hong Kong University of Science and Technology.