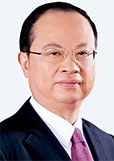 2009 University Fellow
Dr Wang Jianzhou
An experienced professional in the telecommunications industry and the field of engineering, Dr Wang Jianzhou is currently the Executive Director, Chairman and Chief Executive Officer of China Mobile Limited. He is also President of China Mobile Communications Corporation.
Prior to joining the telecom enterprise in the late 1990s, Dr Wang held a number of public offices, including that of Director General of the Posts and Telecommunications Bureau of Hangzhou and Deputy Director General of the Posts and Telecommunications Administration of Zhejiang. He later moved to the Ministry of Posts and Telecommunications to become the Director General of the Department of Planning and Construction. He also served concurrently as Director General of the Department of General Planning of the Ministry of Information Industry.
In 1999, Dr Wang left the government to become Executive Vice President of China United Telecommunications Corporation. Later, he was appointed Director and President of the Corporation. In 2004, Dr Wang took up his current roles at China Mobile Limited where he has been instrumental in steering the Group to become the leading mobile service provider in the Chinese mainland. With the world's largest mobile network and mobile subscriber base, the Group has won popular recognition and acclaim both at home and abroad.
Dr Wang graduated from Zhejiang University with a Master's Degree in Engineering in 1985, and holds a Doctoral Degree in Business Administration from PolyU. A professor-level senior engineer with extensive knowledge and over 30 years of experience in the telecommunications industry, Dr Wang is widely hailed as visionary and has been recognized globally for his accomplishments. In 2007, he was named by BusinessWeek as one of the world's "Best Leaders of 2006." Despite his busy schedule, he remains in close contact with PolyU through sharing his professional know-how and management philosophy with our staff and students.
Mr Chairman, University Council Members, President Tong and Honoured Guests,
It is indeed a great privilege to receive this Fellowship from my alma mater, The Hong Kong Polytechnic University. I would say this is not just an honour for me, but recognition of the effort of the whole team at China Mobile. While I was studying on the Doctor of Business Administration programme at PolyU, I was privileged to have guidance from many professors, instructors and classmates. Taking this opportunity today, I would also like to pay special tribute to the University management as well as all my mentors and friends.
As you may know, China Mobile was listed on The Stock Exchange of Hong Kong Limited and the New York Stock Exchange in 1997. Over the past twelve years, China Mobile has become a world renowned telecommunications enterprise leading the field in the size of network, the number of subscribers, as well as market and brand value. While these achievements are mainly due to the hard work and devotion of the staff members of China Mobile, thanks must also go to the half billion subscribers and to our shareholders including those from Hong Kong.
As China Mobile goes from strength to strength, the quality of our management team has to be enhanced as well. PolyU has played a key role here. As one of the leading higher education institutes in Hong Kong, PolyU has provided the middle and senior executives from various enterprises, including those of China Mobile, with an opportunity to enrich themselves by studying on business administration programmes. With a focus on theoretical study but supported by real world business cases, the programmes have helped nurture development and innovation for various enterprises.
I learnt from the newspapers the other day that a number of local universities have been listed among the top 200 universities in the world, with PolyU being one of them. I feel very proud of you for all your accomplishments and wish the University a more brilliant future. I am confident that PolyU will go further in the provision of quality education and in promoting research. It will be a world-class university, nurturing many more talents for our society, our country and the world.
Thank you very much.