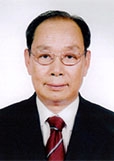 2009 University Fellow
Dr Yip Kit Chuen
Dr Yip Kit Chuen, founder of the GEW Corporation Limited and Chairman of GEW Holdings Limited and Shanghai GMP Electrical Appliances Company Limited, is a prominent industrialist and entrepreneur. With great market insight and through his sincerity, Dr Yip has built up a prosperous business and become a pioneer in the area of electrical household appliances.
Apart from his business interests, Dr Yip genuinely cares about nurturing the next generation for the greater benefit of Hong Kong society and the motherland. Establishing schools and scholarships, he is an enthusiastic supporter of education, particularly in his home town of Ningbo. PolyU has also benefited from Dr Yip's generosity. He was the Supreme Sponsor of the University's Guinness record-breaking event "Flags of Harmony and Unity" held in 2007 in celebration of the 70th Anniversary of PolyU and the 10th Anniversary of the establishment of the Hong Kong Special Administrative Region (HKSAR). His company, GMP Electrical Appliances, was also the Title Sponsor of the University's golf tournament held in 2007. In 2008, a building on the PolyU campus was named after Dr Yip in appreciation of his generous donation of more than $30 million to the University's long-term development.
Over the years, Dr Yip has assumed many public roles, including that of Member of the National People's Congress Hong Kong Election Committee, HKSAR Chief Executive Election Committee, Chairman of the Mainland Affairs Committee of the Federation of Hong Kong Industries, Honorary President of the Hong Kong Electrical Appliances Manufacturers Association and Director of the Chinese Manufacturers' Association of Hong Kong.
For his notable achievements, Dr Yip was honoured with the World Outstanding Chinese Award, an Honorary Doctorate of Management from Armstrong University in the United States, the Medal of Model Compatriot of Zhejiang Province, and honorary citizenship of Ningbo and Dongguan.
Mr Chairman, University Council Members, President Tong and Honoured Guests,
I am deeply honoured to be awarded this University Fellowship by The Hong Kong Polytechnic University today. May I also offer my gratitude to PolyU for the generous citation.
By a strange quirk of fate, a hairy crab feast hosted by a dear friend of mine brought me and PolyU together. During the feast, Professor Poon, President Emeritus of PolyU, and I were sitting next to each other and we got into an enjoyable conversation. Professor Poon kindly shared with me the philosophy and outstanding achievements of the University. He went on to stress that PolyU would strive to become a leading application-oriented university, through applying research results to enhance the competitiveness of business and industry, as well as through nurturing quality professionals for society. His words really impressed me.
I was pleased to learn that that year was the University's 70th Anniversary. In celebration of its anniversary and in commemoration of the 10th Anniversary of HKSAR's reunification with the motherland, PolyU had planned to organize an event entitled "Flags of Harmony and Unity" in an attempt to form the world's largest national and SAR flags. As I also turned 70 in the same year, I thought it would be a truly unforgettable experience and I readily accepted to be the sponsor of the event. This historic event not only ended in spectacular success, but also set a Guinness World Record.
Over ten years ago, I was given a chance to return to my hometown, Ningbo, and my childhood memories came flooding back. Seeing the enormous changes that have taken place in recent years, I cannot help but think the key to the sustainable development of Ningbo is talent. It has always been my wish to give back to the place where I went through the most important changes in my life. Therefore, I set up scholarships and schools in my homeland so that high achievers can continue their studies despite poverty.
I hope that what I have done for the University, society and the country may touch the heart of the next generations, as well as those students to whom I have lent a helping hand. I hope that when they enjoy success in their studies and career, they would bear in mind the support they have had from their society and their mother country, and that they would give their best for a better tomorrow.
Thank you very much.