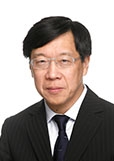 2009 University Fellow
Mr Joseph K.C. Lo
Mr Joseph K.C. Lo, who graduated from the Hong Kong Polytechnic in 1976 with a Higher Diploma in Accountancy, has a long and distinguished career in accounting. He joined Deloitte Touche Tohmatsu in 1980 and was made a partner in 1988. He was a leader of Deloitte China's Reorganization and Forensic practices and a co-leader of the Financial Advisory Services practice before being elected Chairman of Deloitte China in 2008.
Mr Lo's record of service to his profession is extensive and impressive. He was a former President of the Association of Chartered Certified Accountants Hong Kong. Mr Lo has been serving on the Investigation Panel of the Hong Kong Institute of Certified Public Accountants since 1996. He was also appointed by the Stock Exchange of Hong Kong as a member of the working group of the Growth Enterprise Market in 1999.
Outside the accounting profession, Mr Lo is actively involved in mainland affairs, serving presently as a member of the Hebei Provincial Committee of the Chinese People's Political Consultative Conference, as well as Advisor to the China Accounting Standards Committee of the Ministry of Finance.
Mr Lo has also made significant contributions to the development of his alma mater. He was a PolyU Council Member from 2001 to 2008, during which time he served the Council as Treasurer, Chairman of the Finance Committee, and Member of Executive Committee, Fundraising Committee and Honorary Degrees Committee. He has also been a member of the University Court and has contributed to the development of accountancy education as Adjunct Professor of PolyU's School of Accounting and Finance. He received the Outstanding PolyU Alumni Award in 2007.
Mr Chairman, University Council Members, President Tong, Honoured Guests,
It is a great honour to receive this Fellowship from The Hong Kong Polytechnic University, and to find myself among such a distinguished group of awardees.
Although it has already been over three decades since I graduated from the Hong Kong Polytechnic, it seems just like yesterday. I am indeed very grateful to my alma mater for the education it gave me and the conferment of this precious title.
My learning at this great institution did not stop after my graduation. I was given the opportunity to serve the University Court, the Council and its various committees for seven years until last year. I am indebted to the University, Court and Council members as well as the University Management for providing me with such valuable experience and inspiration.
It is a great joy and it has been a real benefit to me to personally witness the progress PolyU has made over the years. I am also proud of the small part I have played in supporting and participating in the continued growth and development of my alma mater. I have every confidence that PolyU will rise to the challenges ahead. I look forward to further opportunities to serve and support this great institution and to see its further advancement and continued contribution to the betterment of Hong Kong, our motherland and the world as a whole.
Thank you.