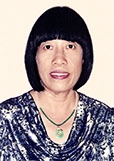 2009 University Fellow
Dr Rebecca Lee Lok Sze
Dr Rebecca Lee Lok Sze was the world's first woman explorer to leave her footprint at the Arctic, Antarctica and Mount Everest regions. She has made immense contributions to polar exploration over the past two decades. She founded the Polar Museum Foundation in 1997 and has served as a director of the Foundation since then. Her objective in doing so is to consolidate polar research findings from all over the world to advance global environmental protection.
Dr Lee graduated from the Hong Kong Technical College, a predecessor of PolyU, with a Certificate in Commercial Design in 1964. She then began her commercial design and advertising business soon after graduation. First setting foot on Antarctica in 1985 marked a turning point in her life from that of a successful business figure to a polar scientist, and since then she has devoted herself to venturing into the extreme worlds at the poles and Mount Everest.
Making the most of her talent in photography and art, in addition to making television documentaries, she has published numerous books and articles on her expeditions as well as photographic essays to share her insights and adventures with the wider world. Apart from actively engaging in the environmental movement, Dr Lee has also served as an Adviser (Science) for the Leisure and Cultural Services Department of the Hong Kong Special Administrative Region Government and the Polar Research Committee of the Chinese Academy of Sciences, and as Council member of the Hong Kong Association for the Advancement of Science and Technology. Dr Lee received an honorary Doctor of Humanities degree from Lingnan University in 2000 and the Outstanding PolyU Alumni Award in 2003 in recognition of her lifelong devotion to polar research and environmental education.
Mr Chairman, University Council Members, President Tong and Honoured Guests,
I would like to wholeheartedly thank my alma mater for conferring this prestigious Fellowship upon me today.
Since graduation from the Hong Kong Technical College, I have been in close contact with, and have developed deep affection for, my alma mater. As an environmentalist, I have conducted many public lectures on environment-related topics and hosted a number of sharing sessions on polar exploration for the PolyU community. I am delighted that my achievements have this endorsement from my alma mater. So, today at this important ceremony, I receive this honour with a great sense of joy and excitement.
I would like to express my heartfelt gratitude to my alma mater for not only equipping me with professional knowledge and skills in design, but also nurturing those skills that have enabled me to think creatively and critically and to grow in wisdom. These life-skills have in turn enabled me to review my personal and social development, and consequently to make the decision to devote my life to polar research and environmental education. Design and environmental work, which seem to be entirely different paths for development, are in fact heading for the same destination – to build a better world for us to live in. Much to my disappointment, while people are heavily engaged in innovation and exploration with a view to raising our living standards, we have forgotten our primary obligation of conservation. Our ecological environment has therefore been badly damaged.
University education is a driving force for the development of society. It also plays a pivotal role in cultivating a sense of social responsibility among young people. It is most pleasing to see that my alma mater shares the same vision as me concerning the nurturing of our next generation. As President Tong has stressed, urbanization and massive urban renewal must be carried out, but community building instead of community destruction should be the guiding principle of urban development. With this vision of sustainable urban development underpinning education, there is still hope that our environmental efforts will pay off one day.
Thank you.