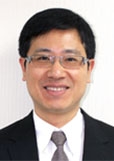 2010 University Fellow
Mr Yau Wah Yau
Mr Yau Wah Yau graduated from the Hong Kong Polytechnic with a Higher Certificate in Electronic Engineering in 1983. In 1991, he founded the Realink Group which specialized in providing a numeric pager consulting service. Under Mr Yau's innovative leadership, the Group has expanded its business over the years to include information technology, as well as financial information and brokerage services. It is lauded as one of the most successful enterprises in the field. In recognition of his accomplishments in advancing telecommunications, Mr Yau was presented the coveted Young Industrialist Award of Hong Kong in 1998 by the Federation of Hong Kong Industries.
While heavily engaged in his business, Mr Yau also shows great care for the community. He believes in giving back to society and set up the Yau Wah Yau Charitable Foundation Limited in 1999 to support various charitable causes. In 2005, the Foundation was honoured with a Silver Award by ORBIS for its outstanding contribution to the fight against worldwide blindness. The Realink Group was also named among the companies which had made the most generous donations to The Community Chest of Hong Kong in 2007.
In recent years, Mr Yau has been playing an active role in PolyU's fundraising activities which cater for the University's long-term development. Apart from donating to the University, he has also accepted the invitation to serve as Chairman of the University's Fund-raising Committee in 2010.
Chairman Yang, University Council Members, President Tong and Honoured Guests,
First of all, I would like to thank The Hong Kong Polytechnic University for conferring this prestigious Fellowship upon me. It has been more than two decades since I graduated from the Hong Kong Polytechnic and I am most grateful to my alma mater for the education it gave me.
Education is the important foundation that underpins any successful society. That is why I have taken an active part in PolyU activities in recent years to support its development. I see this as a way to give back to society.
I also want to express my gratitude to President Tong for giving me the opportunity to serve as Chairman of PolyU's Fund-raising Committee, as well as the chance to further the University's development and contribute to the education of the young generation.
Thank you.