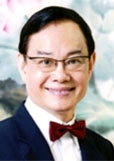 2010 University Fellow
Mr Louis Mak Law Mo
Mr Louis Mak, President of the Lingdong Painting Society, is a passionate amateur painter, while at the same time a philanthropic businessman.
Mr Mak's involvement in community services and philanthropic activities dates back to as early as the late 1970s. He became the Second Vice President of the Lions Club of the New Territories, Hong Kong, when the Club was founded in 1977, and then became its President in 1979 and Zone VI Chairperson in 1980. He is now a director of the Club. Over the past three decades, Mr Mak has taken part in a wide range of charity works, from building schools and funding cataract surgery for disadvantaged elderly people in the Chinese mainland, to promoting anti-drug education among Hong Kong's young people. He is particularly keen on addressing the needs of the elderly in our community. With support from friends and sponsors, he has been organizing dinners since 2000 to pay respect to some 1,000 senior citizens every year.
While he loves to paint, Mr Mak could not spend much time on it when he was young. Upon semi-retirement in 2000, he started learning Chinese painting again and is determined to channel his artistic talent into altruistic causes. In 2009, Mr Mak and his wife established the Louis Mak Charitable Foundation, which co-ordinates the donation of all proceeds from the sale of his paintings to charity. Organizations which have benefitted from Mr Mak's altruism include PolyU, Hong Kong Baptist University, Lions Club, Tzu Chi Foundation and Stand TALL Company Limited.
Chairman Yang, University Council Members, President Tong and Honoured Guests,
I am most delighted to be here today to receive this prestigious Fellowship. This is truly an incredible thing to have happened to me. It is not only an honour that The Hong Kong Polytechnic University confers upon me but also an endorsement of two of my long-held convictions.
First, it is on homage to the elderly. About thirty years ago, I began to distribute red pockets to the elderly in our community. Since 2001, I have been organizing dinners for some 1,000 senior citizens every year. Enthusiastic support from our preparatory committee and volunteers has helped make the dinners a popular and celebrated event with wonderful programmes, gifts and red pockets for everyone.
The second relates to our contribution to society. Some billionaires in the United States have pledged to donate the majority of their wealth to charitable causes. I am not a wealthy man but I make the best use of my capabilities and began to learn Chinese ink painting after my semi-retirement. It is with some luck that I have been able to sell a number of my works via the auction house Christie's and have donated the proceeds to charity. Last year, I funded cataract surgery for 300 elderly people in the Chinese mainland, and provided funding for the Lions Club Anti-drug Team to promote anti-drug education among youngsters in Hong Kong.
The honour I receive today will no doubt give added impetus to my convictions and my efforts in making further contribution to philanthropic causes in the days ahead. I would also like to take this opportunity to thank my family and friends for their support. Thank you very much!