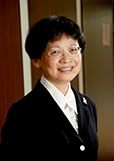 2013 University Fellow
Dr Loretta Yam Yin Chun
BBS
Dr Loretta Yam is former Cluster Chief Executive of the Hospital Authority's Hong Kong East Cluster and Hospital Chief Executive of Pamela Youde Nethersole Eastern Hospital (PYNEH). Though Dr Yam retired in 2011, her dedication to medical services has not slackened. She has resumed clinical practice as Consultant Physician at PYNEH, and is also Honorary Advisor to the Hospital Authority, Adjunct Professor in the Jockey Club School of Public Health and Primary Care of The Chinese University of Hong Kong, and Honorary Professor of Health Services Management at Tung Wah College.
Throughout her career, Dr Yam has made valuable contributions both as clinician and manager. As a specialist in Internal Medicine, Respiratory Medicine and Critical Care Medicine, she has published 52 peer-reviewed articles in international journals, 9 book chapters and 96 abstracts in the areas of clinical medicine, patient safety and health services management.
Dr Yam served on the Council of the Hong Kong College of Physicians from 1991 to 2013, and was Honorary Secretary and subsequently Vice-President to chair the Education & Accreditation Committee. She was Founding Member and then Vice President and Chairman respectively of the Hong Kong Thoracic Society and the Hong Kong Lung Foundation.
Dr Yam is best known by the public for her leadership of the PYNEH medical team during the Severe Acute Respiratory Syndrome (SARS) outbreak in 2003. In addition, she has served as a Board Member of the Hospital Authority, and continues to be hospital surveyor of the Australian Council on Healthcare Standards, and the only Hong Kong surveyor of the International Society for Quality in Healthcare (ISQua) for international accreditation. She participated in the Health and Medical Development Advisory Committee of the Food and Health Bureau and the Elderly Commission of the Labour and Welfare Bureau. Dr Yam's contributions to public health and community services have been recognised by the Hospital Authority by her being honoured with Outstanding Staff Award and Outstanding Team Award in 2004 and 2005 respectively, and most notably, the Bronze Bauhinia Star in 2004.
PolyU is fortunate to have benefitted from Dr Yam's wisdom and guidance. From 2007 to 2012, she was a member of the PolyU Council and served on its Finance Committee. She was also a member of the Taskforce for Review of the University's Vision and Mission in 2011, which contributed greatly to the formulation of PolyU's new vision and mission.
Chairman Yang, University Council Members, President Tong and Honoured Guests,
I am most honoured and very happy that, upon retiring from the Council, the University has deemed it proper to confer upon me an Honorary Fellowship. I must first thank Chairman Yang, President Tong, and the Members of the Council for their largesse. I must also thank the HKSAR Government for appointing me to the PolyU Council in 2007. Until that time, I had focused my efforts on medical and health services, healthcare organizations and management, and professional bodies in medicine. My tenure on the Council enhanced this experience and enlarged the ambit of my work to higher education. Such an adventure into the highlands of academia was most exciting and instructive. I was inducted into a community of world-class brains dedicated to the development of knowledge and its real-world application. Over the years it has been my privilege to witness a great take-off in growth and innovation, which not only advanced the frontiers of research but also exploited and implemented new ideas and new technology to support social and economic development. I was especially fortunate to have participated in the PolyU's 75th Anniversary Celebrations, and to bask in the glory of its seminal contributions to Hong Kong, to China, to the world, and indeed to outer space.
I must again thank Chairman Yang, President Tong and the Council for the opportunity to contribute to academia and to learn from the pundits. It has been a life-enriching episode that I will long remember and treasure – "the great things of which I was a part," to translate a few words from Virgil.
Thank you!