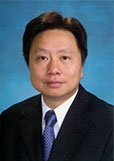 2013 University Fellow
Dr Jimmy Tang Kui Ming
MH
Dr Jimmy Tang founded Prince Jewellery and Watch Company in 1984 and has since served as its Chairman and CEO. An industrious entrepreneur with distinct business acumen, Dr Tang has acquired international jewellery and watch brands, and developed flexible marketing strategies to meet the needs of customers from different countries. Apart from focusing on local business, Prince Jewellery and Watch Company has been actively expanding into the Chinese mainland. Operating 20 stores in the region, it is now one of the largest jewellery and watch retailers in Hong Kong.
Business aside, Dr Tang has been dedicated to social and community services. He is now Director of Lifeline Express Hong Kong Foundation Council, member of the Major Sports Events Committee, member of the Better Hong Kong Foundation Council, Honorary President of the Hong Kong Association of Youth Development and Honorary Founding President of the Professional Validation Centre of Hong Kong Business Sector. He was a member of the 25th Board of Directors of the Federation of Hong Kong Watch Traders & Industries Ltd., Co-chairman of the 2008 and 2009 Organizing Committees of the Hong Kong Committee for China AIDS Initiative and '2010/2011 Hong Kong and Kowloon Walk for Millions' Organizing Committee Chairman of The Community Chest.
Dr Tang has staunchly supported academic development. He serves as member of the Fund-raising Committee of PolyU Council and has zealously supported various PolyU fund-raising events since 2006, including the celebration dinners of PolyU 75th and 70th anniversaries. In 2013, Dr Tang made a generous donation to establish the "Dr Tang Kui Ming Scholarship" in support of PolyU's student exchange programmes. He is also Board Member of New Asia College of The Chinese University of Hong Kong. His commitment to education goes beyond Hong Kong. He made a donation to the China Candlelight Education Fund to finance the construction of the new extension of Yun Yan School in Shaoguan, Guangdong province, which is named "Prince Jewellery and Watch Science Building."
In 2006, Dr Tang received the World Outstanding Chinese Award by the World Chinese Business Investment Foundation and an Honorary Degree of Doctor of Corporate Management by the Armstrong University in the United States. He was conferred an Honorary Fellowship by the Professional Validation Centre of Hong Kong Business Sector and awarded a Medal of Honour by the HKSAR Government in 2010 in recognition of his outstanding contributions to industry and society. Dr Tang has been recently named the EY Entrepreneur Of The Year 2013 China (Consumer Products).
Chairman Yang, University Council Members, President Tong and Honoured Guests,
Let me express my heartfelt thanks to The Hong Kong Polytechnic University for recognizing my efforts in community service and conferring upon me this University Fellowship. It is indeed a great honour.
It has already been more than forty years since I started working. I was lucky to benefit from a business environment in the old days which was more conducive to the development of small businesses. With a professional knowledge of watches and relevant experiences, coupled with perseverance and hard work, my business developed from a small counter in 1984 to Prince Jewellery and Watch Company today, which now operates 20 stores in the region. All along, our company has adhered to its service pledge of "Customers come first" and is committed to building customer trust, providing them with quality and customized service. After weathering many storms together with Hong Kong people, our company has made a name for itself in the luxury watch market. Looking ahead, our company will focus its development in jewellery retailing, and I hope that this will take our business to a new level.
Business aside, bearing in mind the need to pay back to society, I actively support charitable activities and care for the underprivileged to bring them love and warmth. With a heart to serve, I have integrated the same spirit into my corporate development initiatives. We have three main focuses: continued support for education development, improvement of community health and livelihood, as well as cultural and art development. Within these three focuses, I consider education the most important aspect, as quality education is key to nurturing future leaders of society. As I did not have the opportunity to receive higher education when I was young, I hope that the future generations will benefit from more continued education and learning opportunities. By contributing the professional knowledge and skills they acquire, I hope they can live up to the PolyU motto of "To learn and to apply, for the benefit of mankind."
I am grateful to PolyU for giving me the opportunities to contribute in this area. I have sponsored the publication of Ming Tao since 2006 with the assistance of PolyU, and I am also privileged to have made contributions to the PolyU's 70th and 75th Anniversary celebration dinners. In 2013, I established the "Dr Tang Kui Ming Scholarship" to support education of the younger generation. Through supporting these educational activities, I start to have a better understanding of PolyU, a higher education institution which is committed to providing holistic development to its students.
Finally, I would like to thank my wife Emily for her care and unwavering support over the years, as well as staff of Prince Jewellery and Watch Company for their dedication and loyalty to the company. May I reiterate my sincerest thanks to PolyU, and I wish the University success in continuing to thrive, nurturing professionals in research and innovation, and further contributing to the economic prosperity and betterment of Hong Kong. Thank you.