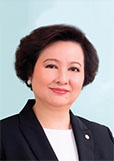 2013 University Fellow
Mrs Belinda Yeung Bik Yiu
Ms Belinda Yeung is Executive Director and Chief Operating Officer of Regal Hotels International Holdings Limited, one of the largest hotel operators in Hong Kong.
Upon graduation from the Barron Hilton School of Hotel Management of University of Houston in 1982, Ms Yeung joined the Regal Group in 1987 and has assumed various leadership positions in hotel management and development during her 27-year career in the hospitality industry in Hong Kong and other cities in China as well as in the United States.
Ms Yeung has successfully led Regal through difficult times, such as the Severe Acute Respiratory Syndrome (SARS) outbreak in 2003 and the global financial crisis in 2008. She has steered Regal in turning crisis into opportunity through market diversification and expansion in the Chinese mainland via hotel ownership and partnership with owners in cities including Chengdu, Shanghai, Shandong and Xi'an etc.
Under Ms Yeung's outstanding leadership, the number of hotels that Regal owns and manages in Hong Kong and other cities in the Chinese mainland has grown from 7 in 2007 to 26 at present. This involves operating and opening over 9,600 guest rooms, more than 100 restaurants and bars, and close to 260 banquet venues as well as working with 8,300 associates.
Driven by a desire to give back to society, Ms Yeung devotes a considerable portion of her time to serving the community amidst her hectic work schedule. She is a member of the Hong Kong Chief Executive Election Committee, 1st Vice Chairman of The Federation of Hong Kong Hotel Owners and Member of The Chinese People's Political Consultative Conference, Huiyang County.
As Chairwoman of the Industry Advisory Committee of The Hong Kong Polytechnic University's (PolyU) School of Hotel and Tourism Management (SHTM), she is supportive to PolyU's activities and shared her experience with PolyU students on many occasions, including "Professor For A Day" sessions and the SHTM Dean's Distinguished Lecture in August 2013.
With a big heart to serve, Ms Yeung supports many charitable organizations and events, both in her personal capacity and in the working arena. She will be the District Governor in Rotary Year 2014 – 15 of Rotary International District 3450 which covers Hong Kong, Macau, Mongolia and Guangdong Province. A volunteer organization, Rotary International brings together a global network of 1.2 million business and professional leaders who dedicate their time and professional experience to tackling some of the world's most pressing humanitarian challenges.
Other charitable organizations which have benefitted from Ms Yeung's philanthropy include Sheen Hok Charitable Foundation, The Hong Kong Anti-Cancer Society, Po Leung Kuk and Wofoo Social Enterprises.
Chairman Yang, University Council Members, President Tong and Honoured Guests,
Let me start with expressing my heartfelt thanks to Chairman Yang, The Hong Kong Polytechnic University Council Members and President Tong for conferring upon me this University Fellowship, as well as expressing my sincere thanks to my family, friends, colleagues and my fellow Rotarians for your presence and support today.
I am a die-hard hotelier. I decided to work in the hotel industry at the age of 12 and am one of the first generation United States hotel university graduates. I believed that dedicating my career to the hotel industry would help me realize my goal in life - TO LIVE A QUALITY LIFE. At work, I meet people from all walks of life, I travel to different countries and become a worldly person, and I am also well trained to appreciate fine things in life.
Ever since I moved back to Hong Kong in 1986, I have only worked in one company, Regal Hotels International Holdings Limited. I would like to take this opportunity to thank Mr. YS Lo, Chairman of Regal, for giving me a lot of career advancement opportunities over these past 26 years. Through continuous learning, networking and enhancements, my career path in one company is no different from, if not better than, working in many different companies. I would also like to extend my appreciation to Professor Kaye Chon, Dean and Chair Professor of the School of Hotel and Tourism Management, for appointing me as the Chairperson of the SHTM Industry Advisory Committee and for making me SHTM guest professor from time to time, giving me opportunities to share my experience with faculty members and students of the School.
I am also a die-hard member of Rotary International, an over-100 year service organization which community leaders of the world meet and implement humanitarian projects that create an impact to the communities. Out of the six areas of focus of Rotary: promoting peace, growing the local economy, providing clean water, fighting disease, saving mothers and children and supporting education, my favorite subject is to support education. I believe that education advances our young generation. It inspires and transforms students in life through knowledge enhancement and holistic development. When I become the Governor of Rotary District 3450 which covers Hong Kong, Macao, Mongolia and Guangdong Province in a few months, my signature service project will primarily be education related.
Professor Tong has delivered a very inspirational address at the 2013 University Congregation. He mentioned that the University motto is "To learn and to apply, for the benefit of mankind," and that the spirit of the motto is "to encourage students to think from a wider perspective with ethical sensitivity and social purpose." Professor Tong's address touched the tender soft spot deep in my heart. I firmly believe that no matter how well a student studies, no matter how good a business associate performs, he or she must be mindful of the need to give back to the community and to promote social harmony.
Behind a successful man there is always a capable woman. In my path to pursue achievement, I also have a very capable man who is always there to support me and to guide me. Daniel, thank you very much for your continual love and care. And to my beloved daughter Stephanie, as your mother I will continue to work hard, hoping to inspire and motivate you by setting example.
As a proud Fellow of The Hong Kong Polytechnic University, I will do my utmost to support and to promote the University to my business and social acquaintances, both in Hong Kong and internationally.
Thank you.