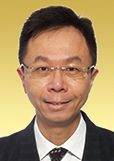 2017 University Fellow
Professor John Chai Yat-chiu
JP
Professor John Chai Yat-chiu, Managing Director of Fook Tin Group Holdings Limited and a member of the supervisory board of its subsidiaries - Terraillon SAS (France), Scaime SAS (France) and Arpege Master K SAS (France), is a distinguished scholar who has received various degrees and honours from prestigious institutions.
Among them are a Bachelor's degree in Dental Surgery from the University of Hong Kong, a Certificate of Advanced Dental Education in Prosthodontics and a Master of Science degree from Northwestern University (NWU) in the US, a Master of Jurisprudence degree and a Doctor of Law degree from Loyola University in Chicago, US.
A dental specialist having been awarded fellowships of several professional organisations, Professor Chai is now a Professor Emeritus at NWU and an Honorary Professor of the Department of Biomedical Engineering at the Hong Kong Polytechnic University (PolyU). He is also the Vice-chairman of the Council of Hong Kong University of Science and Technology.
Professor Chai has a close affinity with PolyU. He was PolyU Council Member from 2010 to 2015 and had served on several committees, inter alia, he was Chairman of Knowledge Transfer Committee. At present, he is Chairman, Departmental Advisory Committee of the Department of Biomedical Engineering.
In addition to his contributions to education, Professor Chai is also keen to take up responsibilities in other public service. He is Honorary Chairman of the Hong Kong Medical and Healthcare Device Industries Association, Council Member of the Hong Kong Productivity Council and of the Council for Sustainable Development of HKSAR Government. He is also immediate past Chairman of the Business Environment Council.
Chairman Chan, University Council Members, President Tong and Honoured Guests,
It is a tremendous honour to be standing before you today to be conferred the University Fellowship by The Hong Kong Polytechnic University (PolyU).
I thank the Orator for sharing with you a bit of my personal history, and the scope of duties and responsibilities that I have undertaken in the past as a PolyU Council Member. I would not want to belabor these points. Instead, I would like to share with you how people interpret the intriguing meaning of "Fellowship".
According to the online Merriam-Webster Dictionary, there are six definitions of the word "Fellowship". First, "the position of a fellow at a University, such as a research fellow; the stipend of a fellow". This may not be an appropriate definition for today's purpose since the last time I checked with the President, the University Fellowship does not carry a stipend package.
Second, and it is remarked as "obsolete", "Membership; Partnership". I do not think this is an appropriate interpretation either. I would certainly not hope that the University Fellows are seen as members of an elite club.
I will proffer to you the following definitions that I think should more faithfully interpret the meaning of "Fellowship".
"Companionship – looking for the fellowship of friendly people";
"Association – a company of equals and friends"
"A community of interest, activity, feeling or experience"
And finally "the quality or state of being comradely" and "a meaningful communication for building trust and fellowship"
Thus today, the conferment on my humble self the University Fellowship is not a recognition of any particular status or achievement of mine. The acceptance of the Fellowship is, to me, a pledge of a lifetime responsibility to the University:
to support its Vision and Mission,
to respect all members of the University as fellows and friends;
to share the interest, feeling and experience of the University community;
and to be that comrade upon whom the University can trust and fellow with.
Thank you.