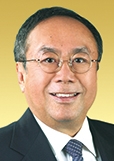 2017 University Fellow
Mr Chung Po-yang
SBS, OBE, JP
Mr Chung Po-yang, more widely known as Po Chung, is an accomplished entrepreneur and keen educator. Besides advocating Service Leadership in company management, he played a pioneering role in promoting liberal arts education in Hong Kong, as a means to nurture talents for the modern day economy.
A versatile person, Mr Chung attended St Stephen's College in Hong Kong before studying oceanography at The University of Seven Seas and graduating with a degree in Fisheries Management from Humboldt State University in the US. He obtained his Master's degree in Fine Art from the Royal Melbourne Institute of Technology University, Australia in 2006.
He founded DHL International Limited in 1972 and is now Chairman Emeritus of DHL Express (Hong Kong) Limited. The company enjoyed a solid reputation as a market leader when he retired in 2001.
Since his retirement, Mr Chung has devoted his time and energy to promoting liberal arts education at local universities. He strongly believes that a new breed of professionals is vital to Hong Kong's economy, which has already evolved from being manufacturing dependent into service-oriented and knowledge-based. Today's graduates need to be equipped with broad knowledge and personal strengths. A true leader, he believes, should have the three key attributes of Competence, Character and Care.
In 2011, he founded the Hong Kong Institute of Service Leadership and Management with a mission to promote outstanding leadership for the service economy in the 21st Century. He also established the Creative Initiative Foundation, a charity dedicated to helping local organisations improve their efficiency.
In advocating what he calls the Second Education Revolution, he created the Service Masters Edition, comprising The First Ten Yards, Service Reborn, The 12 Dimensions of a Service Leader and 25 Principles of Service Leadership – an inspiring set of materials that has proved to be valuable for enhancing the quality of Service Leadership in Hong Kong and beyond.
Mr Chung has been the key contributor to the development of Service Leadership curriculum and has been instrumental in the establishment of the Endowed Professorship in Service Leadership Education at The Hong Kong Polytechnic University.
Chairman Chan, University Council Members, President Tong and Honoured Guests,
I would like to express my deep appreciation to The Hong Kong Polytechnic University (PolyU) for conferring on me the prestigious title of University Fellowship. It is heartening to see that PolyU, as one of the top universities in the region, has thrown its weight behind my endeavours in promoting Service Leadership and liberal arts education by adopting my curriculum materials, and more importantly by incorporating Service-Learning as a mandatory subject for all undergraduate students.
I am sure no one will doubt the importance of investing in education. Talent is our greatest asset and the key for Hong Kong to remain competitive in a new service economy. I am a firm believer in a multi-faceted approach to leadership education, one that involves training of analytical thinking and design thinking; and one that imparts "hard" knowledge and know-how complemented by humanistic "soft" component, such as trust, empathy and moral competence.
It is very encouraging to see that institutions like PolyU is putting increasingly heavy emphasis on fostering students' whole person development, particularly nurturing positive attributes. They are indeed important for ensuring that Hong Kong remains in the league of top financial centres and service hubs. To help our economy to continue to excel, nothing matters more than to abide by an operating system that puts ethics and integrity above everything else. After all, the core of Service Leadership lies in a great respect for others, for fairness and a humble heart to provide quality services or goods. Such qualities help differentiate a city from the less developed ones.
I am positive about the future of Hong Kong and I have confidence in our new generation. If we can all do the right thing with the right heart, we will have a good prospect. Let me wish that PolyU will continue to be successful in nurturing admirable leaders for Hong Kong and the world in the 21st century. Thank you.