Study
BA (Hons) Scheme in Design - 4-year
The BA (Hons) Scheme in Design is a 4-year full-time study honorary degree. All students complete a common Design Foundation in Year 1, followed by a Design Cluster in Year 2, before focusing on their chosen Design Specialism in Year 3 and 4.
Each specialism has a dedicated study pathway with some common subjects. Students graduate from the Scheme in one of the following nine Design Specialisms: Advertising Design, Environmental Design, Information Design, Interaction Design, Interior Design, Media Design, Product Design, Service Design, and Social Design.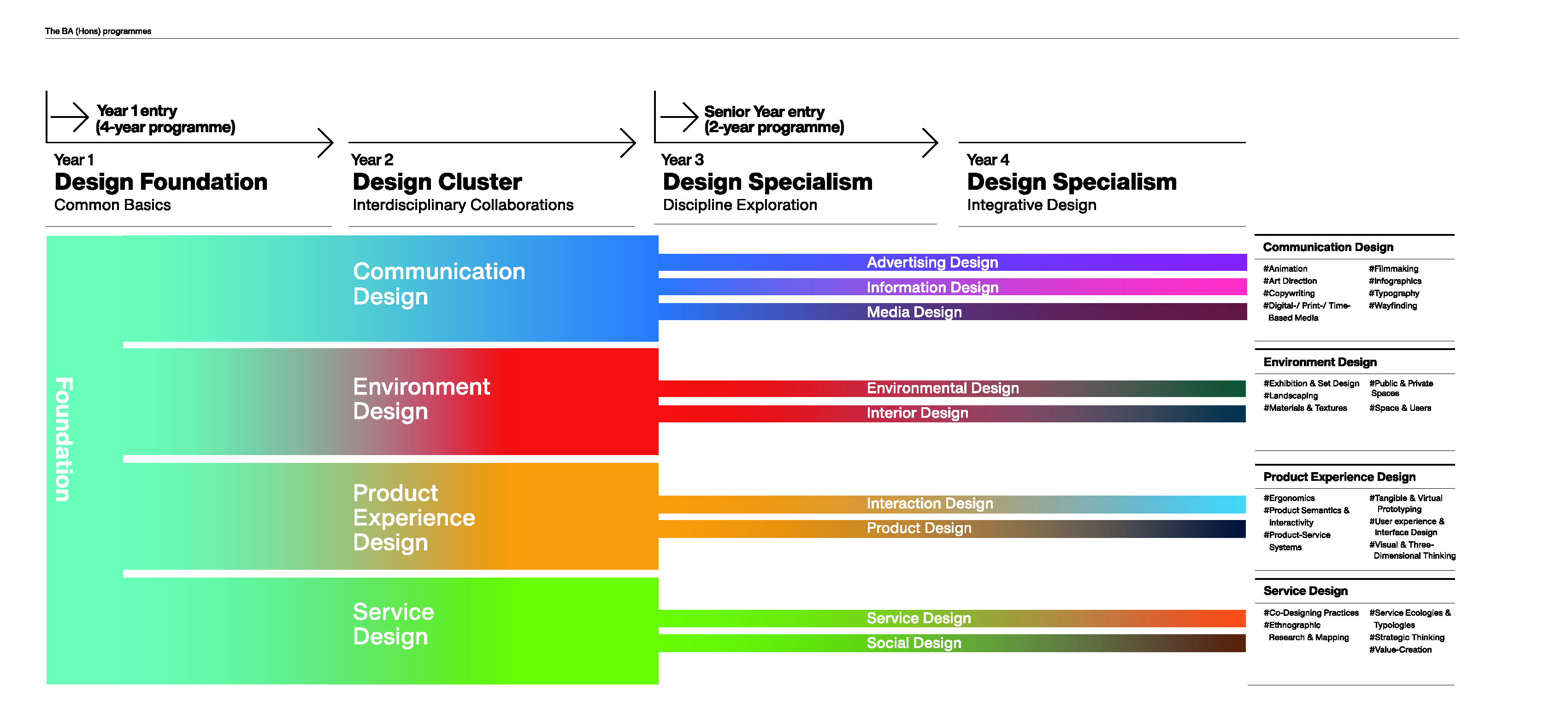 Year 1 Design Foundation: Common Basics
The focus of the year is to provide a broad-based foundation in common design skills, knowledge and integration to enable students to become creative thinkers. It exposes students to a wide range of design disciplines and approaches which cover design history, theories and techniques necessary for the students to succeed in all programmes offered by the School of Design. The year introduces the students to design thinking processes, design skill-based courses, as well as value-based innovation and design collaboration skills for developing studio projects.
Year 2 Design Cluster: Interdisciplinary Collaborations
Year 2 students select and stream into one of four selected Design Clusters: Communication Design, Environment Design, Product Experience Design and Service Design. The four clusters provide a broad base of discipline-oriented study in preparation for specialisation in year 3 and year 4. Students in year 2 develop a range of essential skills through technical courses in digital skills, design theories and culture, and the practice of inter-disciplinary collaborations. Students choose their preferred Design Specialism at the end of year 2.
Year 3 Design Specialism: Discipline Exploration
Year 3 is the first year of discipline-specific studies in one of the nine Design Specialisms offered:
Students explore the chosen Design Specialism through dedicated study pathways indiscipline-specific subjects. Inter-disciplinary compulsory subjects, such as design entrepreneurship, encourage cooperation among students of diverse expertise. Design Studios remain a continued testing ground for knowledge and skills learned in design projects.
Year 4 Design Specialism: Integrative Design
Year 4 is the second year of Design Specialism. The year programme develops students' critical and professional ability in design. Students will learn to tackle complex design issues through external client-focused and inter-disciplinarity studio projects. Another important learning outcome students will accomplish is the research and negotiation of a final design proposal, also known as the 'Capstone' project, where they demonstrate the ability to address sophisticated issues and to overcome multi-faceted challenges encountered in the process.
Credits Requirements
Students of the 4-year programme are required to complete a total of 124 credits (plus 6 Training Credits for Product Design and Interaction Design Students) to graduate, including 30 credits from General University Requirements subjects, 30 from Common Compulsory Subjects, and 64 from Discipline-Specific and Elective Subjects.
Please put at least one valid content allocate to this component.
We use Cookies to give you a better experience on our website. By continuing to browse the site without changing your privacy settings, you are consenting to our use of Cookies. For more information, please see our Privacy Policy Statement.
Your browser is not the latest version. If you continue to browse our website, Some pages may not function properly.

You are recommended to upgrade to a newer version or switch to a different browser. A list of the web browsers that we support can be found here