Fostering innovation in learning and teaching
Enhancing student learning experience has always been one of PolyU's strategic priorities. Through innovative and interactive pedagogies, the University is committed to empowering students' desire and ability to learn. In this aspect, PolyU has made the best use of the funding awarded from the UGC Funding Scheme for Teaching and Learning Proposals (2016-19 Triennium), a total of HK$85.77 million, when implementing the eight PolyU-led projects. This level of funding tops the list among all eight universities. In the past two years, PolyU has achieved promising outcomes in these projects as shared by Prof. Chetwyn Chan, Associate Vice President (Learning and Teaching).
"PolyU further enhances students' learning experience through these projects to strengthen students' ability to 'learn to learn'. They are designed to employ an effective blend of face-to-face and online modes, develop interactive pedagogies and adopt appropriate education technologies."
Prof. Chetwyn Chan
Enriching senior year places students' learning experience
A student-centred online support system with interactive multimedia courseware created to meet the needs of senior year places admitted students (SYA) before, during and after their transition into degree programmes.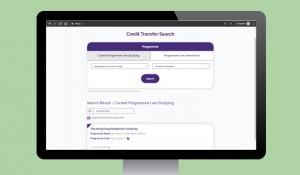 The system provides a search platform that allows SYA to know which subjects they can consider for credit transfer to degree programmes. A website was also developed for sharing information on courses and activities offered by participating universities, as well as other useful resources to help SYA to prepare for the transition from sub-degree to degree study.
Promoting STEM education
Under the project "Developing active learning pedagogies and mobile applications in university STEM education", 13 mobile applications or platforms have been developed with some 35,000 international and local users per month. These technologies not only enable student-driven learning, but also serve as platforms for knowledge sharing and dissemination. Below are two examples: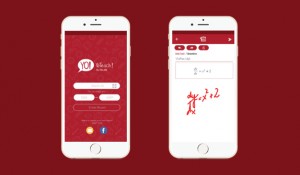 "Yo Teach!" is a mobile application with a chatroom function that allows "question and answer" pedagogy. Handwritten mathematical expressions can be automatically converted to text.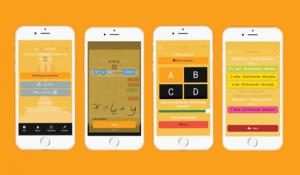 "BADA BOOM" is a mobile application that supports images, word clouds, formulas and videos to facilitate the creation of quizzes as in-class or after-class activities.
Offering of MOOCs in the pipeline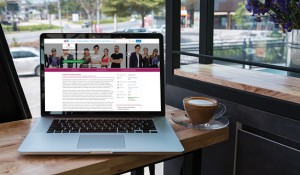 In addition to the UGC-funded projects, PolyU has been leveraging innovative pedagogical elements in Massive Open Online Courses (MOOCs) to benefit both the PolyU students and learners worldwide. The Institute of Textile and Clothing has recently launched the first Professional Certificate Programme in Fashion Design and Creation, which is scheduled to commence this September.
In 10 years' time, the University targets to offer some 20 new and re-run MOOCs per year, five MicroMasters programmes, five professional certificate programmes and two full online programmes.

As of August 2019, PolyU has launched on edX 14 MOOCs, attracting nearly 400,000 learners from over 180 countries. These courses cover a wide spectrum of disciplines, including business, engineering, hospitality, healthcare, communication, management, philosophy and ethics.