October 2009 – Volume 10 Issue 4
If you cannot read this page, please click
HERE
.
SHTM World Leadership Position Strengthened
PolyU SHTM is ranked no. 2 in the world among academic institutions in hospitality and tourism based on total research output in the 11 leading hospitality and tourism journals over the 15-year peroiod from 1992 to 2006. This is another concrete proof that SHTM is committed to achieving global excellence in hospitality and tourism education.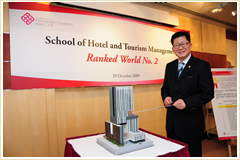 A New Wave of Asian Hospitality - Centre of Excellence
ASIA'S FIRST MEETING PROFESSIONALS INTERNATIONAL TRAINING CENTRE ESTABLISHED AT THE POLYU
POLYU VIRTUAL CAMPUS OPENED IN SECOND LIFE
SHTM STRENGTHENS ITS FOOTHOLD IN THE MAINLAND CHINA
The SHTM's programmes in mainland China continue to go from strength to strength. Dr David Jones, Undergraduate Programmes Director, and Ms Chloe Lau, Programme Leader, attended the induction of sixty students into the Bachelor of Arts (Honours) in Hotel and Catering Management programme in Xian on 29 August 2009. This is the fifth intake of the programme since its inception in 2005.