October 2009 – Volume 10 Issue 4
If you cannot read this page, please click
HERE
.
CONFERENCES/SEMINARS/WORKSHOPS
Dr Honggen Xiao presented a paper entitled "Tourism Research and Practice: A Scientific Community Perspective" at the 20th anniversary conference of the International Academy for the Study of Tourism held in Mallorca, Spain, 6-11 June. Dr Xiao also had a poster presentation, "Diffusion of Knowledge across Linguistic Boundaries: The Case of Using 'Foreign' Sources for Tourism Research in China" at the 15th Asia Pacific Tourism Association (APTA) Annual Conference held in Incheon, South Korea, on 9-12 July.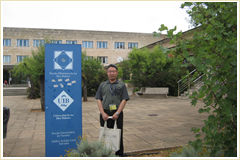 Dr Henry Tsai attended the 15th APTA Annual Conference in Incheon, South Korea, on 9-12 July. He presented a paper entitled "The Relationship between Loyalty Programs and Customer Loyalty in the Casino Industry".
SHTM staff members were invited by PolyU's China Business Centre to give talks in a series of exchange programmes organised for a delegation from Jiangsu Province. On 15 July, Dr Mimi Li gave a talk entitled "Mega Events and Exhibitions Planning" in the session "Formulation of Cultural Development in Hong Kong" to a group of 26 delegates from the Personnel Department, People's Government of Jiangsu Province. Dr Wilco Chan and Dr Thomas Bauer spoke to a group of 26 delegates from tourism-related organisations in Jiangsu Province in the "Eco-tourism" sessions on 16 and 19 September. Their topics were "Eco-tourism in Hong Kong" and "Opportunities and Challenges of Eco-tourism", respectively. On 17 September, Dr Barry Mak spoke to a group of 18 delegates from Wujiang City, Jiangsu Province, in the session "Development of Customer Service in Hong Kong". His topic was "Development Strategy and Successful Experience of Hong Kong Tourism Industry".
PolyU's China Business Centre also invited the SHTM to offer a 5-day training programme in hotel management for a group of 33 hotel managers from Jiangsu Province. Held on 5-13 August, the programme mainly attracted participants from Jinling Hotels. The following staff members were involved:
Professor Kay Chon –

"Leadership Development and Service Quality Management in Hospitality and Tourism"

Professor Cathy Hsu –

"Hotel Brand Strategy"

Dr Wilco Chan –

"Hong Kong and Western Hotel Management Concepts and Models"; "Hotel Financial Planning and Management"; "Hotel Cost Control"

Dr Mimi Li –

"International and Chinese Hotel Development"

Dr Alan Wong –

"Hotel HR Management and Training"

Dr Qu Xiao –

"Impact of Financial Crisis on Tourism in Asia"

Mr Murray Mackenzie –

"Hotel Food and Beverage Management"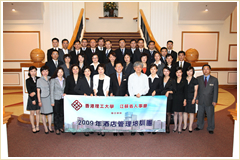 Professor Cathy Hsu attended the 2009 ICHRIE Annual Conference and Marketplace held in San Francisco, USA, from 29 July to 1 August. She presented two papers, "Brand Knowledge, Trust and Loyalty – A Conceptual Model of Destination Branding" and "Regional Tourism Collaboration in the Pearl River Delta, China".
Mr Raymond Kwong held a Customer and Banquet Service training workshop for the stewards and catering team members working in the Legislative Council. Ms Nicole Wong also discussed her experience of professional image building. The one-day workshop was held at the Millennium Training Restaurant on 14 August.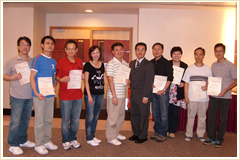 More than 20 participants attended the Certified Hospitality Educator (CHE) Workshop, an exclusive, five-day professional development workshop that leads to professional certification, held at the Millennium Training Restaurant from 18 to 22 August. The CHE Workshop was instructed by Dr Cynthia S. Deale, Associate Professor in the Department of Hospitality Management and Western Regional Representative for the Center for Sustainable Tourism at East Carolina University. The workshop offered intensive, interactive learning experiences and the latest global principles and skills to provide the best educational experience for the participants.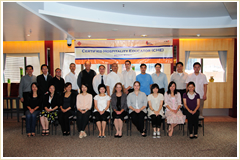 Dr Thomas Bauer was invited by the Colombian Hotel Association (COTELCO) to make a presentation on "Adventure Tourism in Australia and Antarctica" at the 3rd Encuentro Internacional de Turismo Rural y de Naturaleza held in San Gil, Santander, Colombia on 1-4 September. He was also made a Tourism Ambassador for Colombia. On 8 September, Dr Bauer presented a paper entitled "The Sustainability of Tourism in the EATOF Region" at the 10th East Asia Inter-Regional Tourism Forum (EATOF) held in Ganwon, South Korea.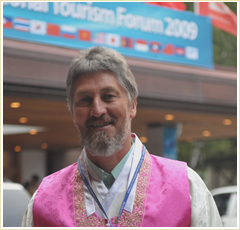 Professor Haiyan Song and Dr Robert van der Veen presented a paper entitled "Assessing Hong Kong Competitiveness as an International Destination using the Tourism Satisfaction Index" at the 3rd Advances in Tourism Marketing Conference held in Bournemouth, UK, 6-9 September. They also gave a seminar on the same topic to staff and research students in the Faculty of Management and Law at the University of Surrey on 11 September.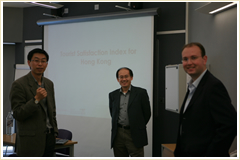 Professor Kaye Chon delivered the keynote presentation, "Industry Partnership in Hospitality and Tourism Education", at the 2009 International Conference on the Development Trends of Tourism and Hospitality Industry and Education held in Taipei, Taiwan, from 25 to 28 September. Professor Chon also presented a lecture on "Development of Leadership for Asia's Hospitality and Tourism" for students at National Taiwan Normal University and Chinese Culture University.