The Service-Learning element of education at PolyU involves more than just exposure to real-world problems. As the basis of forming leadership skills, it changes the way students think and offers new perspectives on the world around them.
Consider the Service-Learning trip to Cambodia that students from the School of Optometry embarked on in summer 2014 to provide eye screening for HIV-infected orphans in Phnom Penh, the capital. The students quickly drew inspiration from the children. One student, So Wai-yan, said that "before the trip, we thought AIDS was very horrible and children with AIDS must feel desperate". Yet they soon observed that "AIDS is not horrible and the children are just like other people. They even know better how to cherish life."
Other students and staff from computing, hotel and tourism management, and biomedical engineering also helped out in the area, developing e-learning labs for schoolchildren, building solar-powered lights for rural villages, visiting lonely seniors in a slum and training guesthouse staff.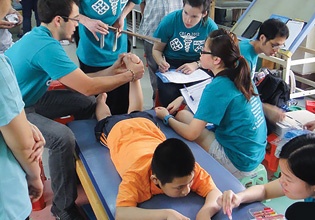 Students joining other Service-Learning projects have also been inspired. For example, those who worked with rehabilitation centres in Guangdong to provide prosthetic and orthotic services for children with cerebral palsy returned with a greater commitment to the profession they have chosen. In all cases, the benefits flowed both ways.
---