Other areas in which PolyU has innovated for the social good are literally life-saving. For instance, our researchers have developed drugs that can deplete nutrient of cancer cells and have successfully reversed cancer drug resistance using a new inhibitor in breast cancer treatment.
A team led by Profs. Larry Chow and Bill Chan at the Department of Applied Biology and Chemical Technology has developed a new inhibitor derived from Apigenin Flavonoid Dimer, found in plants such as parsley and celery, that prevents cancer cells from rejecting drugs. "The inhibitor can specifically bind to the cancer cell's drug pump and reverse cancer drug resistance", explained Prof. Chow. "More importantly, it is 10 times more potent and three times safer than the best inhibitor available in the market."
The inhibitor will soon be incorporated into the drug Paclitaxel, which is commonly used in treating breast cancer, in cooperation with Kinex Pharmaceuticals.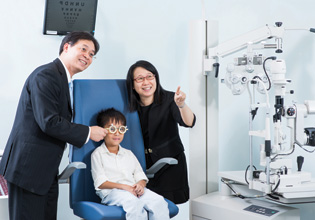 Other research teams at PolyU have made similar health-related contributions to the social good, such as the radiation-free Scolioscan for accurately monitoring scoliosis of the spine, the Defocus Incorporated Soft Contact Lens to correct myopia in children; and the Rehab Sleeve that improves the limb functioning of stroke patients.
---