The benefits derived from some PolyU research and innovations can also have implications that are very far reaching though not immediately obvious. A case in point is the development of the Soil Preparation System (SOPSYS) for the Phobos Grunt mission to Mars in November 2011.
Prof. Yung Kai-leung, Associate Head of the Department of Industrial and Systems Engineering, and his team were invited by the Russian Federal Space Agency to develop the device to sift through the soil of Mars' innermost moon, Phobos, looking for signs of life. Even though the Phobos Grunt mission crashed back to Earth in 2012, the effort put into SOPSYS was worthwhile. Prof. Yung explained that "the knowledge we have accumulated from the research over the years will be useful for future scientific development".
This was certainly recognized when SOPSYS received the Grand Prize and a Gold Medal with the Congratulations of Jury at the 42nd International Exhibition of Inventions of Geneva in 2014. Although PolyU's ground-breaking innovations have received many awards over the years, even more important is the lasting impact they have on the advancement of knowledge and mankind.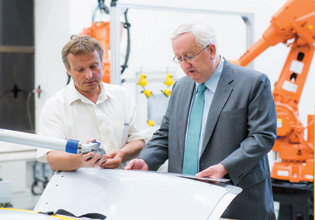 The same sort of commitment to advanced applied research has led in various other directions. Technologies developed by the Aviation Services Research Centre have been used to enhance aircraft safety, and environmental protection has been at the core of research leading to eco-blocks made of recycled solid wastes and an in-building hydropower generation system. The year 2013 saw the establishment of the Research Institute for Sustainable Urban Development, a further step in PolyU's on-going efforts to innovate responsibly.
---