A critical feature of education at PolyU is ensuring that our students have the breadth of vision and experience to lead others into the future. Far from being an ivory tower, the University is a nexus of experiential possibilities.
Imagine a university that gives students the opportunity to build solar powered e-learning platform for underprivileged children in Rwanda or preserve the cultural heritage of a quake-hit village in rural China through eco-tourism. Since 2012, when PolyU launched its four-year undergraduate curriculum, we have made Service-Learning a credit-bearing requirement, which distinguishes us from other universities in Hong Kong.
As PolyU President, Prof. Tong, put it, "we want to nurture global citizens and instil in them a serving heart and strong sense of social responsibility". He added that "Service-Learning is not just volunteer work. It's an integral part of a holistic education".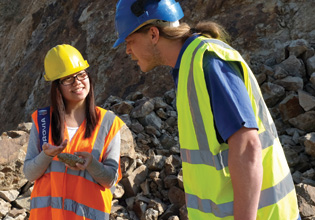 Another key element of that approach is PolyU's Work-Integrated Education requirement. Work-Integrated Education, realized as internships in Hong Kong, the Chinese mainland and the wider world, exposes students to organizations relevant to their future professions and allows them to develop generic skills.
As an additional impetus to developing the qualities that make leaders stand out, PolyU offers students a Micro Fund Scheme that supports start up projects with the aim of developing a "Do Well Do Good" entrepreneurial spirit. Also available for both students and graduates is the Good Seed Programme, which nurtures social innovators. These are the type of people who move us all forward.
To ensure our education offerings remain relevant to society, the University needs to keep its finger on the pulse of Hong Kong. PolyU continues to impart the knowledge and skills of our future leaders to serve an evolving world and to spur economic growth. With the structural transformation of the global economy from industrial to service economies, the society's expectations of future leaders have been remarkably changed. Over the years, PolyU has been promoting "Service Leadership" education. The prime goal of Service Leadership education is to nurture holistic development in students. Nowadays, a good report card of a graduate is no longer adequate for employment purpose. In the shift of workforce needs in service economies, holistic development of graduates, including competencies, moral character and caring disposition, is highly demanded. Service Leadership education provides our future leaders with a wide range of opportunities to learn, practise, and reflect their knowledge, values and skills required for the service economies. It helps students not only to successfully transit into workforce, but also to achieve a thriving life with happiness, meaningfulness and social connectedness. PolyU endeavours to nurture students to be future leaders who possess expert service leadership competencies, moral character and caring disposition through its Service Leadership education. We offer credit-bearing and non-credit bearing programmes. In credit-bearing programme, students will engage in role play, group discussion, debate, drawing and other class activities to learn the values and skills for being future leaders. They will also gain better understanding of service leadership models and related core beliefs, and will recognise the importance of service leadership for their personal development, for the well-being of others, and for the society. The University has also collaborated with other institutions to offer non-credit bearing programmes. Students taking these programmes appreciated the importance of multiple competencies, i.e. emotional intelligence, adversity quotient, and spiritual intelligence, moral character and caring disposition in becoming successful future leaders.
---