Congratulatory Messages
Back to Congratulatory Messages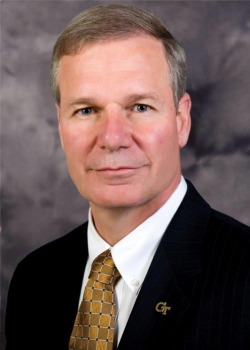 It is with great pleasure that, on behalf of the Georgia Institute of Technology's 7,000 faculty and staff and our more than 25,000 students around the world, I send my most heartfelt congratulations to the faculty, staff and students at The Hong Kong Polytechnic University on your 80th anniversary.
Your esteemed university has earned international recognition for education with strong application value and tremendous social relevance. Your institution has provided educational opportunities to more than 365,000 students who are now contributing to society and bringing to life your motto of "opening minds and shaping the future."
Our two outstanding universities share similar areas of focus, including innovation and globalization. You are to be commended for your mission to nurture graduates who are critical thinkers, effective communicators, innovative problem solvers, lifelong learners, and ethical leaders.
Here at Georgia Tech we work to instill entrepreneurial confidence in our graduates, and have numerous programs and opportunities for our students, faculty, and staff, as well as business and industry. More than 54 percent of Georgia Tech undergraduate students have a study or work abroad experience before graduating, including Hong Kong. Our faculty are engaged in research collaborations in more than 100 countries.
We join you and congratulate you in the celebration of eight decades of excellence. We wish you many prosperous years ahead as you continue to nurture bright minds and contribute to the advancement of society.
Prof. G. P. "Bud" Peterson
President
Georgia Institute of Technology