脊柱側彎評估方法
外表觀察
我們可以通過觀察身體的不對稱而發現脊柱側彎,包括兩肩高低不一、肩胛骨左右不對稱、盆骨傾斜、身體偏離中線,或步姿異常。在嚴重的情況下,外觀和心肺功能也可能受到影響 [1,2]。雖然觀察外表是評估脊柱側彎可能性的最簡單方法,但較輕微的個案並不容易被察覺。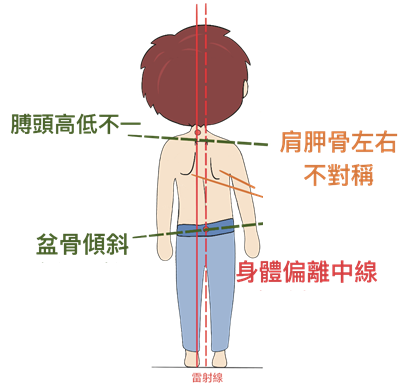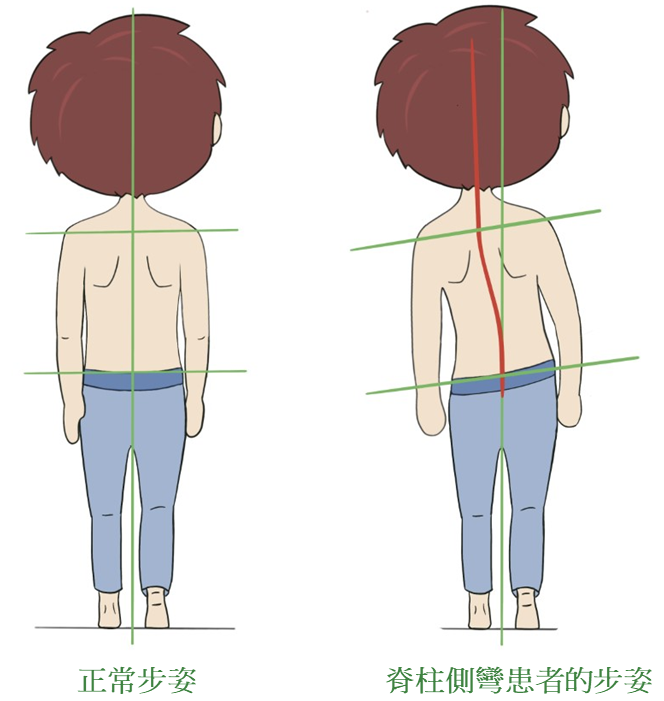 亞當式前彎測試法 (Adam's Forward Bend Test)
亞當式前彎測試法是一個常在學校篩查中應用的診斷脊柱側彎的快速方法 [3-5]。
測試時,學童先要直立和保持四肢伸直,然後緊合雙手,向前彎腰,將雙手放在兩膝中間。測試員會將脊柱側彎度數儀沿脊柱滑動,以量度脊骨旋轉的角度。如果角度大於五度,便屬於懷疑個案。除了脊柱側彎度數儀,測試員還可以觀察背部形是否對稱來評估脊柱側彎。由於脊柱側彎會引致脊骨扭轉,使一邊背部突出,造成駝峰,因而形成背部外觀的不對稱 [6]。

亞當式前彎測試法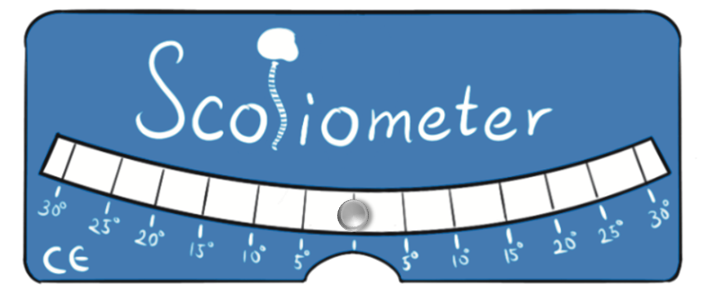 脊柱側彎度數儀
背形檢查
「SpineScan3D」是近期香港研發並用以評估背形的儀器。該儀器輕巧並可配合手機應用程序使用,所以也可用於學校篩查中。它能快速掃描和記錄個人背形,檢測矢狀軸、橫軸和縱軸的早期畸形,例如駝背和脊柱側彎。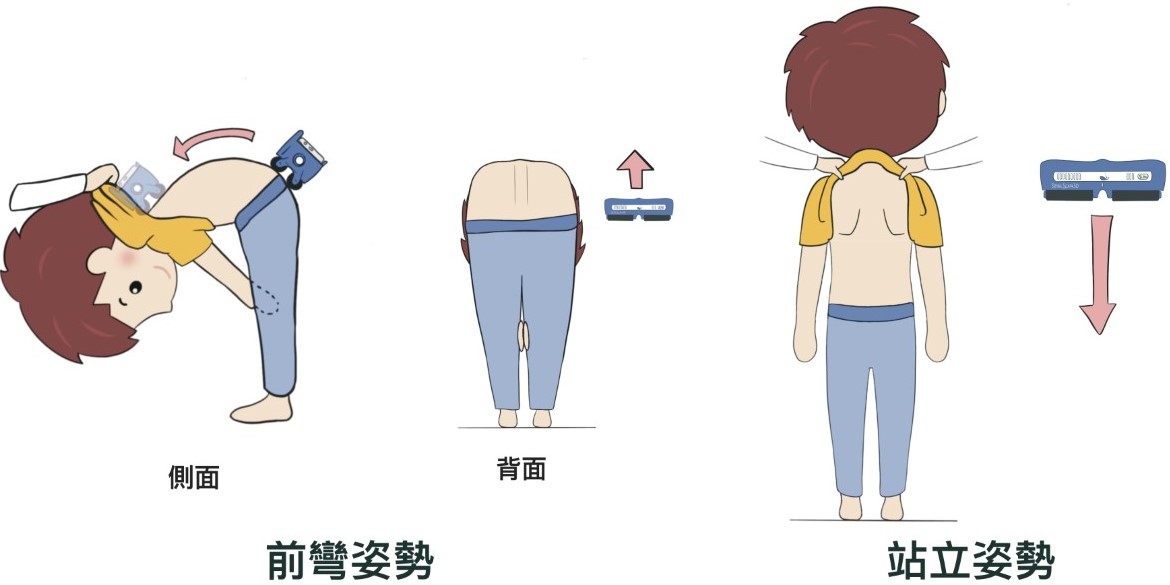 SpineScan3D
X光檢查和Cobb Angle
X光影像可以用來量度脊柱側彎角度(Cobb angle),Cobb angle是脊柱側彎研究協會(Scoliosis Research Society)認可用於量化脊柱側彎嚴重程度的黃金標準,用作診斷和追蹤脊柱側彎的變 [7,8]。一般而言,10度以上就會被定義為脊柱側彎 (查看更多...) [9]。

脊柱側彎角度(Cobb angle)
超聲波檢查(Ultrasound Scanning)
超聲波檢查是通過分析超聲波影像估算患者的脊柱側彎角度,評估脊柱側彎的嚴重程度。與X光檢查相比超聲波掃描並沒有輻射,而且更符合成本效益,因此它更適合用作脊柱側彎定期檢 [10,11]。香港理工大學生物醫學工程學系利用超聲波檢查技術針對脊柱側彎研發了超聲波掃描儀「Scolioscan Station」與便攜式超聲波掃描儀「Scolioscan Air」。這兩款掃描儀都將會在「賽馬會學童脊柱保健計劃」中使用。
使用「Scolioscan Station」的程序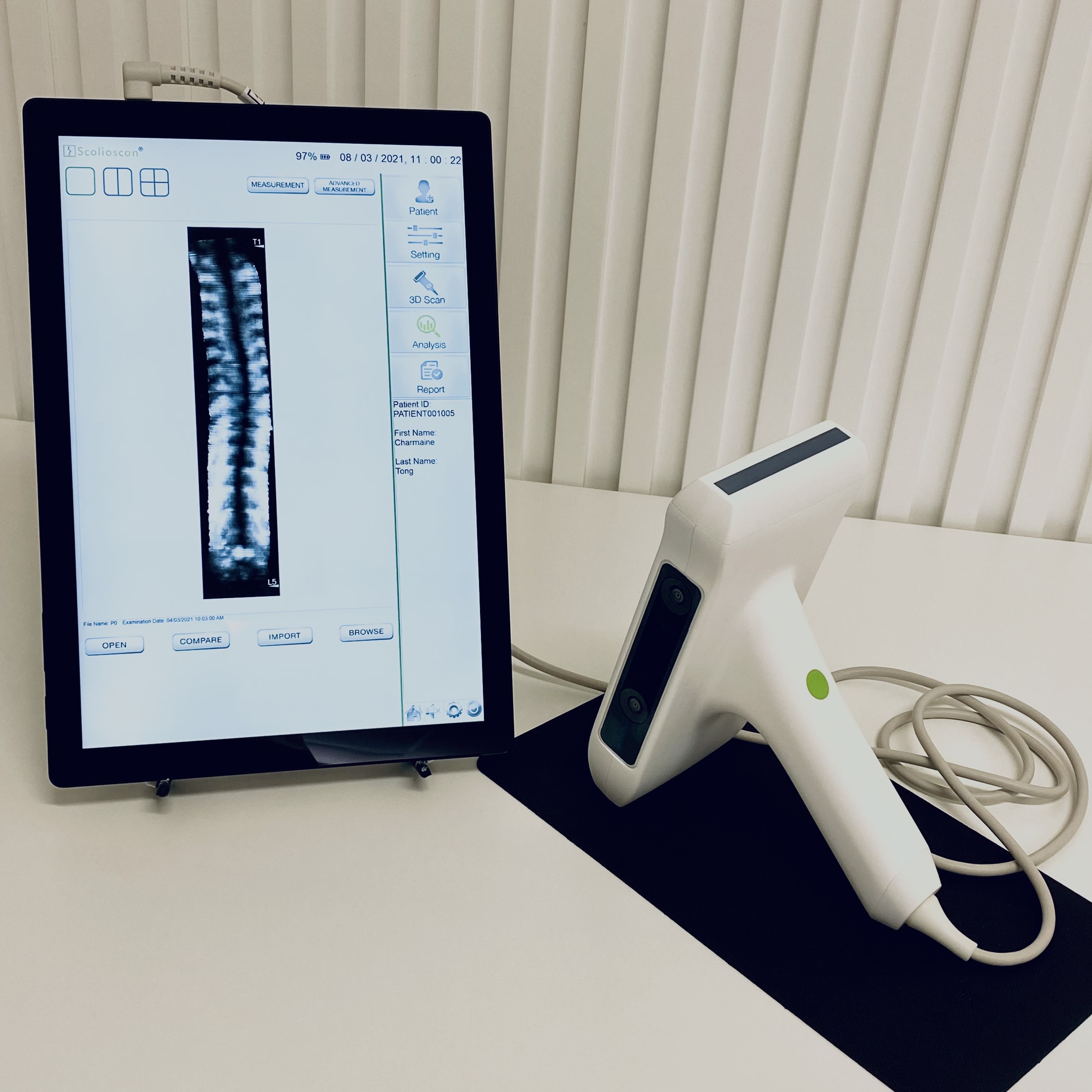 Scolioscan Air
核磁共振成像(Magnetic Resonance Imaging, MRI)
核磁共振成像(MRI)使用磁場和無線電波識別構成物體原子核的位置和種類,從而繪製成物體內部的結構圖像,並且不帶輻射,適用於需要不同方位和軟組織圖像的脊柱側彎病例 [12-14]。核磁共振成像檢查並不適用於帶有電子植入物,例如電子起搏器的患者,而且費用亦比較高昂 [15]。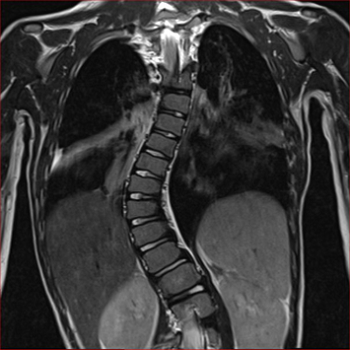 脊柱側彎的核磁共振成像
(更多內容)
電腦斷層掃描 (Computed Tomography, CT)
電腦斷層掃描是透過進行計算機處理不同角度的X光成像以生成的3D圖像。 使用電腦斷層掃描的其中一個原因是由於術前或術後患者不能使用核磁共振成像 [16,17]。電腦斷層掃描的價格比核磁共振成像便宜,但缺點是有輻射和較少的軟組織成像。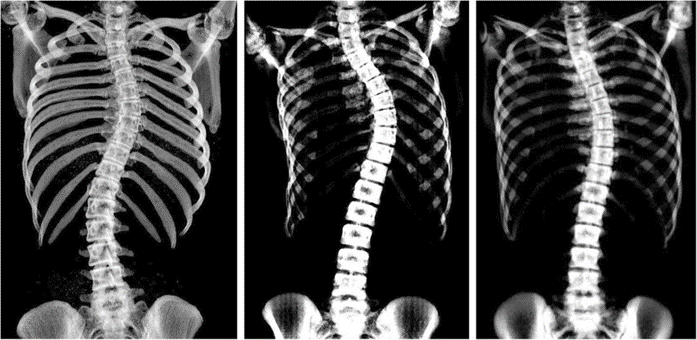 脊柱側彎的電腦斷層掃描成像
(更多內容)
EOS 系統
EOS系統以超低劑量的輻射提供站姿或坐姿的全身和立體放射圖像 [18]。使用內置軟件,可以構建個人骨骼系統的3D圖像。因此,EOS系統對於診斷脊柱側彎等脊柱畸形非常有用 [19]。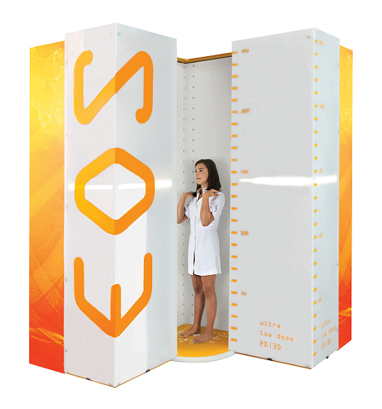 EOS 系統
(更多內容)
參考資料
S. H. Service. "Scoliosis." www.studenthealth.gov.hk/english/health/health_bsh/health_bsh_sco.html

A. J. Danielsson, R. Hasserius, A. Ohlin, and A. L. Nachemson, "Health-related quality of life in untreated versus brace-treated patients with adolescent idiopathic scoliosis: a long-term follow-up," Spine, vol. 35, no. 2, pp. 199-205, 2010.

A. Clarke, A. Jones, M. O'Malley, and R. McLaren, ABC of spinal disorders. John Wiley & Sons, 2009.

J. P. Horne, R. Flannery, and S. Usman, "Adolescent idiopathic scoliosis: diagnosis and management," American family physician, vol. 89, no. 3, pp. 193-198, 2014.

B. V. Reamy and J. Slakey, "Adolescent idiopathic scoliosis: review and current concepts," American family physician, vol. 64, no. 1, p. 111, 2001.

W. P. Bunnell, "An objective criterion for scoliosis screening," The Journal of bone and joint surgery. American volume, vol. 66, no. 9, pp. 1381-1387, 1984.

T. Vrtovec, F. Pernuš, and B. Likar, "A review of methods for quantitative evaluation of spinal curvature," European spine journal, vol. 18, no. 5, pp. 593-607, 2009.

A. Oestreich, L. W. Young, and T. Y. Poussaint, "Scoliosis circa 2000: radiologic imaging perspective," Skeletal radiology, vol. 27, no. 11, pp. 591-605, 1998.

J. Cobb, "Outline for the study of scoliosis," Instr Course Lect AAOS, vol. 5, pp. 261-275, 1948.

Y. P. Zheng, T. T. Y. Lee, K. K. L. Lai, B. H. K. Yip, G. Q. Zhou, W. W. Jiang, J. C. W. Cheung, M. S. Wong, B. K. W. Ng, and J. C. Y. Cheng, "A reliability and validity study for Scolioscan: a radiation-free scoliosis assessment system using 3D ultrasound imaging," Scoliosis and spinal disorders, vol. 11, no. 1, p. 13, 2016.

C. W. J. Cheung, S. Y. Law, and Y. P. Zheng, "Development of 3-D ultrasound system for assessment of adolescent idiopathic scoliosis (AIS): and system validation," in 2013 35th Annual International Conference of the IEEE Engineering in Medicine and Biology Society (EMBC), 2013: IEEE, pp. 6474-6477.

R. M. Schwend, W. Hennrikus, J. E. Hall, and J. B. Emans, "Childhood scoliosis: clinical indications for magnetic resonance imaging," The Journal of bone and joint surgery. American volume, vol. 77, no. 1, pp. 46-53, 1995.

R. J. Davids, W. E. Chamberlin, and W. D. Blackhurst, "Indications for Magnetic Resonance Imaging in Presumed Adolescent Idiopathic Scoliosis," The Journal of Bone & Joint Surgery, vol. 86, no. 10, pp. 2187-2195, 2004, doi: 10.2106/00004623-200410000-00009.

D. K. Lewonowski, D. J. King, and D. M. Nelson, "Routine Use of Magnetic Resonance Imaging in Idiopathic Scoliosis Patients Less than Eleven Years of Age," Spine, vol. 17, no. 6 Suppl, pp. S109-S116, 1992.

A. M. Ferreira, F. Costa, A. Tralhão, H. Marques, N. Cardim, and P. Adragão, "MRI-conditional pacemakers: current perspectives," Medical Devices (Auckland, NZ), vol. 7, p. 115, 2014.

V. Cassar-Pullicino and S. Eisenstein, "Imaging in scoliosis: what, why and how?," Clinical radiology, vol. 57, no. 7, pp. 543-562, 2002.

H. Kim, H. S. Kim, E. S. Moon, C.-S. Yoon, T.-S. Chung, H.-T. Song, J.-S. Suh, Y. H. Lee, and S. Kim, "Scoliosis imaging: what radiologists should know," Radiographics : a review publication of the Radiological Society of North America, Inc, vol. 30, no. 7, pp. 1823-1842, 2010, doi: 10.1148/rg.307105061.

T. Illés and S. Somoskeöy, "The EOS™ imaging system and its uses in daily orthopaedic practice," International orthopaedics, vol. 36, no. 7, pp. 1325-1331, 2012.

S. Kato, C. Debaud, and R. D. Zeller, "Three-dimensional EOS analysis of apical vertebral rotation in adolescent idiopathic scoliosis," Journal of Pediatric Orthopaedics, vol. 37, no. 8, pp. e543-e547, 2017.