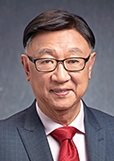 2016 University Fellow
Mr Chao Chen-kuo
Mr Chao Chen-kuo, Managing Director of CK Hair International Limited, graduated from Tokyo Institute of Technology in Japan and studied at Harvard Business School in the U.S. Mr Chao has been a close partner of PolyU since 2005 when he joined the CEO Club set up by the University's Institute for Entrepreneurship. He was elected the Club's President in 2012 and 2014. Under Mr Chao's guidance, the Club has strived to promote knowledge transfer to help member companies make use of the University's expertise and technology for their business operation; educate a young generation of innovative entrepreneurs, enhance the exchanges between Hong Kong and Chinese mainland enterprises, with a view to giving back to society.
The U.S. writer Helen Keller once said, "Life is either a daring adventure or nothing." Entrepreneur is an occupation of taking risks. In this regard, Mr Chao is a natural-born entrepreneur – he is open-minded, creative and never afraid to take risks. As a university student, Mr Chao once took a year off to travel in South America and Africa, continents barely trodden by any tourists in those days. His adventure broadened his horizons and inspired his unique take on business philosophy that still serves him well till this day – "Think global; act local." "A journey of a thousand miles starts with the first baby step that you make right now." Mr Chao was a pioneer who spotted the inevitable trend of globalization decades before the term was coined. After graduation, he was hired by his father's wig company. Instead of managing the business right away, he preferred to start from the bottom of the hierarchy and worked his way up. Nowadays, he is the Managing Director and his company mostly targets high-end wig markets in the U.S. and Europe. Undoubtedly, his international vision and risk-savvy personality have attributed to the company's strategy.
Apart from commercial success, Mr Chao also cares deeply for the welfare of the industry. In 1976, he organized the first Asian Hairstyling and Make-up Competition to foster exchanges and learning among contestants from various countries, and to promote the level of skills and finesse in hairstyling and make-up in the region. Into its 40th anniversary, the Competition is still an eagerly anticipated highlight in the hair and beauty calendar. Mr Chao went on to found the Asian Hair and Beauty Association in 1996, Hong Kong Hair and Beauty Merchants Association in 2005, and Federation of Hong Kong Brands in 2014. He has spared no effort, not only in contributing to the hair and beauty industry, but also in establishing competitive advantages for local brands, so as to put Hong Kong on the global map of prestigious brands.
Chairman Chan, University Council Members, President Tong and Honoured Guests,
I am deeply honoured to receive this Fellowship from The Hong Kong Polytechnic University. I became a member of the CEO Club in 2005, elected as its Vice President in 2008 and 2010, and then President of the fourth and fifth sessions respectively in 2012 and 2014. It has strengthened my connection with PolyU, and thus gaining a better understanding of the University.
PolyU is a well-known international university. Its teaching and research are application-oriented, connecting closely with business and industry, and meeting the needs of society. The CEO Club serves as a unique platform for elites to gather and collaborate, facilitating knowledge transfer between the University and the industry, enhancing the competitiveness of enterprises and fostering the development of Hong Kong as a whole.
PolyU is celebrating its 80th Anniversary this year. It has over the years nurtured hundreds of thousands of professionals to serve in various fields, including Applied Science and Textiles, Business, Construction and Environment, Engineering, Health and Social Sciences, Humanities, Design, and Hotel and Tourism Management, making significant contributions to the development of Hong Kong. I have the good fortune to be associated with PolyU and have learned and benefited a lot from this affiliation. It has better equipped me to make more contributions to our society. I am grateful to all my friends who are here today to share my joy. Thank you very much.
I wish you, PolyU and Hong Kong a beautiful future!