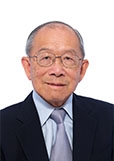 2014 University Fellow
Dr Samuel Lam Pak Nin
Dr Samuel Lam is a specialist in diagnostic radiology and was the first chief corporate radiologist at the William Osler Health System in Ontario, Canada. As one of the pioneers in filmless radiology, Dr Lam led his department to become the first radiology facility in Canada to adopt a comprehensive range of digital imaging technology.
Besides his achievements in the medical field, he has also dedicated himself to promoting the development of health services, social services and education. Through the Lam Woo Foundation named after his late grandfather, Dr Lam has made generous donations to set up the Peking University Eye Center and its Lam Woo Eye Hospital. In 2009, the Foundation financed the construction of the new extension of the Peking University Eye Center in Kaifeng, Henan province, advancing the development of eye care services in China.
Dr Lam has keenly supported academic development for years. In 2011, he funded the Lam Chung Nin Endowed Chair in Molecular Biology at the Peking University and its genetic laboratory. In 2013, Lam Woo Foundation set up a scholarship for the students in need at the Peking University. In the same year, Dr Lam established the Lam Woo Professorship in Biomedical Engineering at The University of Hong Kong and the Lam Woo Foundation Senior Reporters-in-Residence Scheme at the Hong Kong Baptist University.
Dr Lam and the Lam family are fervent supporters of PolyU. With their generous sponsorship, the Department of Applied Social Sciences of PolyU and the Department of Social Work of Peking University co-founded the Lam Woo China Social Work Training and Development Fund and organized activities from 2009 to 2011 for nurturing professional social work practitioners in the Chinese mainland. In 2014, PolyU named a lecture theatre after Dr Lam's father, Mr Lam Chik Ho, the late respected leader in the construction industry, in recognition of his dedication to the promotion of education, infrastructure and medical development in Hong Kong, and also in appreciation of the staunch support from Dr Lam and the Lam family to PolyU over the years. Dr Lam is also named Honorary Life Chairman of The Hong Kong Polytechnic University Foundation.
Dr Lam's commitment to philanthropy also goes beyond Hong Kong. He had served as President and Director of Mon Sheong Foundation, a registered charitable organization in Canada, from 1993 to 2005 and has been its Chairman Emeritus since 2006. He was presented the Queen Elizabeth II Diamond Jubilee Medal by the Canadian Government in 2012, for his significant contributions to his fellow citizens, community and to Canada.