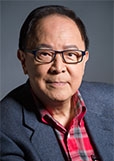 2014 University Fellow
Dr Chung King Fai
SBS
Acclaimed for his achievement in the Hong Kong theatre, Dr Chung King Fai is a veteran actor, director, television producer and programme host, as well as a theatre educator. He is President of the Hong Kong Federation of Drama Societies, Chairman of the Exploration Theatre, Art Consultant of the Hong Kong Repertory Theatre and Advisor of the China Theater Association.
Dr Chung has been a tireless force propelling the development of the Hong Kong theatre, with a special focus on theatre education. He was a lecturer of English and Theatre Studies at the Hong Kong Baptist College (now Hong Kong Baptist University) for twenty three years, and also Founding Dean of School of Drama of the Hong Kong Academy for Performing Arts from 1983 to 2001. He founded the Hong Kong Federation of Drama Societies in 1984 and later served as Member of Committee on Performing Arts of the Home Affairs Bureau and Arts Advisor (Drama) of the Hong Kong Arts Development Council.
Dr Chung keenly supports PolyU's endeavors in promoting arts and culture. To enhance students' interests in theatre, he has shared his over sixty years of experience in performance arts with PolyU students on many occasions. As the Artist-in-Residence at PolyU in 2013/2014, he steered a series of activities including sharing sessions, workshops on acting and stage production experience programme. Directed by Dr Chung, PolyU students and staff joined professional actors and backstage designers to participate in the drama production "Teahouse," gaining a thorough understanding on performance arts through hands-on experience.
Throughout his impressive career, Dr Chung has received numerous accolades and awards for his acting talent and distinguished theatre productions. He was an eight-time winner for Best Leading Actor and four-time winner for Best Director at the Hong Kong Drama Awards. Over the years, he was lauded for his significant contributions to the local theatre scene and was presented the Drama Achievement Award, Award for Outstanding Contribution in Arts and Life Achievement Award by the Hong Kong Arts Development Council. In 2007, Dr Chung received the World Outstanding Chinese Award by the World Chinese Business Investment Foundation and an Honorary Doctorate in Philosophy by the Armstrong University in the United States. He was conferred an Honorary Degree of Doctor of Letters, honoris causa, by the Open University of Hong Kong in 2009 and an Honorary Doctorate in Theatre by the Hong Kong Academy for Performing Arts in 2011.
Dr Chung was commended by the HKSAR Government with a Bronze Bauhinia Star and a Silver Bauhinia Star in 2002 and 2013 respectively to honour his outstanding achievements and contributions to the development of the Hong Kong theatre.
Chairman Yang, University Council Members, President Tong and Honoured Guests,
First of all, I would like to express my heartfelt thanks to The Hong Kong Polytechnic University for conferring the honorary title of University Fellowship upon me.
As we all know, The Hong Kong Polytechnic University has a strong student Drama Club for decades, many graduates and current students have continuously contributed their drama art work to Hong Kong society.
It has been such an honour when I was appointed the Artist-in-Residence for the last academic year. At this milestone of my journey, I would like to express my sincere thanks to Professor Tse, Mrs Ivy Leung, staff and students who had supported my work for the past year.
After providing series of performing arts workshops to the students, we together have chosen to put on a Chinese Classic drama "Tea House" by Lao She at the Jockey Club Auditorium. The show had involved many students to participate in acting and technical parts; many students had come to audition; the show had been a great success!
Last but not least, I would like to take this opportunity to thank my parents for their unwavering support they have given me over the past years. Without their love and care, I would not be here receiving this honour today. Thank you.