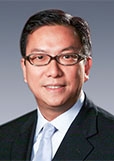 2015 University Fellow
Mr Irons Sze
BBS, JP
Mr Irons Sze, Executive Director of Hang Tung Resources Holding Limited, is an eminent business leader with notable achievements in the industrial and trading fields. He graduated from the University of Wisconsin, the United States, in 1985 with a Bachelor's degree in Science.
Guided by his managerial competence and excellent leadership, Mr Sze has been a tireless force in spearheading the industrial and commercial development of Hong Kong. From 2012 to 2014, he was the 39th President of Chinese Manufacturers' Association of Hong Kong (CMA) and now serves as its Permanent Honorary President. He has also participated actively in public service as Member of the third and the fourth Election Committee of Chief Executive of the HKSAR. He is now Member of the National Committee of the Chinese People's Political Consultative Conference (CPPCC), an Executive Member of the CPPCC Beijing Standing Committee, Non-official Member of the Consultative Committee on Economic, Trade Co-operation between Hong Kong and the Mainland, and Member of the Labour Advisory Board. Driven by a compassion for the welfare of those in need, Mr Sze has served as Director of Tung Wah Group of Hospitals.
Mr Sze's deep concern for the development of education is reflected in his ongoing contributions to nurturing young talents. As Court Member of PolyU, Honorary Court Member of Hong Kong Baptist University and Lingnan University, Mr Sze has devoted great efforts to foster the development of local universities. In his capacity as the President of CMA, he had rendered steadfast support to PolyU activities, including the PolyU CMA 80th Anniversary – Mainland China, Taiwan, Hong Kong and Macau Invitational Golf Tournament 2014. Last year, CMA made a generous donation to PolyU in support of the University's Service-Learning and student exchange programmes. These initiatives encourage students to serve the needy with their knowledge, which would in turn help enhance the sense of social responsibility of the students and broaden their perspective. PolyU later named a building on campus after CMA in recognition of the Association's generous support to the University and its significant efforts to advance education development over the years.
Mr Sze has made exemplary contributions to the community. In 2011, he was conferred an Honorary Fellowship by the Vocational Training Council and appointed Justice of the Peace by the HKSAR Government. He was commended for his dedication to serving society with a Bronze Bauhinia Star in 2015.
Chairman Yang, University Council Members, President Tong and Honoured Guests,
I would first like to express my heartfelt gratitude to The Hong Kong Polytechnic University for conferring upon me the honour of this Fellowship. This honour not only represents the recognition by PolyU of my commitment to serving the society, but also provides a strong motivation for me to move forward.
It is commonly known that PolyU's Institute of Textiles and Clothing enjoys a worldwide reputation for excellence in fashion and textiles education. What a happy coincidence it is that I have worked in the industry of textile raw materials for more than three decades. Coming from a patriotic Chinese business family, many people have mistaken me for being born with a silver spoon in my mouth, yet it is through sheer hard work and dedication that I built the family business together with my father and elder brother.
In 1978, my father set up a company on international trade of textile products, and I had worked there for the summer. In an office of just some 20 square metres, I prepared business contracts for my father using a typewriter. It was a simple and yet greatly satisfying task, because contract meant business. I have a vivid memory of preparing a contract which was worth a million U.S. dollars and being so excited about it. I was one of the first factory owners in the 1980s to tap into the mainland market, as I joined the family-owned Hang Tung Resources Holding Limited after graduating from university, and travelled on my own to Beijing and North Korea for business in my twenties.
The journey as an entrepreneur has led me to opportunities far and wide, but it also has its challenges. With the unconditional support from family and friends, our business has been running smoothly. Despite achieving success at work, I always remind myself to stay humble and patient, and to maintain the zeal for learning and for growth.
The latter part of PolyU's motto "To learn and to apply, for the benefit of mankind" illustrates my aspiration in life. I firmly believe that the goal of studying industriously is not only for personal benefit, but also for contributing towards the betterment of society. With this in mind, I have been participating in activities promoting love for Hong Kong and China, as well as philanthropic and education initiatives both at home and abroad (including serving as Member of the National Committee of the Chinese People's Political Consultative Conference (CPPCC), an Executive Member of the CPPCC Beijing Standing Committee, Member of the Labour Advisory Board and Non-official Member of the Consultative Committee on Economic, Trade Co-operation between Hong Kong and the Mainland). I hope that my humble efforts through these activities can advance the development of Hong Kong and our country.
I must thank PolyU again for conferring upon me this Fellowship. I would also like to thank my family, colleagues and friends. Your invaluable support and encouragement throughout the years have made me the person I am today.
I am proud to be a University Fellow of PolyU, and I will hold on to the spirit expressed in the University's motto to strive for the benefit of mankind, society and the nation.
Lastly, I sincerely hope that PolyU would continue to scale new heights in its development! Thank you.