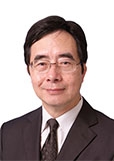 2015 University Fellow
Ir Professor James Lau Chi Wang
BBS, JP
Professor James Lau is Chairman and Managing Director of James Lau & Associates Limited and Fong On Construction Limited, and also Director of Maxwell Contract Services Company Limited. He is an Authorized Person, a Registered Structural Engineer and Geotechnical Engineer. With over 40 years of experience in the field of civil engineering, he has managed numerous construction projects across Asia.
Professor Lau graduated from the Hong Kong Technical College, the predecessor of The Hong Kong Polytechnic University, in 1968 with a Higher Diploma in Structural Engineering. He later obtained a Master's degree in Structural Engineering from The University of Manchester, a Doctor of Philosophy degree in Geotechnical Engineering from the University of London and a Master of Business Administration degree from The Chinese University of Hong Kong. Taking lifelong learning as his personal motto, Professor Lau obtained a Bachelor of Laws degree from the University of London and a Master of Laws degree from The University of Hong Kong in 1985 and 1990 respectively. He was called to the Bar in England and later in Hong Kong, specializing in construction law, contract administration and project management.
Professor Lau has been contributing to the community through serving on various committees of the HKSAR Government and professional bodies. He was a member of the Land and Building Advisory Committee and of the Town Planning Board. In addition to having been elected as Member of the Council of the Hong Kong Institution of Engineers, he was also the former Vice President of the Institution of Structural Engineers, and is currently a Fellow of both institutions. From 2004 to 2011, Professor Lau served as Wong Tai Sin District Council Member, contributing his wealth of expertise to improving the living quality of the community.
Professor Lau has staunchly supported his alma mater throughout the years. He was Member of the Advisory Committee of the Department of Land Surveying and Geo-Informatics of PolyU from 2000 to 2004, and now serves as Senior Advisor to the President, providing expert advice to various campus development projects. As Adjunct Professor of PolyU and several higher education institutions in Hong Kong, Professor Lau has lectured on civil engineering and related programmes with great enthusiasm.
Professor Lau was appointed Justice of the Peace and commended with a Bronze Bauhinia Star by the HKSAR Government in 2002 and 2009 respectively. In 2011, Professor Lau was presented the Outstanding PolyU Alumni Award for his significant contributions to society and the field of civil engineering.
Chairman Yang, University Council Members, President Tong and Honoured Guests,
I am greatly honoured to receive this prestigious Fellowship from The Hong Kong Polytechnic University. From my CV, you know that I had studied in a number of universities and was awarded with several degrees. But the Fellowship from PolyU is particularly dear to me. I am going to tell you why.
My family and PolyU have a very close relationship. I graduated from PolyU's predecessor, Hong Kong Technical College, in 1968. My father was also a graduate of the Hong Kong Technical College, where he studied a number of certificate and accredited courses at the then Department of Building in the 1950s. My father is now 92 years old and is joining the ceremony today! My younger brother, CM, was a graduate of the Department of Mechanical Engineering of the then Hong Kong Polytechnic in the early 1970s. He is also sitting in the audience. My wife, Theresa, was an Associate Professor of PolyU. The whole family shows up today to share my happiness and you can all see how close my family is with the University.
My three years at the Hong Kong Technical College have been most rewarding. In those days, the curriculum emphasised the importance of basic engineering concepts. I was guided to incorporate the basic concepts in my thinking process rather than memorizing complicated formulae. In the morning, we took academic subjects. In the afternoon, we worked at the workshops doing very practical things, like land surveying, drawing, welding, pipe fixing, woodworking, steel fixing, formwork making, concreting and plastering.
I am pleased to say that after so many years, I can still make very good hand sketches and drawings. My experience at the workshops helped me a lot when I worked for my PhD at the University of London. With the skills I learnt from the College, I made my own testing equipment. When I walked round the construction sites checking the quality of work, my foremen and workers respected me. They knew very well that they could not deceive me. I know exactly the best way to do their job. I must thank PolyU for teaching me to become a good engineer.
Lastly, I must thank PolyU for conferring upon me this honorary Fellowship.