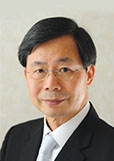 2012 University Fellow
Mr Wong Tit Shing
Mr Wong Tit Shing is Chairman and Founder of Jetta Company Limited, a leading original equipment manufacturer (OEM) in the toy industry. Under Mr Wong's leadership over the past three decades, Jetta has become one of the world's largest and most reputable OEM manufacturers and has achieved enormous success in various markets worldwide. It has also operated several major production facilities in the Chinese mainland.
Dedicated to promoting the toy industry, Mr Wong was the first Asian to become President of the International Council of Toy Industries and served in this role between 2004 and 2007. He was instrumental in formulating and promoting the Council's Code of Business Conduct that has formed the basis of unified factory audit standards, the ICTI CARE Process. He has also served as Advisor to the General Committee of the Toys Manufacturers' Association of Hong Kong 2012 – 2014 and Honorary President of the Hong Kong Toys Council since 2001.
While heavily engaged with his business, Mr Wong is also strongly committed to philanthropic work. In 1998, he founded the Jetta Charitable Foundation which has given financial support to the construction of about sixty schools, and provided sponsorships and donations for various educational foundations in the Chinese mainland.
A graduate of the Hong Kong Technical College, the predecessor of The Hong Kong Polytechnic University, in 1967 with a Higher Diploma in Production Engineering, Mr Wong also cares for his alma mater. He was key in gaining the support of the Toys Manufacturers' Association of Hong Kong for the establishment of the PolyU Toys Design Centre in 2000. He has served the PolyU Fund-raising Committee since 2011, and has made generous donations in support of PolyU's long-term development and its student development programmes.
Mr Wong's contributions also extend beyond Hong Kong to the Mainland community. He is currently a member of the Executive Committee of the People's Political Consultative Conference in Guangzhou, and has served as Honorary Chairman of the Chamber of Commerce of Guangzhou Foreign Investment Enterprise since 2005.
Mr Wong has received many awards for his contributions to the toy industry, including the Outstanding Award of the Hong Kong Toy Industry in 2001 and the Industrialist of the Year Award 2011. He was named Honorary Citizen of Guangzhou in 1993, and was presented the PolyU Outstanding Alumni Award in 2009.
Chairman Yang, Council Members, President Tong and Honoured Guests,
I would like to express my sincere thanks to The Hong Kong Polytechnic University for conferring the honorary title of University Fellowship upon me.
Today is an important milestone in my life, and is a time to count my blessings. Life is a journey, a journey of learning and growth. One will find the journey easy and joyful when it is set in the right direction and when one is being encouraged.
My studies in the Hong Kong Technical College marked a very important stage in my life journey. Ever since my graduation from the College, I have been making toys. In the beginning I had some concern on whether the knowledge acquired in the College would be wasted on little things like toys. After all these years, I no longer have any concerns in this regard. I am very proud of what I have made and the application of the knowledge I have acquired. I am sure that I have brought happiness to many children and parents, and lightened up their lives for a moment or two. Perhaps these toys have inspired them to big dreams and left them with treasured memories. I know I have embarked on the right path even though it is a humble one.
Encouragement and recognition are very important to one's growth. Looking back at my life journey, there were times that I stumbled and fell, but, with the encouragement from peers, friends and family I was able to stand up, to walk and run again. At this milestone of my journey, I would like to express my sincere thanks to those angels who had cheered and supported me.
The Hong Kong Polytechnic University has just concluded the celebration of her 75th Anniversary. She has not forgotten the students of the old days, including the students of the Hong Kong Technical College. As one of the students in this group, I would like to express my sincere thanks to my alma mater for keeping in touch with me, and for giving me more learning opportunities and timely encouragements. Thank you for walking the extra miles with me. The recognition I receive today is indeed a good testimonial of my alma mater's achievement.
Last but not least, may all the glory and praise be to our God, our Lord, our Father in Heaven.