In view of the COVID-19 pandemic, students should take note of the following special arrangements for Off-Campus Housing (OCH):
1) Arrangement of check-in/return from foreign places:
| | |
| --- | --- |
| a. | Adhere to the HKSAR Government's testing and quarantine requirement. Students who have not completed the quarantine requirement of the HKSAR Government will not be allowed to enter the OCH. |
| b. | Students, who entered Hong Kong via the Return2HK Scheme and are exempted from quarantine, please present the Green QR code generated by the electronic health declaration system of the Department of Health in the process of check-in. |
| c. | On the date of your check-in / return, please go to the Hung Hom Halls counter during office hours and: |
| | |
| --- | --- |
| i. | present the compulsory quarantine order issued by the HKSAR Government; |
| ii. | present the supporting documents of your immigration record in the past 21 days (e.g. inbound travel ticket and entry date to Hong Kong as shown in passport); |
| iii. | present the record of vaccination for verification; |
| iv. | complete a new Travel Declaration and Health Status Form which will be provided onsite. |
| | |
| --- | --- |
| | Upon receiving and checking all the necessary information, you will receive the room key of the OCH. |
| d. | In view of the rapid development of the novel coronavirus outbreak, the above procedures may be subject to changes and students are strongly advised to pay special attention to University announcements and check with the Hall Administration again prior to their return. |
2) Special arrangements for hall residents
| | |
| --- | --- |
| a. | Vaccine pass for campus and hall access from 24 Feb 2022: |
| | |
| --- | --- |
| i. | All students must have received at least one dose of COVID-19 vaccine before 24 February 2022, at least two doses of COVID-19 vaccine before 30 April 2022, and receive the third dose by 31 May 2022 for campus access unless they have proof from a medical practitioner that they are medically unfit for COVID 19 vaccination. |
| ii. | For those who have received the first dose of vaccine while awaiting the second dose, they are required to undergo regular weekly testing and report negative test results via the COVID-19 Vaccination Status Reporting Portal until they receive the second dose before 30 April 2022. |
| iii. | For those who are medically unfit for vaccination, they are required to undergo regular tests every 3 days and report negative test results via the COVID-19 Vaccination Status Reporting Portal for campus access from 24 February 2022. |
| iv. | All students are required to have their vaccination and testing records uploaded to the COVID-19 Vaccination Status Reporting Portal. Otherwise, their access to campus and hall will be denied until the requirements are fulfilled. |
| v. | Students recovered from COVID-19 should update their case details and upload supporting documents to the COVID-19 Vaccination Status Reporting Portal for verification. Verified case of recovery will be exempted from testing for 6 months from the date of recovery or till completion of required vaccination. |
b.
Starting from 25 Aug., 2021, students, who do not declare their vaccination status, or do not submit their weekly test result in time, will not be allowed to check into the OCH. Residents in the above situations will be subject to hall disciplinary actions, and may not be allowed to enter the OCH premises due to health and safety concerns.

c.
Under the Prevention and Control of Disease (Compulsory Testing for Certain Persons) Regulation (Cap 599J), individuals may be required to undergo testing under the Government's compulsory testing notice for specified premises and high risk or high exposure groups or required by a medical practitioner's compulsory testing direction. In this connection, hall residents who are subject to the compulsory testing requirement should not return to hall until the testing result is available and confirmed negative.
Besides, students should report their cases to the Hall Administration as soon as possible.

d.
Students with home-mates undergoing mandatory self-quarantine in Hong Kong should report their situation to the Hall Administration and undertake self-quarantine during the quarantine period of their home-mates. The concerned students shall not be allowed to come back to OCH during the quarantine period.

e.
For public health concerns, all students are required to:
| | |
| --- | --- |
| i. | wear a face mask in the communal areas on the OCH premises and when interacting with others inside student rooms/suites; |
| ii. | strictly observe the social distancing measures and HKSAR government's regulation on prohibition of group gatherings, in both communal areas and student rooms/suites; |
| iii. | avoid any gathering for food or drinks; |
| iv. | check body temperature at OCH entrance (students with high temperature will not be permitted to enter OCH for the safety of other residents). |
| | |
| --- | --- |
| f. | Visiting arrangement of non-residents is temporarily suspended until further notice. |
| g. | Group gatherings, except those have been approved by Hall Administration, in the communal areas of OCH are restricted to FOUR persons. |
| h. | All forms of non-essential face-to-face interactions are suspended until further notice. |
| i. | If you are feeling unwell, present with fever or respiratory symptoms, please: |
| | |
| --- | --- |
| i. | consult a doctor immediately, inform the doctor of your recent travel history, if any; |
| ii. | wear a surgical mask to help prevent the spread of disease; |
| iii. | refrain from attending classes or activities, avoid going to crowded places; and |
| iv. | inform the Hall Administration at 3159 0000 (Hung Hom Halls) immediately. |
Failure to comply with the above special arrangements may result in disciplinary actions as deemed necessary.
Rules and Regulations for Student Hall of Residence shall apply to off-campus housing wherever applicable unless specified otherwise below or in the application form.
A) House Rules (forming a part of the residential Contract Agreement)
All flats will accommodate students of the same gender only.
The University reserves the rights in assigning flat, room and bed (e.g. upper bed/lower bed of the bunk bed) when necessary.
The University and/or its authorized representatives maintains the right to enter the flat/rooms, with or without prior notice, whether or not in the presence of the student, for the purposes of ensuring hygiene, health, safety, security and other situation as deemed necessary.
Subletting, transfer of the right of residence, or granting licence to use the premises to any person is absolutely prohibited.
Visiting hour is from 9:00 a.m. to 11:00 p.m. The guest must be accompanied by the host resident whenever he/she is in the premises. Illegal accommodating of a guest for overnight stay will be charged a penalty of HK$500 per night and subject to disciplinary action.
Students shall be held liable for any loss of or damage (beyond normal wear and tear) to the facilities, furniture, fittings, fixtures and fabrics in the assigned room and installed for common use in the premises. In the absence of proof of individual responsibility, the students in the premises might be held jointly liable for the loss or damage incurred.
Upon termination of residence, students shall remove all personal property in the assigned room and the premises prior to check-out. Any property found shall be disposed of and the University disclaims any liability for the loss of or damage to such property.
The University maintains the right to terminate the residence of a student resident for violating the House Rules, or serious illness requesting intensive family care, or any abnormally aggressive or irresponsible conducts that will endanger him/herself or others. No refund of any lodging fee paid shall be made in this situation as a disciplinary action.
In case of emergency or in situation deemed necessary (e.g. major and urgent repair work in the living flat is required), the University maintains the right to call back the flat and re-allocate relevant students to other residences. Students shall obey the instruction of the University co-operatively.
For those wishing hall staff to come to Off-campus Housing site, e.g. open doors, process check-in or check-out outside the official assigned date/time, an administrative cost of HK $200 shall be levied.
B) Other House Rules
Students shall:
dress properly within the rental unit. A minimum T-shirt and shorts is recommended.
maintain personal, the assigned room and the premises' cleanliness and hygiene at all times.
clean up after cooking and keep the kitchen clean at all times.
lock the door properly and safeguard his/her personal belongings in the House. The University assumes no responsibility for any loss of or damage to any personal belongings.
switch off all lights, air-conditioners and boilers whenever he/she leaves the room and the premises and economize on electricity and water at all times.
be responsible for all the keys assigned for their use and shall not duplicate the keys and lend them to any person. A charge of HK$50 unless otherwise specified will be levied for a piece of lost key.
Students shall NOT:
gamble, smoke and drink of alcoholic beverages in the house
create noise and play rowdy games between 23:00 and 09:00
exchange or swap rooms without prior approval. Unauthorized exchange or swap rooms will be charged a penalty of HK$500.
bully roommates by any undue means.
disclose the security code of the main entrance to any person.
remove, damage or interfere with any facilities, furniture, fittings, fixtures and fabrics in the assigned room and installed for common use in the premises, nor affix anything or paint or make any alteration and addition whatsoever inside the premises or to the exterior of the premises.
hang clothes at windows or in the areas commonly used by the roommates.
place personal belongings or rubbish in the corridor, stairway or lobby.
bring into the assigned room and the premises:
| | |
| --- | --- |
| a. | any dangerous drugs as defined in Section 2 of the Dangerous Drugs Ordinance (Cap. 134); |
| b. | fireworks, firearms, ammunition or weapons of any forms; |
| c. | highly combustible materials (e.g., burning of candles, incense) of any forms; and |
| d. | hazardous chemicals or flammable liquids. |
| e. | Pets or animals |
C) Disciplinary Actions and Appeal Procedures
1. Disciplinary Process
| | |
| --- | --- |
| a. | Any violation of Off-campus Housing (OCH) regulations will be handled by Section Head of Student Resources and Support Section (SRSS) and the Hall Administration. |
| b. | Subsequently, Section Head (SRSS) will decide on appropriate sanction(s) with consideration of nature of the alleged violation(s) and past conduct of the student. |
| c. | If there is ground to believe that the alleged may have breached the code of conduct of PolyU or even the law of Hong Kong, the case will be brought to the attention of the Student Discipline Committee, and/or to the Police. |
2. Disciplinary Actions
Section Head (SRSS) may, in accordance with the authority entrusted by the University, take the appropriate disciplinary actions, as stated on Regulations Governing Hall Residence, Section I, Point 3, against any OCH Resident for misconduct and violation of OCH Regulations.
3. Appeal
| | |
| --- | --- |
| a. | A resident has the right to appeal against the decision made by Section Head (SRSS). It is the responsibility of the appellant to file the appeal request duly and adequately. |
| b. | A written appeal has to be submitted to the Secretary of the OCH Discipline Committee within 72 hours of the written notice of sanction and must specify in detail the grounds of the appeal which has to meet at least one of the following criteria: |
| | |
| --- | --- |
| i. | Sanction(s) are inconsistent with the offence and outlined outcomes; |
| ii. | There is new information that was previously not available at the time of the hearing AND that information has a significant effect on the outcome; |
| iii. | There was an error in the process that had a significant effect on the outcome. |
| | |
| --- | --- |
| c. | There is only one opportunity for appeal. Failure to file the appeal within the prescribed 72 hours will constitute a waiver of the right to appeal. |
| d. | At the time an appeal is granted, the sanctions incurred will not be in effect until the outcome of the appeal is determined. However, when a serious threat to self or others or significant immediate impact to the University can be determined, sanctions will be in effect while awaiting the outcome of the appeal. |
| e. | The decision of the OCH Discipline Committee is final and binding within the University. |
A) Location
1 Hillwood Road, Tsimshatsui, Kowloon
B) Transportation
The building is located at 1 Hillwood Road, Tsimshatsui, within 8 minutes walk from PolyU campus. All residential floors (3/F - 14/F) are reserved for PolyU students only. From G/F to 2/F are for retail shops. There are 24-convenience store, catering outlets and shopping facilities in close proximity of the premises.
Location of Chun Fook Mansion and PolyU Campus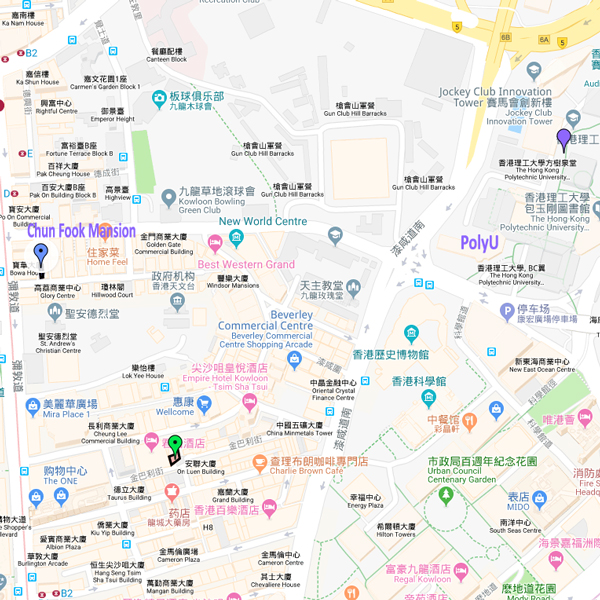 C) Basic information and Provisions
Flat size (floor area)

840 Sq. ft. s.f. (one flat on each floor)

No. of students per flat

3/F: 6 students per flat (three double rooms)
4/F – 14/F: 8 students per flat (one 4-person-room and two double rooms)
Total capacity: 94 places

Basic furniture

study desks, bookshelves, bunk-beds with mattresses (bed sheet, pillow and blanket excluded), and wardrobes.

Basic home appliances

air-conditioners, refrigerator, washing machine, wireless router (Wifi speed up to 100Mbshared in one flat), and electric panels.

Please email to och.info@polyu.edu.hk if you have any queries.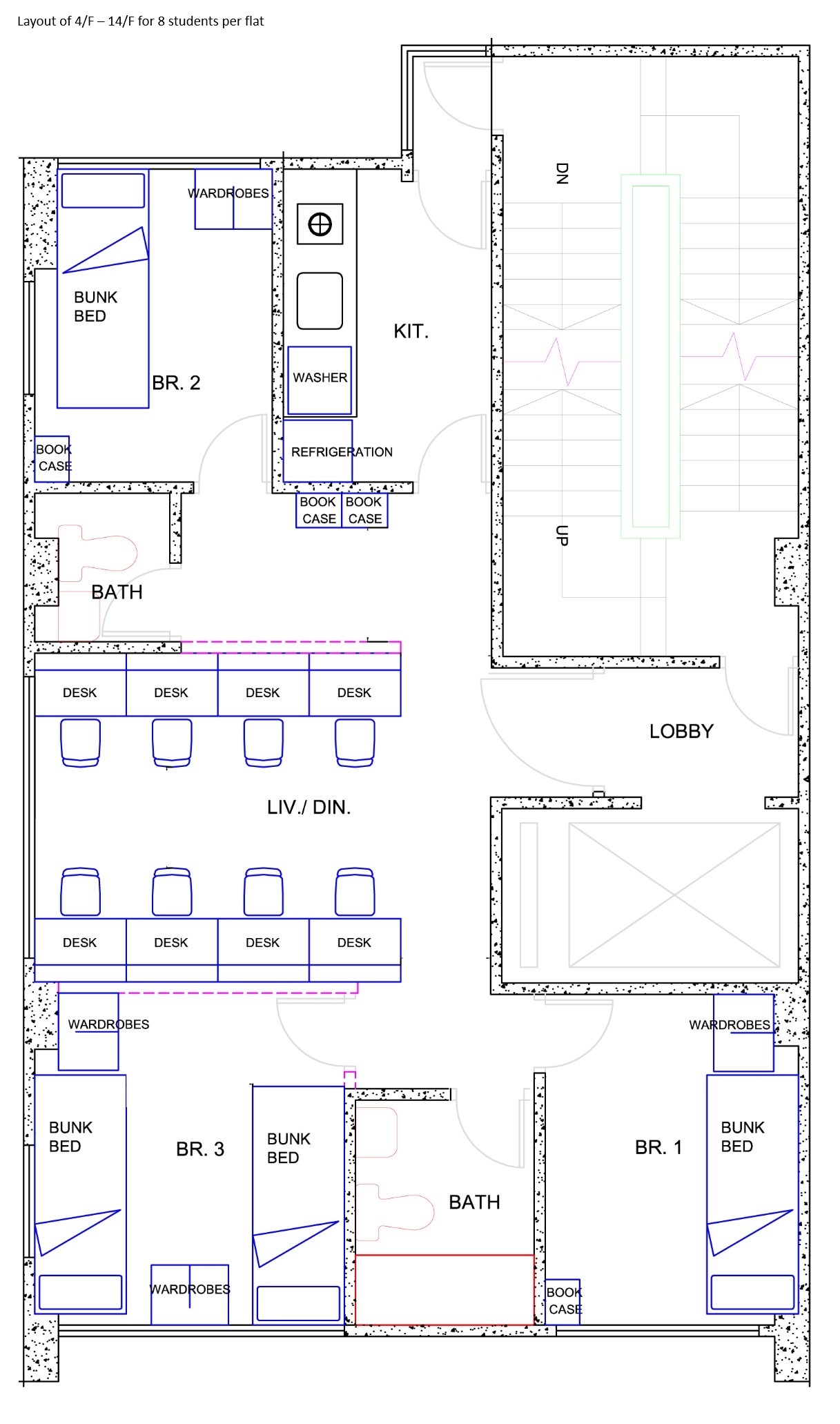 | | | | |
| --- | --- | --- | --- |
| Building Outlook | Lift Lobby | Living room | Kitchen |
| | | | |
| Double room | Quadruple room | Bathroom | Others |
| | | | |