This laboratory provides platform to conduct research on biological materials and structures, including structural characterization and mechanical characterization.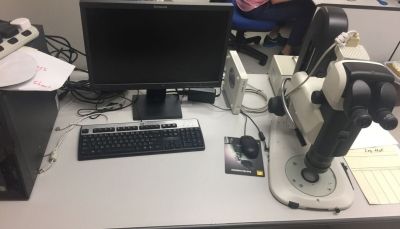 1. Nikon SMZ18
Introduction
Zoom Stereo Microscopes from Nikon with high resolution and macro magnification of parts. Perfect for large sample analysis and multi-focal imaging.
Key features

Ease of creating higher resolution, contrast, and zoom ratio images for electronics and other 3D parts
High zoom range (0.75 – 13.5x with 0.75/1/2/3/4/5/6/8/10/12/13.5x click stops) 3.75 – 270x magnification range with 10x eyepieces (dependent upon objective and camera adapter selection)
LED fiber illumination available with epi coaxial, ringlight, and flexible light pipe options for a variety of applications
Double nosepiece accessory enables on-axis viewing, extended depth of focus, and quick rotation between multiple objects
Wide Range of Available Accessories
Applications
The Nikon SMZ18 is suitable for providing a clear image of many materials' surface morphology.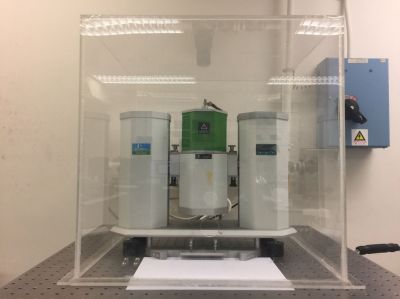 2. PerkinElmer DMA 8000
Introduction:
The DMA 8000 Dynamic Mechanical Analyzer from Perkin Elmer is a highly flexible, cost effective analyzer. It has a modern design, and offers high functionality and flexible operation. The equipment uses an ultra-efficient cooling system, and can cool to -190 ºC in 15 minutes using less than a liter of liquid nitrogen, thus offering industry-leading performance.
Key features:
The rotating analysis head can be oriented through a full 180° for optimal analysis head configuration for virtually any test type and sample geometry.

The integrated unique lightweight analytical train has minimal compliance for enhanced performance

Operates in dynamic mode as well as in "constant force (TMA) mode" vs. time or temperature

Applications such as extension or contraction, softening and penetration, expansion coefficient in tension geometry yield useful information comparable to most commercially available stand-alone TMA instruments

The environmental fluid bath option is integrated into the instrument, and allows true immersion studies on a sample while measuring the dynamic mechanical properties.
Applications:
The DMA 8000 is suitable for advanced research and regular quality testing in a variety of sectors such as
Food

Polymers

Composites

Pharmaceutical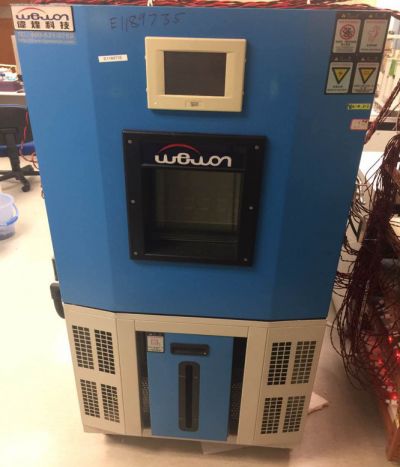 3. 可程式高低温试验箱 (Programmable high and low temperature test chamber) WHCT-150L70-881
Introduction:
The programmable high and low temperature test chamber is mainly applied to scientific research, preservation of medical supplies, biological products, electronic components, chemical materials and other special high and low temperature test and storage.
Key features:
The temperature range can be customized for the requirement, the lowest temperature of the equipment can be set as -70 Celsius degree.
The design of safety door lock ensures the door will not open occasionally.
Applications:
The programmable high and low temperature test chamber is mainly used for measuring electrochemical performance of batteries.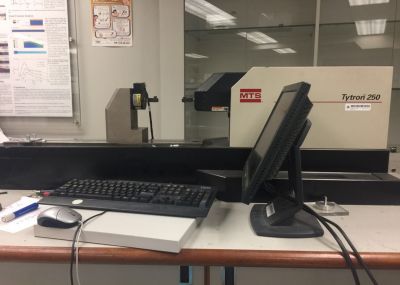 4. Tytron 250 Microforce Testing System
Introduction:
The Tytron 250 test system from MTS Systems Corporation extends the advantage of mechanical testing which can speed up the evaluation of new product and component designs to the microforce range. With a load capacity from 0.001 N to 250 N, the Tytron 250 system opens up new mechanical-testing applications in electronic and medical product development and basic research. Its static and dynamic capabilities make the Tytron 250 system idea for monotonic, durability, and fatigue testing.
Key features:

A directly coupled linear DC servomotor capable of speeds ranging from one µm/hr to 0.5 m/sec.
A high-stiffness, thin-film air bearing for frictionless actuator motion.
High-speed digital control. The MTS TestStar IIs control system has been modified with special enhancements and tuning parameters to support ultra-precise, high-resolution testing.
State-of-the-art mechanical frame. Noise is minimized through the use of very high damping material, the same material used in some atomic force microscopes.
The cable management system and single interface access panel simplify system setup and operation.
The fully adjustable force reaction frame provides free space between the actuator and load cell that is adjustable from 0 to 500 mm. This variability allows the system to accommodate a wide range of specimens, fixtures, and chambers.
Built-in storage area for accessories, specimens, and tools.
Applications:
Static and Dynamic Testing for:
Electronics
Biomaterials and medical devices
Polymers and thin films
Basic materials research