Challenges of Energy Storage and Conversion by High Energy Density Rechargeable Batteries For Electromobility
Distinguished Research Seminar Series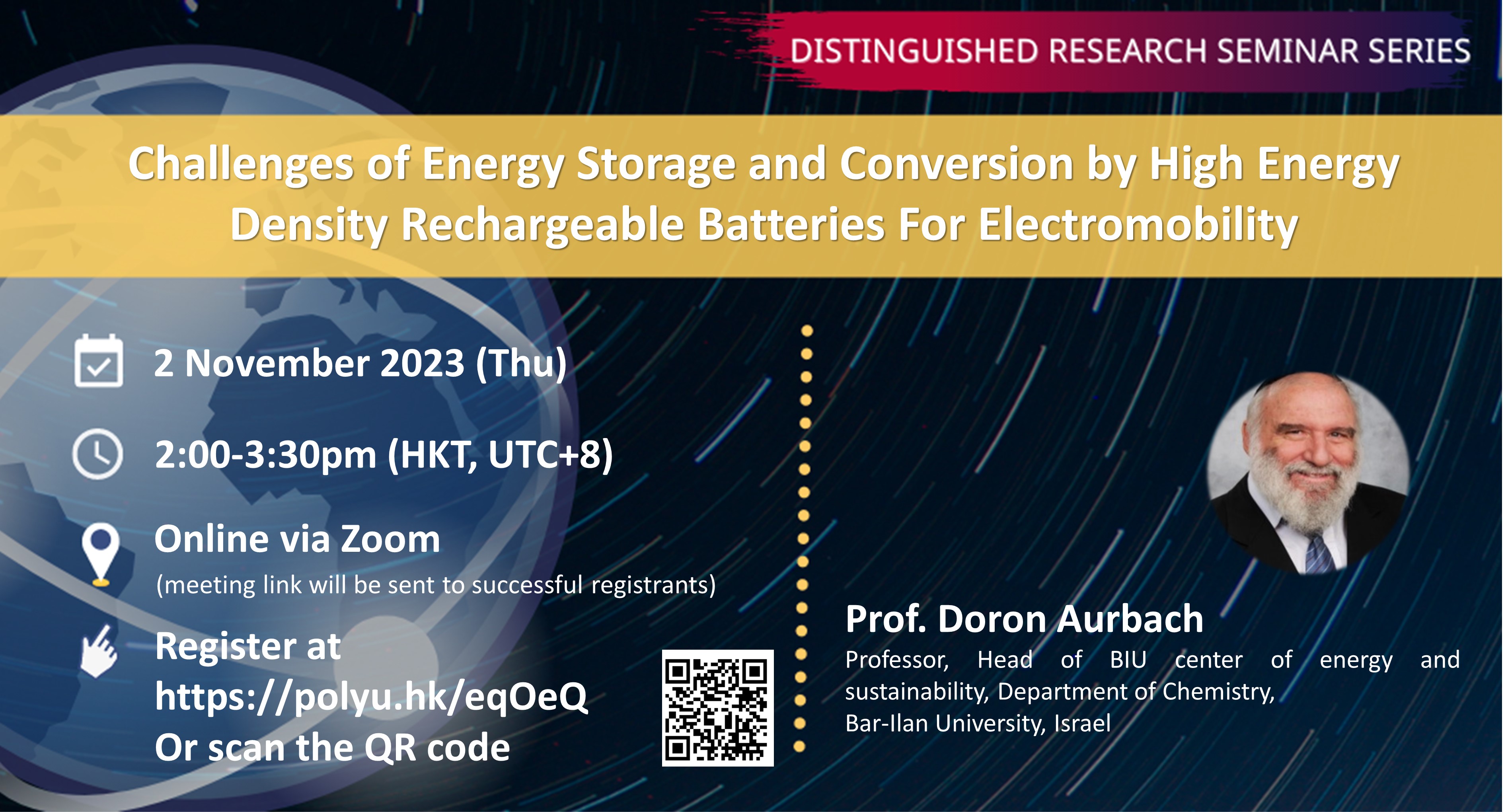 Organiser

Department of Industrial and Systems Engineering, PolyU
Speaker
Prof. Doron Aurbach
Remarks
Meeting link will be sent to successful registrants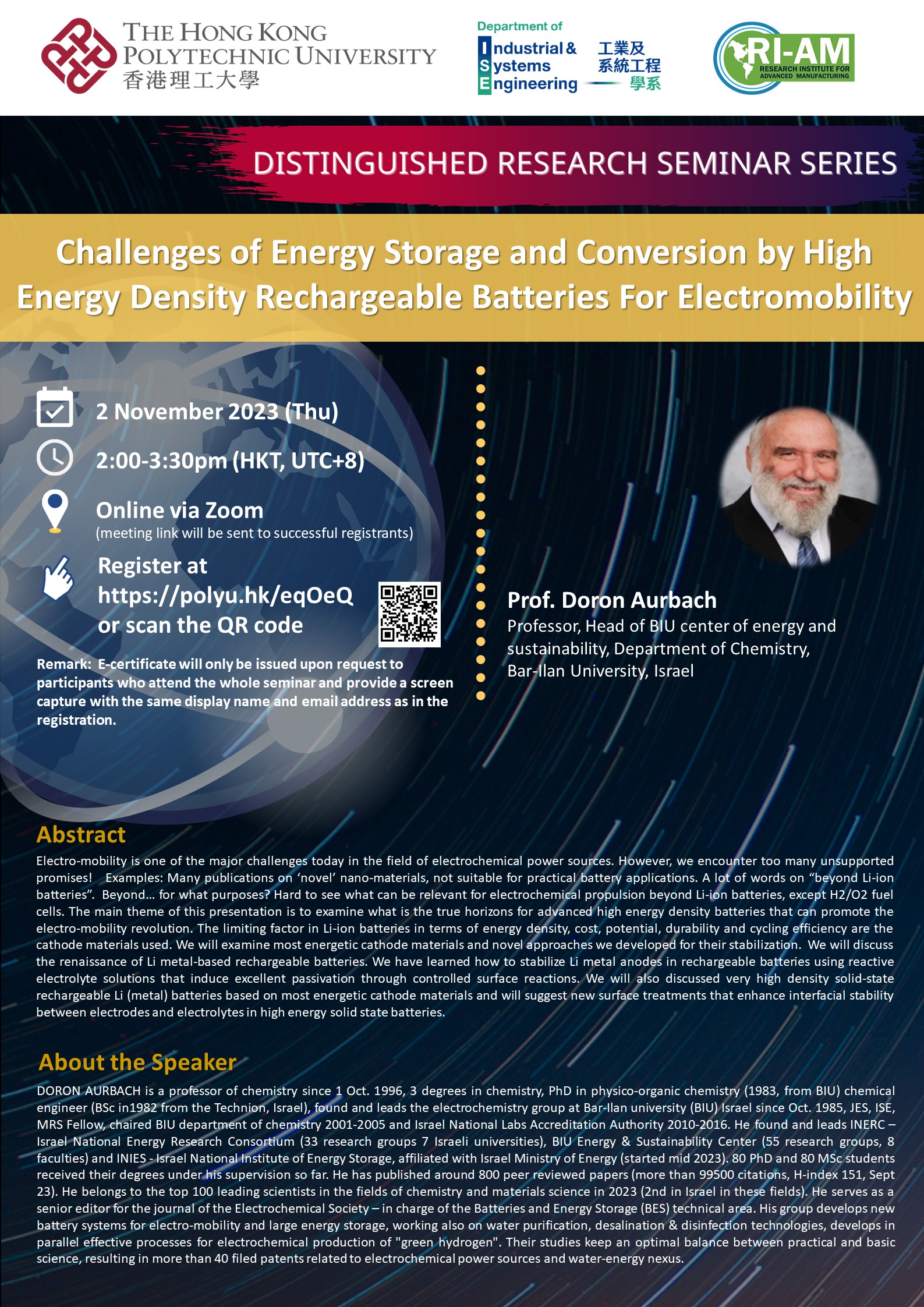 Summary
Electro-mobility is one of the major challenges today in the field of electrochemical power sources. However, we encounter too many unsupported promises! Examples: Many publications on 'novel' nano-materials, not suitable for practical battery applications. A lot of words on "beyond Li-ion batteries". Beyond… for what purposes? Hard to see what can be relevant for electrochemical propulsion beyond Li-ion batteries, except H2/O2 fuel cells. The main theme of this presentation is to examine what is the true horizons for advanced high energy density batteries that can promote the electro-mobility revolution. The limiting factor in Li-ion batteries in terms of energy density, cost, potential, durability and cycling efficiency are the cathode materials used. We will examine most energetic cathode materials and novel approaches we developed for their stabilization. We will discuss the renaissance of Li metal-based rechargeable batteries. We have learned how to stabilize Li metal anodes in rechargeable batteries using reactive electrolyte solutions that induce excellent passivation through controlled surface reactions. We will also discussed very high density solid-state rechargeable Li (metal) batteries based on most energetic cathode materials and will suggest new surface treatments that enhance interfacial stability between electrodes and electrolytes in high energy solid state batteries.
Keynote Speaker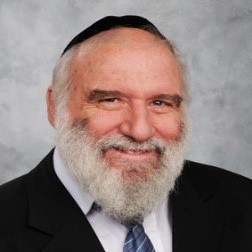 Prof. Doron Aurbach
Professor, Head of BIU center of energy and sustainability,
Department of Chemistry, Bar-Ilan University, Israel
DORON AURBACH is a professor of chemistry since 1 Oct. 1996, 3 degrees in chemistry, PhD in physico-organic chemistry (1983, from BIU) chemical engineer (BSc in1982 from the Technion, Israel), found and leads the electrochemistry group at Bar-Ilan university (BIU) Israel since Oct. 1985, JES, ISE, MRS Fellow, chaired BIU department of chemistry 2001-2005 and Israel National Labs Accreditation Authority 2010-2016. He found and leads INERC – Israel National Energy Research Consortium (33 research groups 7 Israeli universities), BIU Energy & Sustainability Center (55 research groups, 8 faculties) and INIES - Israel National Institute of Energy Storage, affiliated with Israel Ministry of Energy (started mid 2023). 80 PhD and 80 MSc students received their degrees under his supervision so far. He has published around 800 peer reviewed papers (more than 99500 citations, H-index 151, Sept 23). He belongs to the top 100 leading scientists in the fields of chemistry and materials science in 2023 (2nd in Israel in these fields). He serves as a senior editor for the journal of the Electrochemical Society – in charge of the Batteries and Energy Storage (BES) technical area. His group develops new battery systems for electro-mobility and large energy storage, working also on water purification, desalination & disinfection technologies, develops in parallel effective processes for electrochemical production of "green hydrogen". Their studies keep an optimal balance between practical and basic science, resulting in more than 40 filed patents related to electrochemical power sources and water-energy nexus.