Agents and Intelligent Manufacturing
Distinguished Research Seminar Series
Organiser

Department of Industrial and Systems Engineering, PolyU
Speaker
Prof. Weiming Shen
Remarks
Meeting link will be sent to successful registrants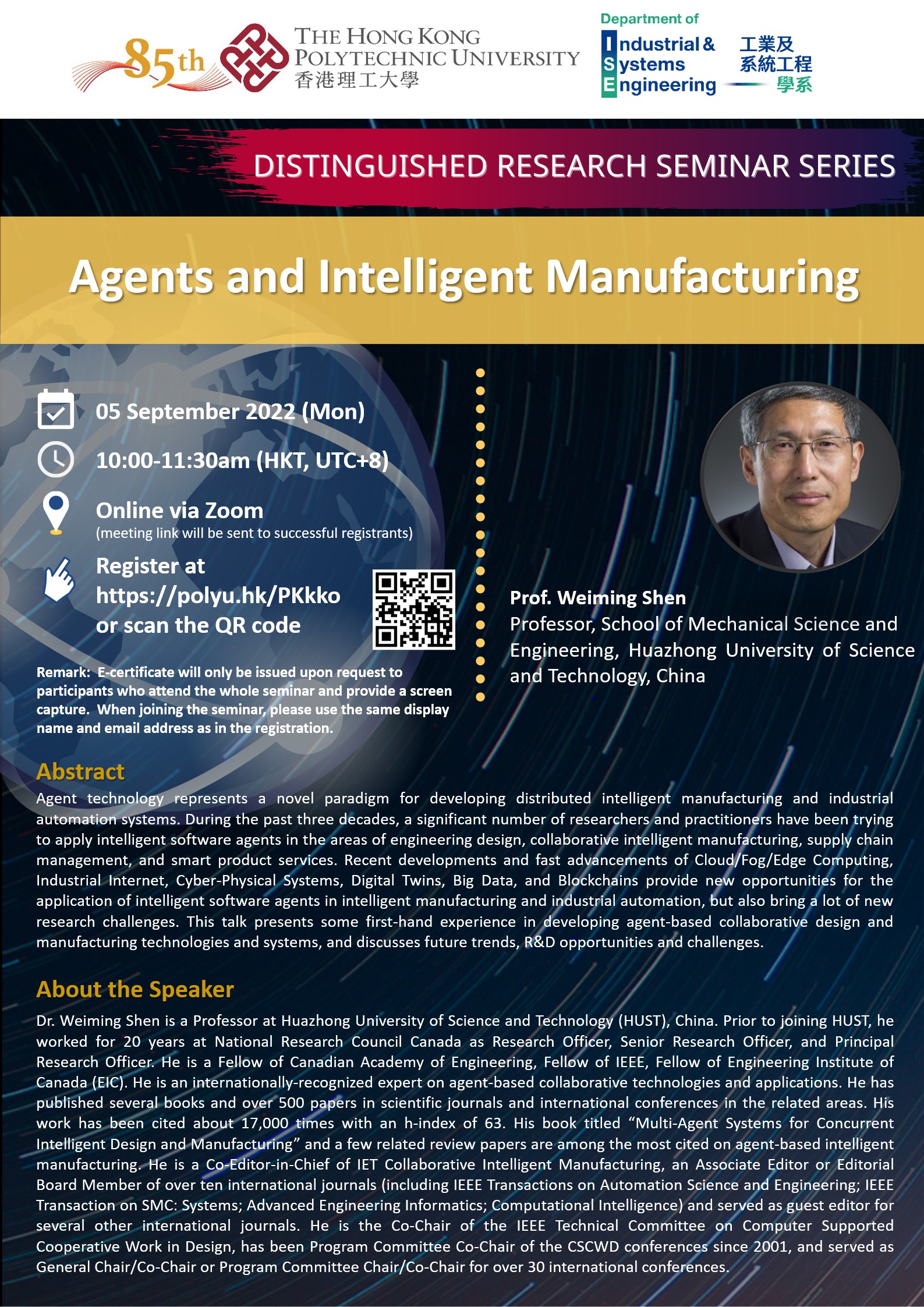 Summary
Agent technology represents a novel paradigm for developing distributed intelligent manufacturing and industrial automation systems. During the past three decades, a significant number of researchers and practitioners have been trying to apply intelligent software agents in the areas of engineering design, collaborative intelligent manufacturing, supply chain management, and smart product services. Recent developments and fast advancements of Cloud/Fog/Edge Computing, Industrial Internet, Cyber-Physical Systems, Digital Twins, Big Data, and Blockchains provide new opportunities for the application of intelligent software agents in intelligent manufacturing and industrial automation, but also bring a lot of new research challenges. This talk presents some first-hand experience in developing agent-based collaborative design and manufacturing technologies and systems, and discusses future trends, R&D opportunities and challenges.
Keynote Speaker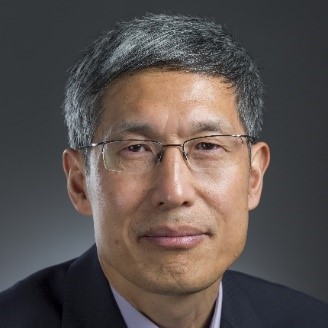 Prof. Weiming Shen
Professor, 
School of Mechanical Science and Engineering, 
Huazhong University of Science and Technology.
China
Dr. Weiming Shen is a Professor at Huazhong University of Science and Technology (HUST), China. Prior to joining HUST, he worked for 20 years at National Research Council Canada as Research Officer, Senior Research Officer, and Principal Research Officer. He is a Fellow of Canadian Academy of Engineering, Fellow of IEEE, Fellow of Engineering Institute of Canada (EIC). He is an internationally-recognized expert on agent-based collaborative technologies and applications. He has published several books and over 500 papers in scientific journals and international conferences in the related areas. His work has been cited about 17,000 times with an h-index of 63. His book titled "Multi-Agent Systems for Concurrent Intelligent Design and Manufacturing" and a few related review papers are among the most cited on agent-based intelligent manufacturing. He is a Co-Editor-in-Chief of IET Collaborative Intelligent Manufacturing, an Associate Editor or Editorial Board Member of over ten international journals (including IEEE Transactions on Automation Science and Engineering; IEEE Transaction on SMC: Systems; Advanced Engineering Informatics; Computational Intelligence) and served as guest editor for several other international journals. He is the Co-Chair of the IEEE Technical Committee on Computer Supported Cooperative Work in Design, has been Program Committee Co-Chair of the CSCWD conferences since 2001, and served as General Chair/Co-Chair or Program Committee Chair/Co-Chair for over 30 international conferences.