Machine Learning-based Urban Short-term Traffic State Predictions
Distinguished Research Seminar Series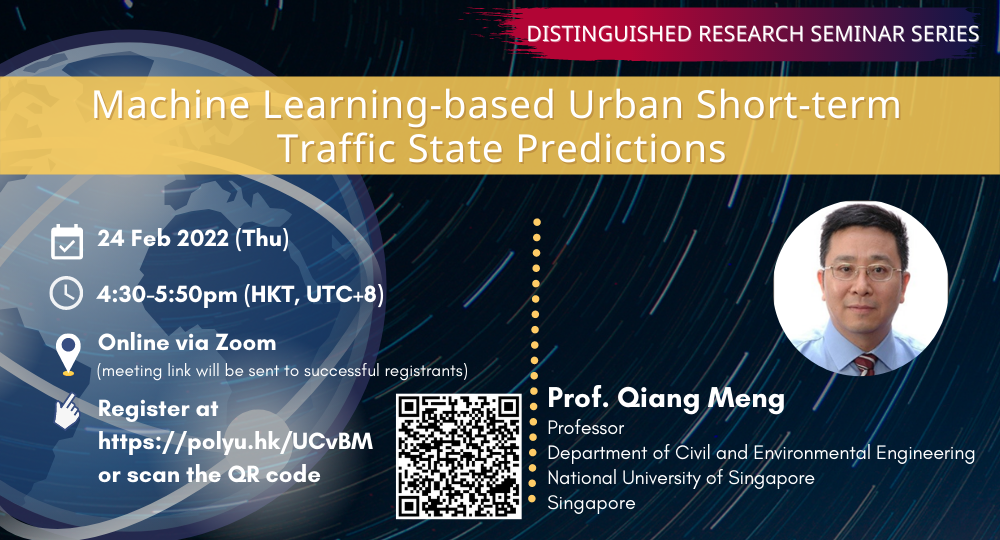 Organiser

Department of Industrial and Systems Engineering, PolyU
Remarks
Meeting link will be sent to successful registrants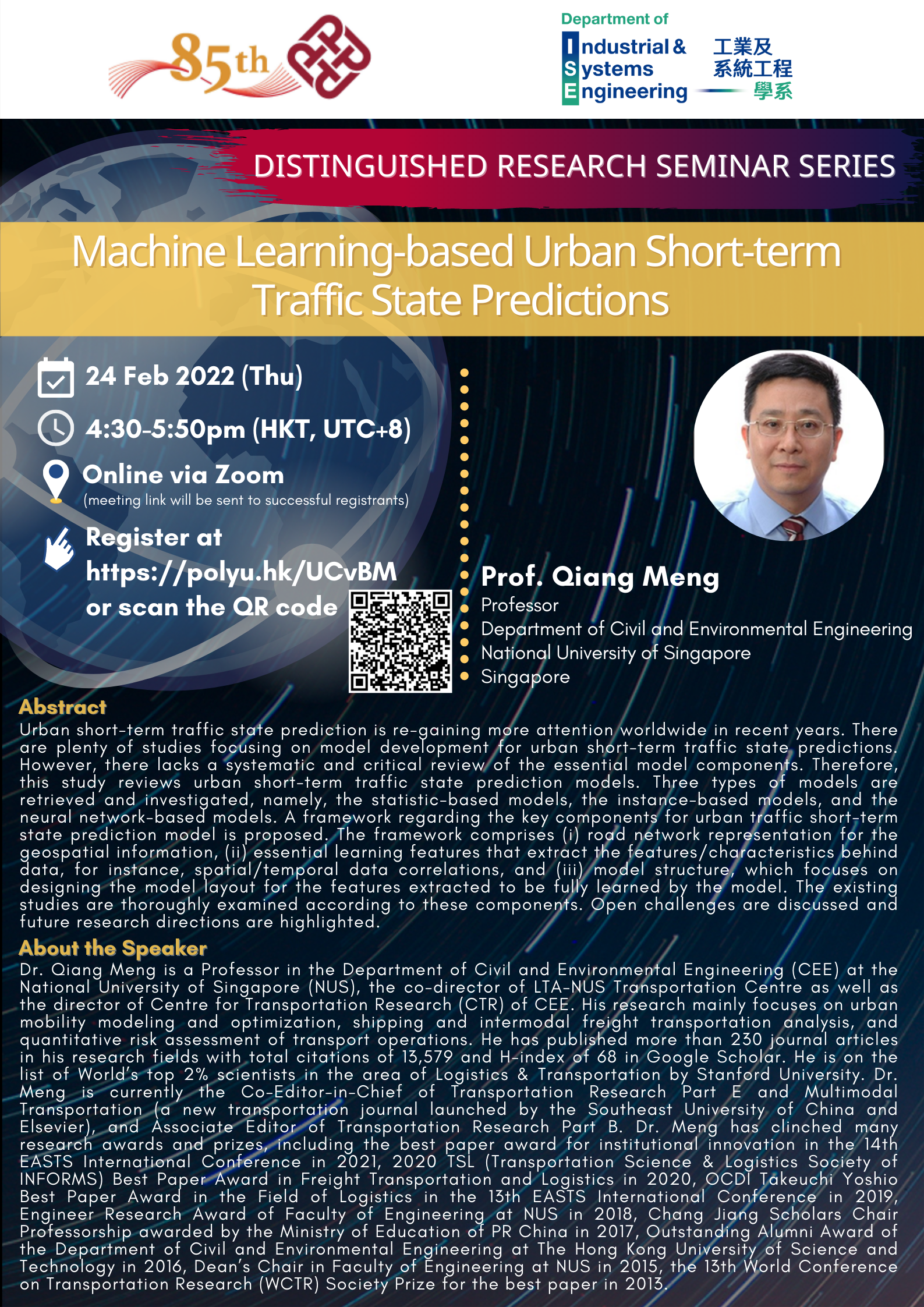 Summary
Urban short-term traffic state prediction is re-gaining more attention worldwide in recent years. There are plenty of studies focusing on model development for urban short-term traffic state predictions. However, there lacks a systematic and critical review of the essential model components. Therefore, this study reviews urban short-term traffic state prediction models. Three types of models are retrieved and investigated, namely, the statistic-based models, the instance-based models, and the neural network-based models. A framework regarding the key components for urban traffic short-term state prediction model is proposed. The framework comprises (i) road network representation for the geospatial information, (ii) essential learning features that extract the features/characteristics behind data, for instance, spatial/temporal data correlations, and (iii) model structure, which focuses on designing the model layout for the features extracted to be fully learned by the model. The existing studies are thoroughly examined according to these components. Open challenges are discussed and future research directions are highlighted.
Keynote Speaker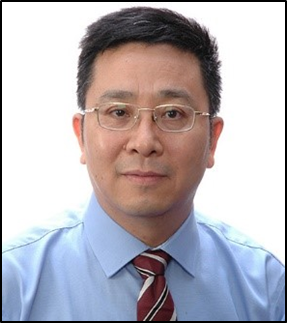 Prof. Qiang Meng
Professor
Department of Civil and Environmental Engineering 
National University of Singapore, Singapore

Dr. Qiang Meng is a Professor in the Department of Civil and Environmental Engineering (CEE) at the National University of Singapore (NUS), the co-director of LTA-NUS Transportation Centre as well as the director of Centre for Transportation Research (CTR) of CEE. His research mainly focuses on urban mobility modeling and optimization, shipping and intermodal freight transportation analysis, and quantitative risk assessment of transport operations. He has published more than 230 journal articles in his research fields with total citations of 13,579 and H-index of 68 in Google Scholar. He is on the list of World's top 2% scientists in the area of Logistics & Transportation by Stanford University. Dr. Meng is currently the Co-Editor-in-Chief of Transportation Research Part E and Multimodal Transportation (a new transportation journal launched by the Southeast University of China and Elsevier), and Associate Editor of Transportation Research Part B. Dr. Meng has clinched many research awards and prizes, including the best paper award for institutional innovation in the 14th EASTS International Conference in 2021, 2020 TSL (Transportation Science & Logistics Society of INFORMS) Best Paper Award in Freight Transportation and Logistics in 2020, OCDI Takeuchi Yoshio Best Paper Award in the Field of Logistics in the 13th EASTS International Conference in 2019, Engineer Research Award of Faculty of Engineering at NUS in 2018, Chang Jiang Scholars Chair Professorship awarded by the Ministry of Education of PR China in 2017, Outstanding Alumni Award of the Department of Civil and Environmental Engineering at The Hong Kong University of Science and Technology in 2016, Dean's Chair in Faculty of Engineering at NUS in 2015, the 13th World Conference on Transportation Research (WCTR) Society Prize for the best paper in 2013.