Digital Twin-enabled Smart Manufacturing
Distinguished Research Seminar Series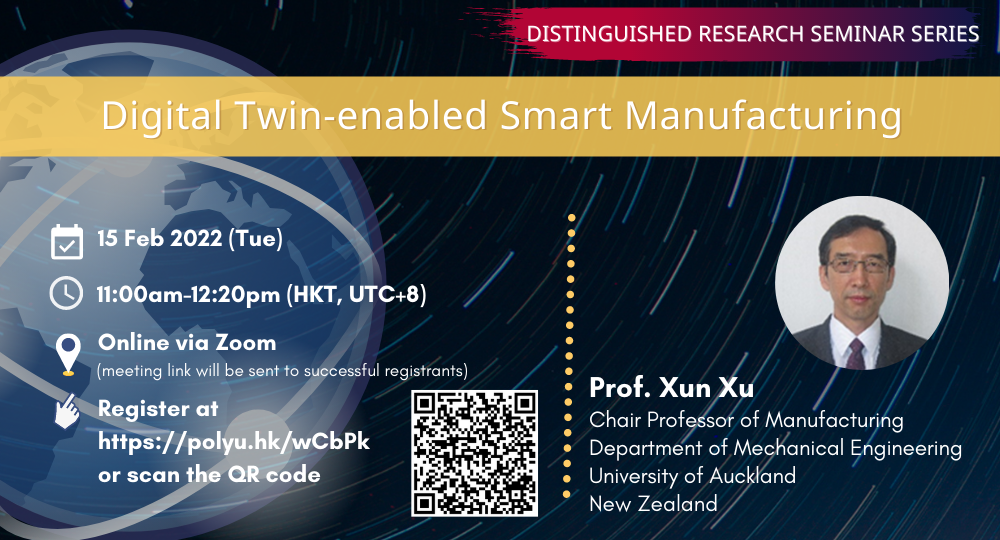 Organiser

Department of Industrial and Systems Engineering, PolyU
Remarks
Meeting link will be sent to successful registrants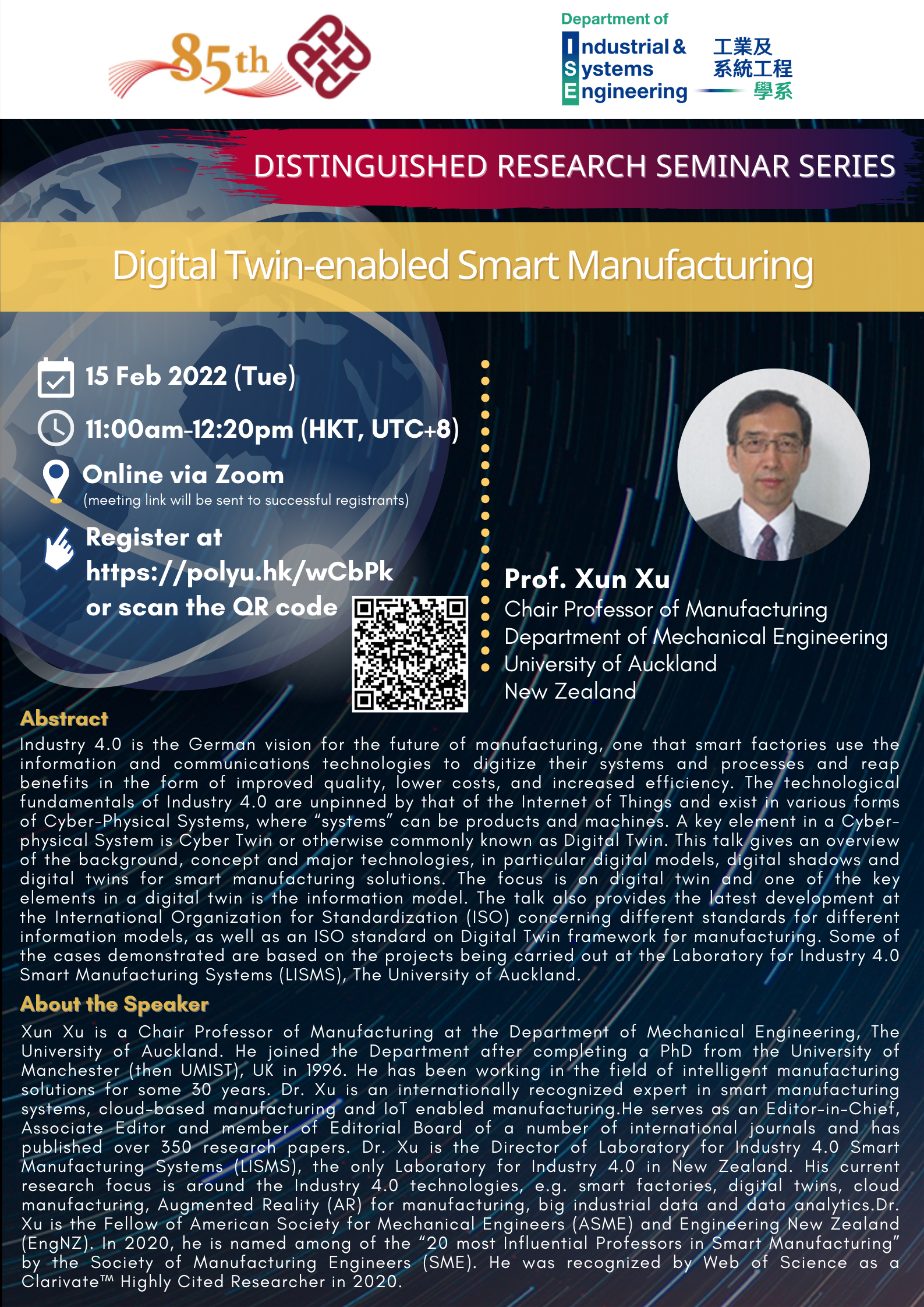 Summary
Industry 4.0 is the German vision for the future of manufacturing, one that smart factories use the information and communications technologies to digitize their systems and processes and reap benefits in the form of improved quality, lower costs, and increased efficiency. The technological fundamentals of Industry 4.0 are unpinned by that of the Internet of Things and exist in various forms of Cyber-Physical Systems, where "systems" can be products and machines. A key element in a Cyber-physical System is Cyber Twin or otherwise commonly known as Digital Twin. This talk gives an overview of the background, concept and major technologies, in particular digital models, digital shadows and digital twins for smart manufacturing solutions. The focus is on digital twin and one of the key elements in a digital twin is the information model. The talk also provides the latest development at the International Organization for Standardization (ISO) concerning different standards for different information models, as well as an ISO standard on Digital Twin framework for manufacturing. Some of the cases demonstrated are based on the projects being carried out at the Laboratory for Industry 4.0 Smart Manufacturing Systems (LISMS), The University of Auckland.
Keynote Speaker

Prof. Xun Xu
Chair Professor of Manufacturing 
Department of Mechanical Engineering 
University of Auckland, New Zealand
Xun Xu is a Chair Professor of Manufacturing at the Department of Mechanical Engineering, The University of Auckland. He joined the Department after completing a PhD from the University of Manchester (then UMIST), UK in 1996.  He has been working in the field of intelligent manufacturing solutions for some 30 years. Dr. Xu is an internationally recognized expert in smart manufacturing systems, cloud-based manufacturing and IoT enabled manufacturing.   He serves as an Editor-in-Chief, Associate Editor and member of Editorial Board of a number of international journals and has published over 350 research papers. Dr. Xu is the Director of Laboratory for Industry 4.0 Smart Manufacturing Systems (LISMS), the only Laboratory for Industry 4.0 in New Zealand. His current research focus is around the Industry 4.0 technologies, e.g. smart factories, digital twins, cloud manufacturing, Augmented Reality (AR) for manufacturing, big industrial data and data analytics.  Dr. Xu is the Fellow of American Society for Mechanical Engineers (ASME) and Engineering New Zealand (EngNZ). In 2020, he is named among of the "20 most Influential Professors in Smart Manufacturing" by the Society of Manufacturing Engineers (SME). He was recognized by Web of Science as a Clarivate™ Highly Cited Researcher in 2020.