Additive Manufacturing of Multiple Material and Functionally Graded Components via Laser Powder Bed Fusion
Distinguished Research Seminar Series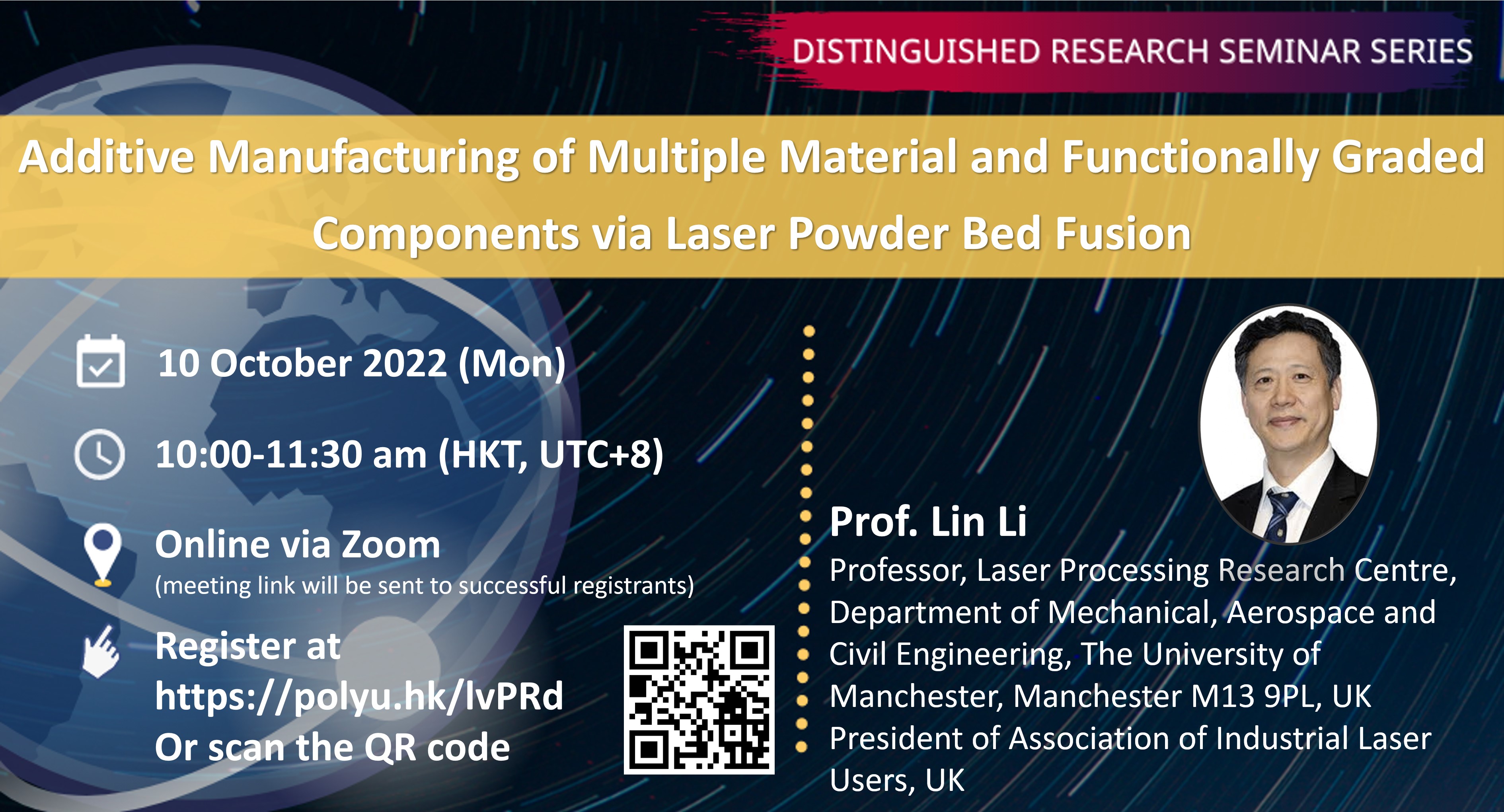 Organiser

Department of Industrial and Systems Engineering, PolyU; State Key Laboratory of Ultra-precision Machining Technology (SKL-UPMT)
Remarks
Meeting link will be sent to successful registrants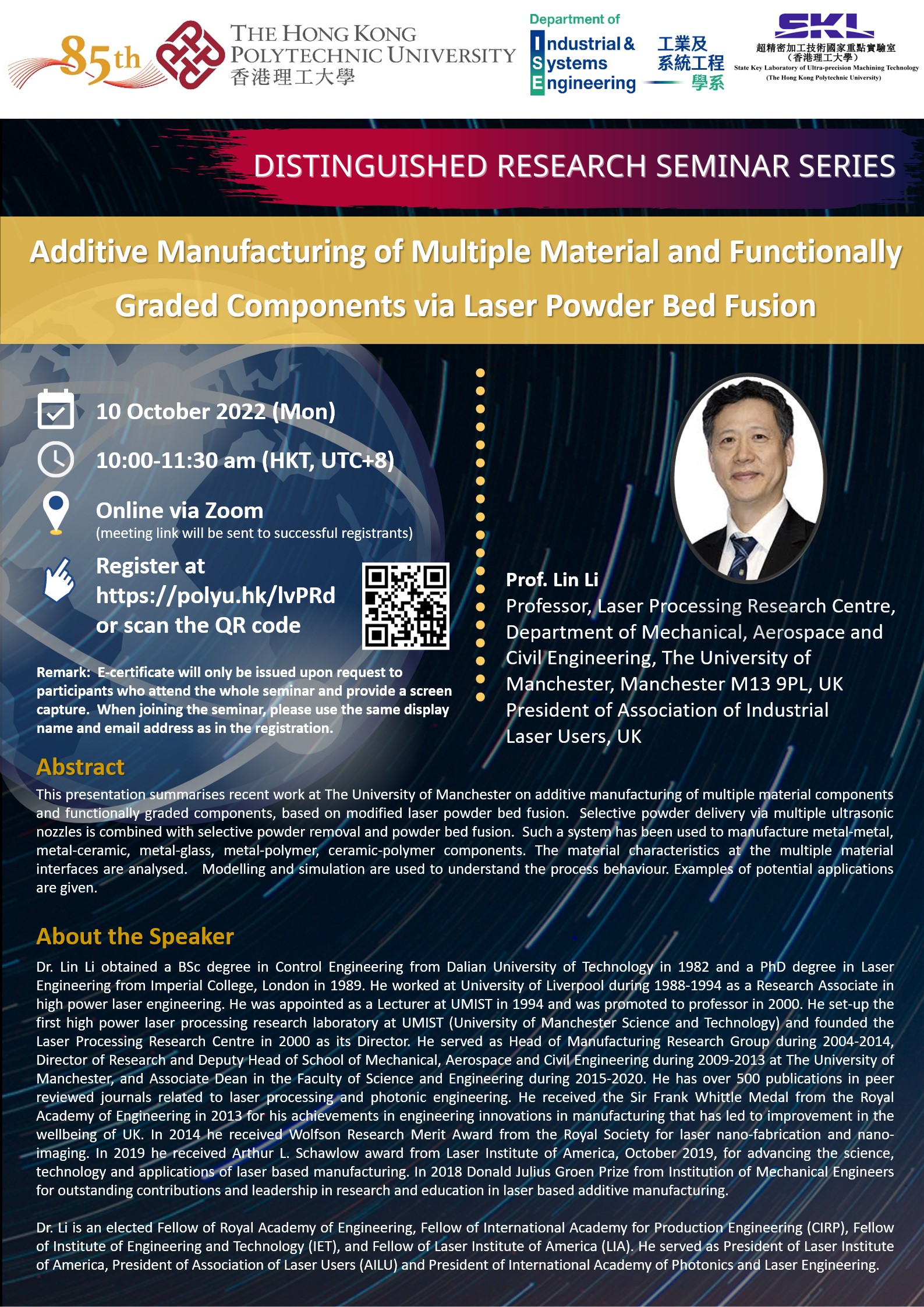 Summary
This presentation summarises recent work at The University of Manchester on additive manufacturing of multiple material components and functionally graded components, based on modified laser powder bed fusion. Selective powder delivery via multiple ultrasonic nozzles is combined with selective powder removal and powder bed fusion. Such a system has been used to manufacture metal-metal, metal-ceramic, metal-glass, metal-polymer, ceramic-polymer components. The material characteristics at the multiple material interfaces are analysed. Modelling and simulation are used to understand the process behaviour. Examples of potential applications are given.
Keynote Speaker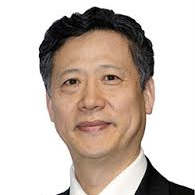 Prof. Lin Li
Professor, Laser Processing Research Centre, 
Department of Mechanical, Aerospace and Civil Engineering, The University of Manchester, 
Manchester M13 9PL, UK
President of Association of Industrial Laser Users, UK
Dr. Lin Li obtained a BSc degree in Control Engineering from Dalian University of Technology in 1982 and a PhD degree in Laser Engineering from Imperial College, London in 1989. He worked at University of Liverpool during 1988-1994 as a Research Associate in high power laser engineering. He was appointed as a Lecturer at UMIST in 1994 and was promoted to professor in 2000. He set-up the first high power laser processing research laboratory at UMIST (University of Manchester Science and Technology) and founded the Laser Processing Research Centre in 2000 as its Director. He served as Head of Manufacturing Research Group during 2004-2014, Director of Research and Deputy Head of School of Mechanical, Aerospace and Civil Engineering during 2009-2013 at The University of Manchester, and Associate Dean in the Faculty of Science and Engineering during 2015-2020. He has over 500 publications in peer reviewed journals related to laser processing and photonic engineering. He received the Sir Frank Whittle Medal from the Royal Academy of Engineering in 2013 for his achievements in engineering innovations in manufacturing that has led to improvement in the wellbeing of UK. In 2014 he received Wolfson Research Merit Award from the Royal Society for laser nano-fabrication and nano-imaging. In 2019 he received Arthur L. Schawlow award from Laser Institute of America, October 2019, for advancing the science, technology and applications of laser based manufacturing. In 2018 Donald Julius Groen Prize from Institution of Mechanical Engineers for outstanding contributions and leadership in research and education in laser based additive manufacturing.
Dr. Li is an elected Fellow of Royal Academy of Engineering, Fellow of International Academy for Production Engineering (CIRP), Fellow of Institute of Engineering and Technology (IET), and Fellow of Laser Institute of America (LIA). He served as President of Laser Institute of America, President of Association of Laser Users (AILU) and President of International Academy of Photonics and Laser Engineering.