December 2009 – Volume 10 Issue 5
CONFERENCES/SEMINARS/WORKSHOPS
Professor Chon attended the General Assembly of the UNWTO on 5-7 October. Held in Astana, Kazakhstan, the meeting was attended by delegates from 114 countries. In addition to participating in the General Assembly, Professor Chon attended the Education Council meeting of the UNWTO. During his time in Kazakhstan, Professor Chon was able to visit the Kazakhstan Institute for Management and Economic Research (KIMEP), a highly regarded management school located in Almaty that is often referred to as the "Harvard of Central Asia". He met with the President of the Institute and the Dean of the Business School to discuss the SHTM's involvement in establishing a new hotel and tourism management programme at the KIMEP.
Dr Karin Weber attended a conference on Tourism Destination Development and Branding in Eilat, Israel, from 14 to 17 October. Organised by Ben-Gurion University, the conference attracted more than 100 delegates. Dr Weber moderated a session on "Small Scale Destination Imaging and Branding", at which she gave a presentation entitled "Tourist Destination Image and Perceptual Gaps: A Comparison of Syria and Jordan".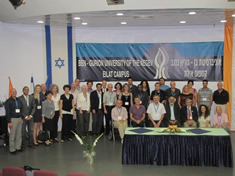 Professor Haiyan Song was an officiating guest at the 10th Anniversary and Development Forum of the City College of Zhejiang University, at which he gave the opening remarks on "The Demand for Tourism Professionals and Education of Tourism Institutes". Held on 18 October, the Forum was organised by the City College of Zhejiang University, Hangzhou, China.
The SHTM coordinated with the Hong Kong Hotel Controllers and Accountants Association (HCAA) to host workshops on "Budgeting in Challenging Time" and "Crisis Management and Cost Control" on 22 and 29 October. Designed to provide a platform for HCAA members to interact on strategies to address today's challenging business environment, the workshops were convened by Professor Cathy Hsu and Dr Henry Tsai, and Dr David Jones and Dr Wilco Chan, respectively.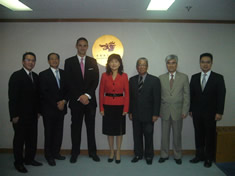 Dr Barry Mak attended the 2009 International Symposium on Religion, Culture and Wetland Tourism held at the National University of Tainan, Taiwan, on 24-25 October. He presented a paper entitled "The Future Development of Dapeng Bay National Scenic Area with Reference to Hong Kong Coastal Tourism Experience".
Dr John Ap presented a seminar on "Managing Customer Experience in Tourist Attractions" for students of the Faculty of International Tourism at the Macau University of Science and Technology on 6 November. Dr Ap also delivered a guest lecture entitled "Understanding the Asian Mindset" on 16 November to a group of postgraduate students at the University of Nevada, Las Vegas, as well as to a group of MBA students of the De Paul University led by Dr Roger Baran who visited SHTM on 9 December.
At the invitation of the Hong Kong Pei Hua Education Foundation, the SHTM and the China Business Centre (CBC) organised a training programme for a group of 37 delegates on 12-19 November. Most of the delegates came from tourism associations, tourism bureaus, travel agencies and educational institutions in western China. In addition to academic staff from the SHTM, speakers included government officials from the Hong Kong Tourism Commission, representatives of the Hong Kong Tourism Board, an environmentalist and a professional congress organiser, amongst others. SHTM staff spoke on the following topics:
Professor Haiyan Song: "The Development Trend of the Hotel and Tourism Industry"
Professor Cathy Hsu: "Strategies on Hotel Brand Management"
Professor Bob McKercher: "New Development of Cultural Tourism"
Professor Amy Chan: "Development, Management and Services of International MICE Industry"
Dr Henry Tsai "Finance and Risk Management"
Mr Raymond Kwong: "Table Etiquette"
The SHTM co-organised the 3rd UNWTO/PATA Forum on Tourism Trends and Outlook, which was held in Guilin, China, on 15-17 November. Professor Kaye Chon gave opening remarks at the opening ceremony. Professor Haiyan Song spoke at the plenary session and his topic was "Impacts of Economic Crisis on Tourism in Asia". Dr Thomas Bauer presented a paper on the topic "Climate Change and the Challenges of the Green Economy".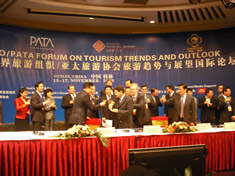 Professor Haiyan Song officiated at the 2009 International Wellness Tourism Summit Forum organised by the International Tourism Studies Association and held in Wuyi, China, on 18-19 November. He also spoke in the panel session on "The Outlook of the Organic Tea Ecological Wellness Industry". Dr Vincent Heung gave a keynote presentation on the topic "Medicial Tourism: A Conceptual Model".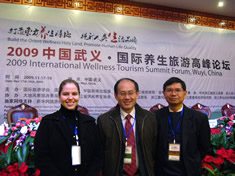 Dr Thomas Bauer was an invited speaker of the International Conference on Saemangeum and Environment held by the Ministry of Environment of South Korea on 19-20 November. His presentation topic was "Issues in Wetland Ecotourism in Hong Kong".
Professor Kaye Chon was in Bolzano, Italy, on 20-21 November to deliver a keynote speech for the EURAC Institute for Regional Development and Local Management. He spoke about "Facing Climate Change and the Global Economic Crisis".
Co-organised by the Hospitality Sales and Marketing Association International (HSMAI) and SHTM, the Greater China Hospitality Thought Leaders Forum was held in Hong Kong on 25 November. The forum was themed "Future Issues in Sales, Marketing and Revenue Management: What Keeps You Up at Night?" The forum included a presentation of study by Dr David Jones on "Recognising the Current Global Economic Crisis, What Do You Feel are the Key Impacts It will Have on Sales, Marketing or Revenue Management in the Hospitality Industry in the Next 5 Years within the Greater China Region?" Professor Haiyan Song spoke on "Current Trends and Future Prospects of the Hospitality Industry in Asia" at the lunch presentation.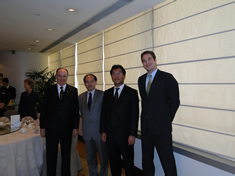 The SHTM conducted a training programme for a group of 16 tourism officials from the Zhejiang Tourism Administration from 27 November to 6 December. The programme included seven days of lectures and three days of field trips. The topics of the lectures included:
Professor Haiyan Song: "The Development of the Tourism Industry in China: Hong Kong's Contributions", "Tourism Industry Forecasting System" and "Financial Crisis and its Impact to Tourism Industry in Asia"
Professor Cathy Hsu: "Sales Strategies Management" and "Quality Service Management"
Professor Bob McKercher: "Cultural Tourism"
Professor Rob Law: "E-commerce of Hotel Industry"
Dr David Jones: "One to One Sales to the Young Generation"
Dr John Ap: "Theme Park Management (Case Studies on Ocean Park and Hong Kong Disneyland)"
Dr Alan Wong: "Team Building"
Dr Tony Tse: "Strategies on Promoting MICE Industry of Hong Kong" and "Destination Management"
Dr Mimi Li: "Integrated Development of Tourism Destination"
The SHTM and Fudan University's Centre for Forum Studies jointly held a two-day Hotel and Convention Management Seminar designed to address the key issues facing the industry and the management expertise required for the Shanghai World Expo and beyond. Held on 3-4 December in Shanghai, China, the seminar included the following presentations by SHTM staff:
Professor Cathy Hsu: "Delivering Asian Hospitality Service to Enhance Revenue"
Dr David Jones: "Managing the Hotel Sales Operation: What You Need to Know to Stay Ahead of the Competition" and "Marketing a Meeting to Gain Attendance"
The SHTM presented training lectures on "Post-trauma Rehabilitation Delegation Programme for Management" for 15 officials of the Sichuan Tourism Bureau. Held on 7-18 December, the programme was organised by PolyU's Management and Executive Development Centre (MEDC). SHTM academic staff shared their expertise in the following areas:
Professor Kaye Chon: "How Do Quality Tourism Services Affect Revenue?"
Professor Haiyan Song: "International Tourism Trend and Crisis Management"
Prof Cathy Hsu: "Strategies on Sales and Marketing of Hotel and Tourism Industry"
Professor Rob Law: "E-commerce of Tourism Industry"
Dr Alan Wong: "Team Building"
Dr Qu Xiao: "Innovation of Tourism Enterprise and Brand Development"
Dr Tony Tse: "Destination Market Management"
Dr Tony Tse gave a talk on "Hong Kong Tourism Development" to a group of 35 senior management staff from the Organisation Department of the Chongqing Municipal Committee on 16 December. This lecture was part of a two-week training programme on "Urban Planning, Construction and Management Delegation Programme", which was organised by MEDC.