December 2009 – Volume 10 Issue 5
ACHIEVEMENTS AND RECOGNITION
Ms Chloe Lau, was elected as one of the two recipients of the President's Awards for Excellence in Teaching for 2008/09. She received the award from Professor Timothy Tong, PolyU President, at a presentation ceremony held on 27 November at the Jockey Club Auditorium. In recognition of her achievement, her name will be engraved on a plaque to be displayed on campus for one year. At the same ceremony, Dr Wilco Chan and Dr Catherine Cheung received the Faculty/School Awards for Excellence in Research and Faculty/School Awards for Excellence in Service respectively.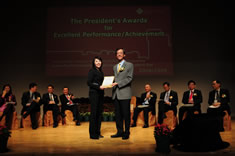 A Work-Integrated Education (WIE) Photo Competition 2009 and a Work-Integrated Education Portfolio Competition 2009 were held in October. The competitions aimed to promote learning outcomes from WIE activities and help students to record and reflect on their fruitful internship experiences. Ms Angela Chow Ka Ying, a Year Two student of the BSc in Hotel Management programme, won the Best Photo in "Learning about New Culture", and Ms Candy Chan Hei Yu and Ms Leung Kun, both Year Three students of the HD in Hotel Management programme, received Certificates of Merit. Ms Anthea Shi Leyun, a Year Three student in the BSc in Hotel Management programme, received a Certificate of Merit for the portfolio competition. The students received their awards at the WIE Trainee Welcome Home Ceremony held on 20 November.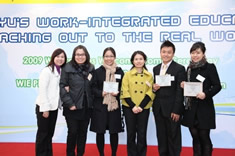 Ms Chloe Ho On Yi and Ms Sandy Hui Yuen Shan, Year Three and Year Four students in the BSc in Hotel Management programme, were selected as winners of the ICCA Scholarship 2009. They both received prizes from the ICCA and subsidies from the SHTM. The pair represented the School at the ICCA Conference held in Florence, Italy, on 7-11 November.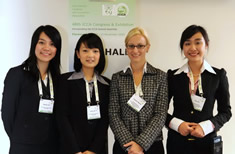 Mr Paul Penfold was announced winner of the Teaching and Learning Innovation Award by Professor Suleyman Demokan, Vice President, Academic Development, after presentations by four finalists on 16 October. The award acknowledges Mr Penfold's work promoting e-Learning and blended learning at PolyU, which includes the development of practical, user-friendly and sustainable technology-enhanced learning tools and activities that add value to learning and teaching within the SHTM and university.