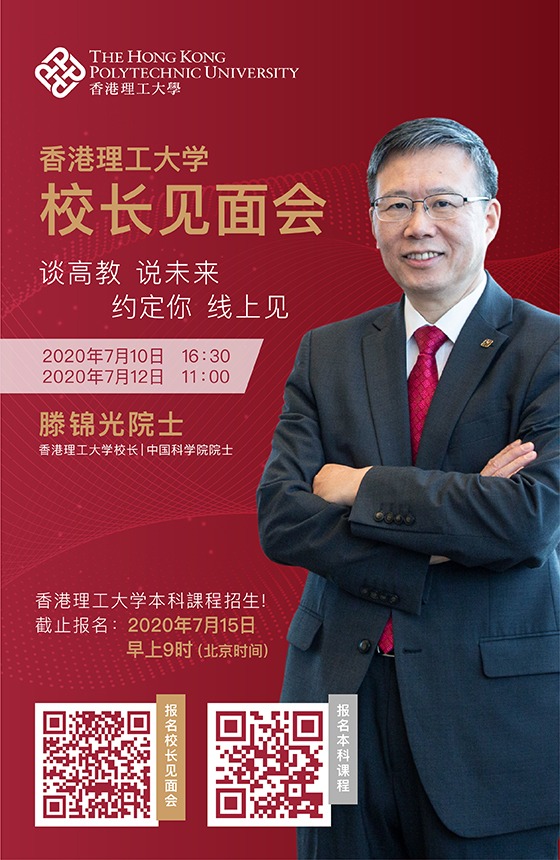 2020年7月10日 及7月12日
校长见面会
2020年7月10日下午4时半
2020年7月12日上午11时半

2020年7月9至11日
八大学院 在线讲堂
理大将于7月9至11日一连三日举办「在线学堂」, 八大学院教授们将跟大家谈谈人工智能、大数据、人工光合作用、创新设计领导力、改善儿童近视的创新技术、生物力学与人体健康、旅游需求之决定因素及数据分析视角审视话语, 每个课题都相堂精采, 课堂后将有招生信息, 介绍理大的特色教育及课程、入读要求及招生流程等, 高中同学及家长们切勿错过!
16 JUN 2020
PolyU Virtual Open House
Tue - Wed, June 16 - 17, 2020 at 3PM – 5:45PM
Thur, June 18, 2020 at 3PM – 6:45PM
PolyU will organise a 3-day virtual open house for prospective students. All eight faculties and schools will participate in this online event to bring you the latest programme information and offer requirements.
Due to the COVID-19 outbreak, the application deadline has been extended to 30 June 2020. Departments will consider applications on a rolling basis.
Webinar Schedule
| | | | |
| --- | --- | --- | --- |
| GMT+8 | 16 Jun (Tue) | 17 Jun (Wed) | 18 Jun (Thu) |
| 1500–1545 | PolyU Overview and admissions | Faculty of Engineering | Faculty of Health and Social Sciences |
| 1600–1645 | School of Design | Faculty of Humanities | Faculty of Applied Science and Textiles |
| 1700–1745 | Faculty of Construction and Environment | School of Hotel and Tourism Management | Faculty of Business |
| 1800–1845 | - | - | Student sharing |
Register to listen to various talks, receive exclusive live content, feel what it is like to study at PolyU, and discover the right option for you.
If you have a specific question about admissions, simply contact us.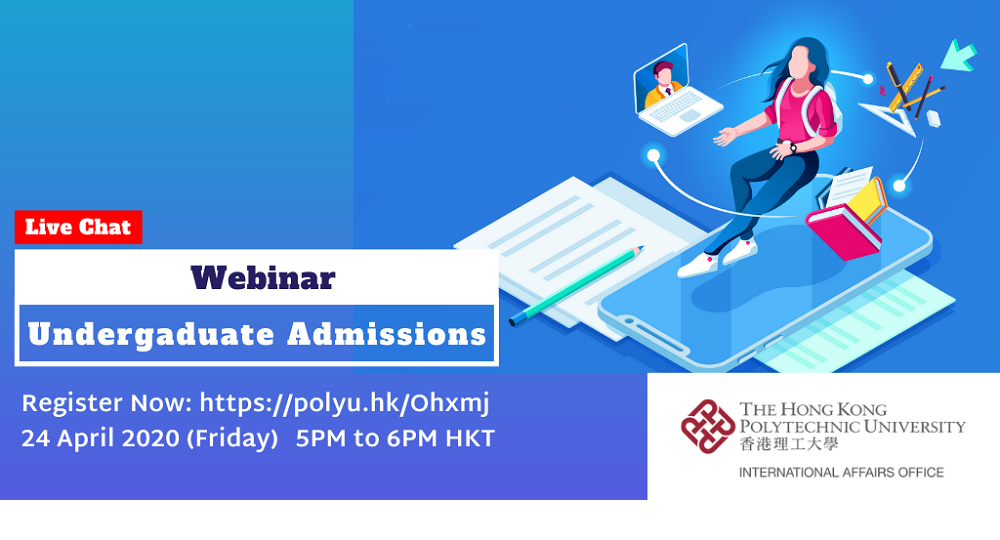 24 APR 2020
Admissions Webinar
Friday, April 24, 2020 at 5PM – 6PM
Don't miss this opportunity to listen to your peers, who have a lot of experience in PolyU, Hong Kong, internships and clubs and societies, being an international students and much more!
Here is the rundown of the webinar:
Latest update of Hong Kong
PolyU Overview, Programmes and Out-of-class Enrichments
Admission Details (Fall 2020 applications are still accepted)
Scholarship and Expenses
Student Sharing
Q&A
Registration link: https://polyu.hk/Ohxmj
PolyU Admission Portal for 2020 entry: https://polyu.hk/RXMur
List of Programmes: https://polyu.hk/SGBZA
Question? Drop us an email or let us know via any social media of GEO.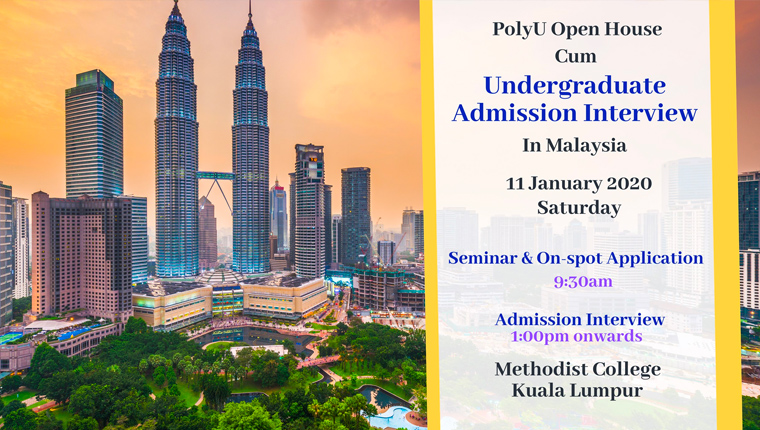 11 JAN 2020
PolyU Open House cum Undergraduate Admission Interview, Malaysia
Saturday, January 11, 2020 at 9:30 AM – 5:30 PM
PolyU is coming to Malaysia in January! We are going to host an information seminar and undergraduate admission interview in Kuala Lumpur with faculties to meet prospective students who are seeking university entry in 2020 or beyond.
Ir Professor Ben Young, Vice-President (Student Affairs) of PolyU will be there meet and greet. This is a great opportunity for you to:


1. Have a better understanding of PolyU and our programmes

2. Meet our professors, admission officers, student recruitment representatives and current students in person

3. Receive an on-the-spot admission offer with a renewable entry scholarship of up to HKD190,000 per annum upon the interview assessment


Tell your families and friends to secure a place for 11 January 2020. Submit your registration by 28 December 2019 to guarantee an onsite interview.


Registration link:
https://polyu.hk/CwyBf
PolyU Admission Portal for 2020 entry:
https://polyu.hk/RXMur
List of Programmes:
https://polyu.hk/SGBZA
Photo credit: Shutterstock
Methodist College Kuala Lumpur, Methodist College KL, 50470 Kuala Lumpur, Malaysia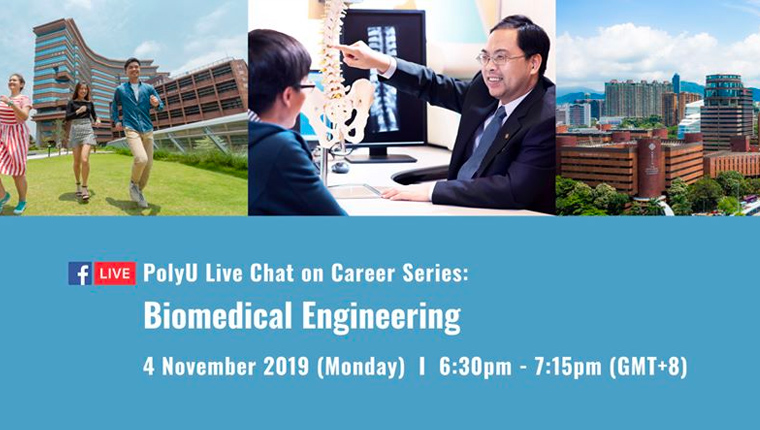 04 NOV 2019
PolyU Live Chat on Career Series: Biomedical Engineering
Monday, November 4, 2019 at 6:30 PM – 7:15 PM
"To learn and to apply, for the benefit of mankind"
Biomedical engineering is recognized around the world as one of the fastest-growing areas of innovation.
Department of Biomedical Engineering (BME) at PolyU offers a programme covering diverse disciplines within biology, medicine, and engineering, including medical imaging, biosensing, molecular and cellular engineering, neuromusculoskeletal science, prosthetics and orthotics, and rehabilitation.
Wanna know more about the career prospects in the healthcare service industry? Join our Live Chat on 4 November (Monday).
Representatives from BME will share information about the programme highlight, as well as the career opportunities in the industry. The live will be conducted in English.
Let us know your questions at
international.study@polyu.edu.hk
Global Engagement Office, ST305, 3/F, Ng Wing Hong Building, PolyU 
2766 5116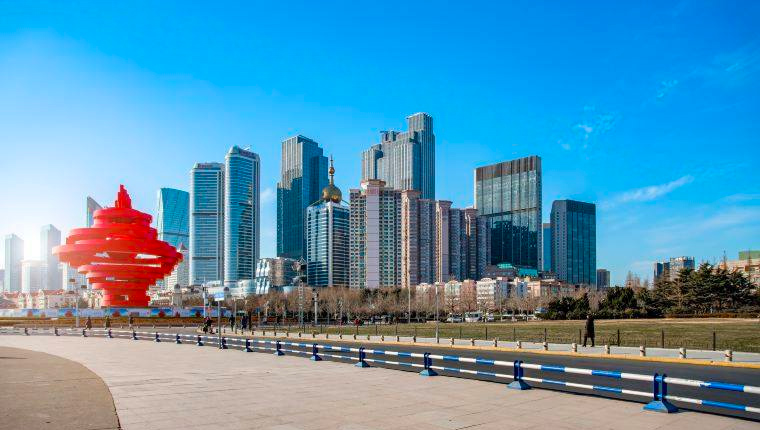 03 NOV 2019
Meet Us In Your City - An Evening Session in Qingdao, China
Sunday, November 3, 2019 at 5 PM – 6:30 PM
Have you had a plan to study abroad in Hong Kong in the coming future? It's time to plan ahead! We're hosting a consultation session in Qingdao, China to bring you the latest updates on Hong Kong Education System, what PolyU offers to undergraduate students, as well as admissions details.

Take this chance to meet our global engagement team from PolyU!

Register: https://polyu.hk/msPtb

Any questions? Email us at international.study@polyu.edu.hk

Photo credit: Trip.com
Qingdao Crowne Plaza, 76 Xianggang M. Rd., Qingdao, Shandong