Chinese National Engineering Research Centres (Hong Kong Branches)

Research Centres (Hong Kong Branches)

The Chinese National Engineering Research Centre for Steel Construction (Hong Kong Branch) is established to promote sustainable infrastructure development through effective use of constructional steel materials and modern technology in structural engineering. The core objectives of the CNERC are:
To establish a high level technological platform to enable effective design and construction of modern building and civil engineering structures to promote sustainable infrastructure development in Hong Kong.
To advance technological capabilities of the Hong Kong Construction Industry in design and construction of super high-rise buildings, longspan bridges and buildings of large enclosure using high performance materials in Hong Kong and overseas.
The CNERC for Steel Construction (Hong Kong Branch) promotes technological developments and internationalization of the steel construction industry in both Hong Kong and China. It is actively engaged with international as well as national exchanges in research and development of steel construction.
Major Work Themes
Work Theme A: Sustainable Infrastructure Development
To address potential durability problems of the infrastructures in Hong Kong, the CNERC will investigate various controlling mechanisms in corrosion in both reinforced concrete structures and exposed structural steelwork, particularly with respect to the following two research areas:
Atmospheric corrosivity of exposed structural steelwork under local environments in Hong Kong
Localized corrosion in galvanized steel reinforcements in reinforced concrete structures
The CNERC will develop design recommendations suitable for implementation in Hong Kong, which will be of paramount importance for durability assessment of existing structures as well as durability design of new structures in Hong Kong and in neighbouring cities in the Pearl River Delta Region.
Work Theme B: Structural Engineering on Modern Steel Construction
To promote sustainable infrastructure development for construction projects in Hong Kong as well as overseas, the CNERC will formulate effective use of high performance constructional materials, in particular, of high strength steel materials produced in China. The following four research areas will be addressed:
Effective use of high performance steel materials – Q690 to Q960
Application of high performance steel materials Q690 to Q960 in building and civil engineering structures
International practices on engineering design and management
International visibility of Chinese Steel Construction Industry
By conducting various research and development projects, the CNERC will compile design recommendations for application of high strength steel materials in Hong Kong and beyond. This will facilitate the export of steel materials and structural steelwork to overseas construction projects.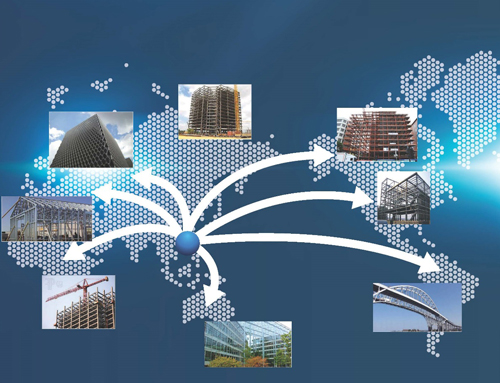 High strength steel materials promote the sustainable infrastructure development in Hong Kong, China and overseas.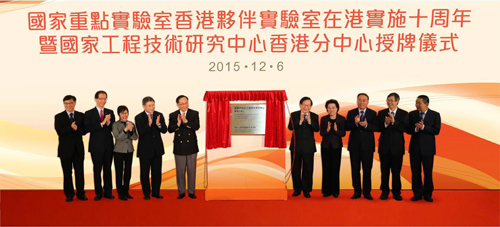 On 6th December 2015, Mr. Wan Gang, Head of Ministry of Science and Technology of the People's Republic of China, officiated the launch of CNERC at the Hong Kong Science and Technology Parks, accompanied by Mr. Nicholas W. Yang, Secretary for Innovation and Technology of the Government of the Hong Kong SAR.

The Hong Kong Branch of Chinese National Rail Transit Electrification and Automation Engineering Technology Research Center (CNERTE) was established with visions of rail technical innovation and translational research in conjunction with high speed rail (HSR) enterprises, striving for resolutions to pressing technical problems in the railway industry and advancing China's HSR.
Three research laboratories under CNERTE, namely the Research Laboratory for High Speed Rail Traction Power System and Safety Technology, the Research Laboratory for Advanced Sensing Techniques for High Speed Rail Monitoring and the Research Laboratory for Condition Monitoring and Vibration Control of High Speed Trains, have been set up and put into operation.
CNERTE is now equipped with state-of-the-art equipment and top-notch research personnel. Proactive in building collaboration with various Chinese HSR enterprises, it also actively develops an international network by inviting world renowned academics and professionals to speak at its seminars/workshops.
Specifically, CNERTE strives to contribute to the development of rail transit in China and Hong Kong as follows:
Adopt cutting-edge monitoring technologies in the operational monitoring of high speed railway system, vehicle system and traction system;
Enhance the standards of operational monitoring system in high speed railway industry;
Standardize operation of technologies;
Commercialize innovative technologies;
Increase international engagement in Chinese high speed railway development and facilitate its international exposure; and
Nurture high-calibre professionals and specialists with advanced technologies and a global vision.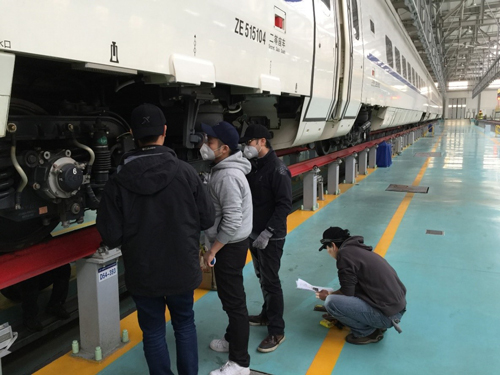 Working on China's high speed rail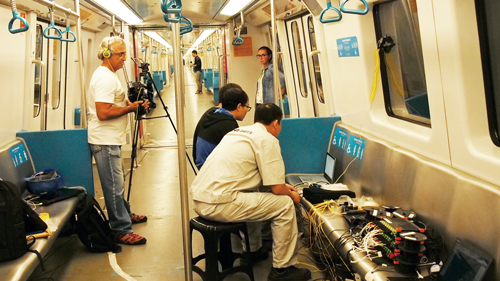 State-of-the-art equipment and top-notch research personnel