Awards and Achievements

World leading research and top world ranking
AMA strives to uphold and sustain our position as a world-leading international center of excellence in Applied Mathematics. Our excellence in Mathematics and Statistics has been well recognized through our achievement of top rankings worldwide from international university ranking agencies, as well as high success rate and funding amounts from RGC GRF/ECS grants.
According to the Research Assessment Exercise 2020, 89% of AMA's research has achieved 4- or 3- star rating i.e. 'world leading' or 'Internationally excellent' by international standards. In 2023, our research excellence has reached new heights. In addition to retaining our position among the World Top 100 in the QS World University Ranking for "Statistics and Operational Research" for six consecutive years, PolyU has proudly achieved a remarkable new high ranking of 47th place (2nd in Hong Kong) for "Best Universities for Mathematics" according to The US News & World Report 2023. Our excellence in mathematics has also been recognized by Research.com, which ranked PolyU as the 77th Best Mathematics Universities in the world and the 2nd best in China. (Source: https://research.com/university-rankings/mathematics/cn).
Moreover, AMA achieved a very satisfactory performance in the 2023/24 GRF/ECS Exercise. The no. of funded projects and funding amount awarded to the Department reaches a new high record.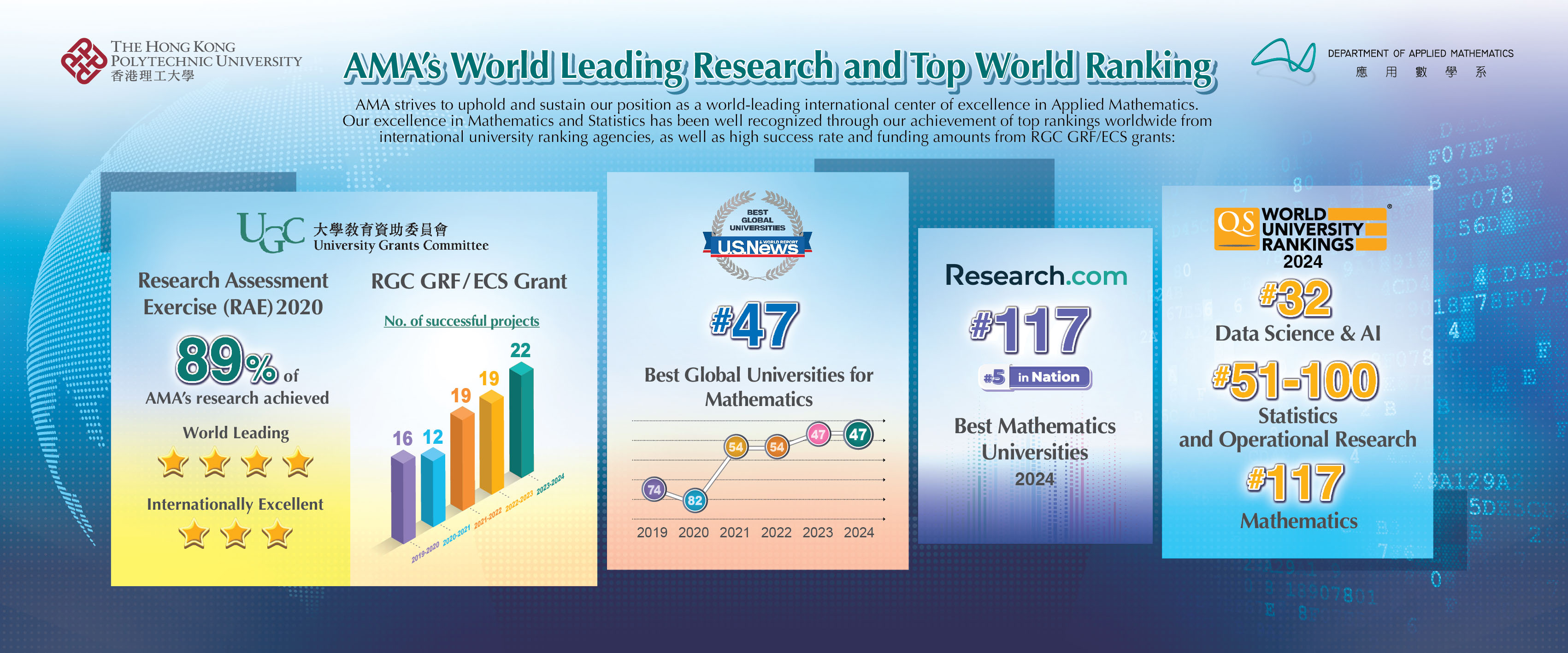 In addition to the GRF/ECS scheme, the Department has also received other grant sources:
Innovation and Technology Fund (ITF)

Health and Medical Research Fund

National Natural Science Foundation of China (NSFC)

NSFC/RGC Joint Research Scheme

AIDS Trust Fund

Germany/Hong Kong Joint Research Scheme

Industrial collaborating grant from Huawei Technologies Co. Ltd.

Industrial collaborating grant from Value Exchange International Limited

ITF-University-Industry Collaboration Programme (UICP)

PROCORE-France/Hong Kong Joint Research Scheme
Funded Teaching & Learning Project
On top of our research accomplishment, we are also proud of our effort in making significant advance in teaching. In 2017, our Teaching & Learning Team proposed a project titled "Developing Active Learning Pedagogies and Mobile Applications in University STEM Education" and won a funding from the University Grants Committee UGC Funding Scheme 2016-2019. This 3-year UGC Triennium Teaching and Learning project involved three other local universities (Hong Kong Baptist University, The Chinese University of Hong Kong, The University of Hong Kong), while our teaching team plays the leading role.
In 2020, the Team brought the technology-enabled active learning pedagogies to the secondary school mathematics education and its project "Developing Active Learning Pedagogies and Mobile Applications in Secondary School Mathematics Education" once again received funding support from the Quality Education Fund (QEF) of the Education Bureau of Hong Kong.
We are honored to patriciate and contribute to the development of research and teaching in Mathematics education and will continue to strive for further improvement.