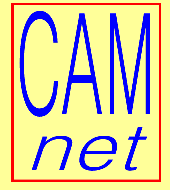 Home Page

---
What is the CAM-Net?
The CAM-Net is a system developed to serve the community of computational and applied mathematicans (CAM) and other researchers. The CAM-Net provides bi-weekly digest to its members.
Email Database

The CAM-Net's email database knows the electronic mail address of each of its members. In addition, this database serves as the distribution list for the CAM Digest (see below).

CAM Digest

The CAM-Net provides its members with the CAM-Digest, a bi-weekly collection of articles on topics related to computational and applied mathematics.

Conferences in China

This site provides a list of conferences (and the corresponding website) to be held in China.

China Society for Computational Mathematics (CSCM)
Mathematics Institutes
---
It is maintained by the Department of Mathematics, The Hong Kong Polytechnic University
For questions, please send to camowner@polyu.edu.hk .