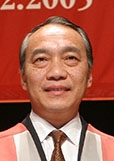 2004 University Fellow
Mr Ng Wai Hung
Mr Ng Wai Hung, 1976 graduate of Higher Certificate in Production Engineering of the then Hong Kong Polytechnic, predecessor of PolyU, is the Chairman of SAE Magnetics (H.K.) Ltd. After co-founding SAE in 1980, Mr Ng helped the company become a leading hi-tech enterprise in the worldwide data storage industry.
Apart from his professional achievements, Mr Ng contributes actively to his alma mater. He serves PolyU as Members of the University Court and the Advisory Board for the Department of Industrial and Systems Engineering, as well as a Member of the Organization Committee of Fund-raising Golf Tournament for the last two years. Under the leadership of Mr Ng, SAE has been an active patron to the University Development Fund, fulfilling its responsibilities as a corporate citizen in Hong Kong.
Mr Ng also works actively to channel cross-border cooperation between universities, institutes, and the industries in Hong Kong and the Chinese mainland. Through his professional and public services, Mr Ng has been able to help foster industrial-based collaboration among PolyU, SAE and other organizations in Hong Kong.