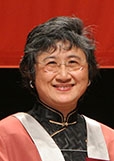 2004 University Fellow
Prof Diana Mak Ping See
Professor Diana Mak was formerly Head and Professor of PolyU's Department of Applied Social Sciences. A leading practitioner and scholar in the social work field, Professor Mak joined the then Hong Kong Polytechnic in 1978 and has actively involved in the development of the University. Professor Mak has served as a member of the University Grants Committee and the Quality Education Fund of the HKSAR.
Professor Mak upholds the critical importance of practice learning and is committed to a humanistic approach in the education of human service professionals. Specifically, she advocates the integration of social theories and professional knowledge. In order to nurture students to work ethically, she stresses the need to develop their reflective ability. The process, she believes, not only integrates theories with practice but also generates new insights to improve both arenas of knowledge.
Since 1999, she has been a member of the HKSAR's Social Welfare Advisory Committee. Under her able leadership, her department, together with some non-governmental organizations, have launched innovative projects to serve the needy. During the outbreak of SARS, Professor Mak mobilized members of the department to organize a series of anti­SARS campaign to share the workload of the medical practitioners. Upon her retirement, Professor Mak continues to serve the department as an Honorary Professor.