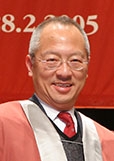 2004 University Fellow
Mr Roy Chung Chi Ping
Mr Roy Chung, Co-founder and Group Managing Director of Techtronic Industries Co. Ltd., joined the PolyU Council in 1999 and has been Deputy Chairman of the Council since 2002. He has made outstanding contributions to the industrial sector in Hong Kong and was a recipient of the Young Industrialist Award of Hong Kong in 1997. Under his leadership, Techtronic has enjoyed continuous growth since being listed on the Hong Kong Stock Exchange in 1990, and is now the world's leading supplier of home improvement products. With his core business specializing in power tools and electronic measuring products, Mr Chung is known as the "King of Power Tools".
Mr Chung is also Vice Chairman of the Federation of Hong Kong Industries, Founding Chairman of Hong Kong Electrical Appliances Manufacturers' Association, Director of Hong Kong Safety Institute Ltd and Hong Kong Standards and Testing Centre Ltd.
Mr Chung also shows great concern for community services and higher education. He is Chairman of the Executive Committee of the Hong Kong Paediatric Foundation. As a PolyU Council Member, Mr Chung is actively involved in the formulation of the University's policies and provided important support for our fundraising initiatives.