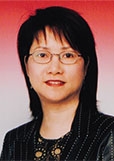 2006 University Fellow
Mrs Katherine Ngan Ng Yu Ying
An exceptionally successful industrialist, Mrs Katherine Ngan is Vice President of the May Cheong Group, one of the few local toy manufacturers with business interests ranging from product design and development to sales and marketing. After successfully establishing its own brand, the Group now enjoys a significant share of the international toy market. Mrs Ngan's vision and achievements in promoting locally designed products on the international stage have won her many honours, including the Hong Kong Young Industrialist Award and the Enterprise Trophy of the Hong Kong Business Awards.
An ardent supporter of The Hong Kong Polytechnic University, Mrs Ngan has a deep commitment to education and social services. During her term as a Member of the University Council from 2001 to 2007, PolyU has greatly benefited from her valuable advice and staunch support. Mrs Ngan has also been instrumental in forging fruitful links between the University and industry in her capacity as a Member of the Steering Committee of PolyU's Institute for Enterprise.
Over the years, Mrs Ngan has held several public offices, including Members of the HKSAR Government's Commission on Economic Development and Economic Co-operation with the Mainland and Commission on Strategic Development, Member of the Small and Medium Enterprises Committee, Member of the Promotion and Advocacy Committee of the Hong Kong Brand Development Council, Member of the Steering Group on the Promotion of Innovation and Design of the Innovation and Technology Commission, Vice President of the Toys Manufacturers' Association of Hong Kong, Vice President of the Hong Kong Young Industrialists Council, Council Member of the Vocational Training Council and Honorary President of the Hong Kong Federation of Women.