CREDIT REQUIRED
A minimum of 60 credits plus 3 training credits
PROGRAMME INTAKE
12 senior year places
FUND TYPE
Government-Funded
The curriculum of this programme, including the credit requirements, is subject to review.
Students not meeting the equivalent standard of the Undergraduate Degree Language Communication Requirement (LCR) will be required to take the default LCR replacement subjects.
Application Deadline
Non-JUPAS Local Senior Year Admissions
2024-02-06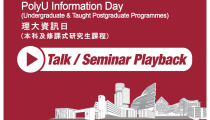 Talk / Seminar Playback is now ready
About Programme
Specific Notes
How to Apply
Aims & Characteristics
Programme Aims 
To train language and knowledge professionals for our knowledge-rich and highly connected world with a special focus on biliteracy and trilingual proficiency; 

To endow our graduates with highly sophisticated communication skills, especially cultural and domain sensitivity in intercultural and corporate communication; inter-personal skills and empathy in face-to-face communication as well as over digital media; and the technological knowhow to master current and future new media; 

To equip our graduates with a general knowledge of the underlying concepts and profession-specific literacy and skills requirements in linguistics, speech sciences, translation and interpreting, and corporate communication; and 

To equip our graduates with competence in handling data analytics for language content, and the ability to extract and distil relevant trends and information from big linguistic data to meet the needs of society.
Programme Characteristics
Leveraging the combined strengths of linguistics and translation to create a synergy of theories, applications and professional training; and 

Capitalising on advanced information and communication technologies (ICT) to prepare language professionals for digital applications across a wide range of language-related professions (e.g. machine translation/interpreting, automatic tools for text and speech processing).  
Medium of Instruction
* Putonghua by default; Cantonese only used in Elective Subjects on the Cantonese language 
Recognition & Prospects
Career Prospects
With their strong language proficiency and competence in technology, BALT graduates can pursue careers in various professions, local and overseas, including but not limited to the following: 
Linguistic research

Speech sciences+

Translation/interpreting

Administration and management

Education

Corporate communication

Language data analysis

Digital/social media content creation and editing

Social/cultural analysis

Editing and publishing

Civil service

Marketing and sales
+ Postgraduate study such as the Master of Speech Therapy in CBS or other recognised programmes must be pursued to become a registered speech therapist in Hong Kong. 
Curriculum
The curriculum of this programme, including the credit requirements, is subject to review.
Applicants with AD/HD qualifications are admitted to the senior year of the four-year degree programme. They must complete the following general university requirements, compulsory subjects and the required number of elective subjects to fulfil the credit requirements for graduation.
The total credits requirement for BALT is 60 academic credits plus 3 training credits. The exact credits required for each AD/HD holder depends on the credits transferred.
The following tables show the composition of the curriculum:
(1) General University Requirements (GUR)
The 9 credits of GUR are distributed as follows:
 
Area and Credit Requirement
Curriculum Requirement

A

 

Cluster-Area Requirements (CAR) [6 credits]

3 credits from CAR (M) "Chinese History and Culture" 
3 credits from a specially-designed CAR (A) "Human Nature, Relations and Development" – English language with English Reading and Writing Requirements​​
Students are required to fulfil the English and Chinese Reading & Writing Requirements

B
Service Learning [3 credits]

Students can register any service learning subjects offered by CBS or other departments of the University.

C

General Education​​

[Non-credit-bearing]

4 Essential Components of General Education E-modules​​:

Academic Integrity
Artificial Intelligence and Data Analytics
Innovation and Entrepreneurship​​
National Education

D
Language and Communication Requirements (LCR)

Having met the equivalent standard of the Undergraduate Degree Language and Communication Requirements (LCR) (Note 1)
Note 1:   Students not meeting the equivalent standard of the Undergraduate Degree LCR will be required to take the default LCR replacement subjects for BALT students, including ENGL2000, ENGL2001 and CBS2901. 
 
(2) Discipline Specific Requirements (DSR)
In addition to accumulating a minimum of 9 GUR credits, students need to complete at least 51 DSR credits plus 3 training credits for WIE to be eligible for the 'Major in Linguistics and Translation' qualification. Specifically, students are expected to accumulate: 
30 compulsory academic credits and 3 compulsory training credits by completing 8 subjects + WIE offered by CBS (or CBS compulsory credits) and 1 subject offered by ENGL;
at least 21 elective academic credits by completing 7 elective subjects offered by CBS (or CBS elective credits). 
No
Subject Title
Credits
Compulsory Subjects (30 Credits + 3 Training Credits)
1
CBS2400 Work Integrated Education (WIE)
3 (Training Credits)
2
CBS2904 Academic and Technical Chinese Writing
3
3
CBS2905 Introduction to Modern Chinese
3
4
CBS3802 Introduction to Interpreting
3
5
CBS3843 Translation for Corporate Communication
3
6
CBS3949 Sounds and Sound Systems of Language
3
7
CBS4701 Project in Language Studies
6
8
CBS4801 Translation Studies
3
9
CBS4902 Comparative and Contrastive Studies of Chinese and English Grammar
3
10
ENGL2003 English for Advanced Academic Writing
3
Elective Subjects (21 credits by completing 7 elective subjects offered by CBS)

Translation

1
CBS3446 Corporate Communication: Theory and Practice
3
2
CBS3842 Consecutive Interpreting
3
3
CBS3844 Translation for the Media in the Digital Age
3
4
CBS3845 Translation and Technology
3
5
CBS4446 Intercultural Communication in Corporate Context
3
6
CBS4840 Translation for Science and Technology
3
7
CBS4841 Translation for Legal Work
3
8
CBS4843 Simultaneous Interpreting
3
9
CBS4844 Machine Aided Translation
3
10
CBS4845 Literary Translation
3
11
CBS4846 Translation Criticism
3
 

Linguistics

12
CBS3947 Programming and Data Analysis for Language Studies
3
13
CBS3948 Semantics: Meaning in Language
3
14
CBS3950 Pragmatics: Language in Use
3
15
CBS4943 Language and Society
3
16
CBS4956 Varieties of Chinese
3
17
CBS4957 Cantonese Linguistics
3
18
CBS4958 Fundamentals of Computational Linguistics
3
19
CBS4959 Syntax
3
20
CBS4960 Phonetics and Phonology
3
21
CBS4962 Corpus and Language Technology for Language Studies
3
 

Elective Subjects in Speech Sciences offered by BALSS(CBS)

22
CBS3402 Psycholinguistics
3
23
CBS3404 Language, Cognition and Brain
3
24
CBS3408 Language Acquisition
3
25
CBS4945 Analysis of Language Samples: Clinical Implications
3
26
CBS4949 Child Communication Disorders and Special Education Needs
3
27
CBS4950 Communication Disorders Across the Life Span
3
28
CBS4952 Language and Speech Production: Anatomical and Physiological Perspectives
3
29
CBS4953 Techniques in Language Sciences
3
30
CBS4954 Statistics for Language Studies
3
The above subject list is subject to revision. Offering of subjects is subject to the availability of teaching staff and viable enrolment number. The Department has the discretion on the offering semester and class quota, which is limited by classroom capacity.
Credit Required for Graduation
A minimum of 60 credits plus 3 training credits
Scheme/Programme Leader(s)
Programme Leader
Dr LIU Kanglong 
PhD, MA, BA 
Deputy Programme Leader
Dr WU Wing Li 
PhD, MPhil, MA, BA 
Subject Area
Linguistics and Translation
Entrance Requirements
A Higher Diploma or an Associate Degree from a recognised institution in a relevant discipline such as Chinese language, bilingual communication, translation, interpreting, art and other related fields.
 

Applicants' academic results and interview performance will both be taken into account during the admissions process.
 

Shortlisted applicants will be invited to attend interviews to evaluate their potential for admission to the programme and to examine their bilingual communication skills and interest in the field of study. 
Enquiries
For further programme information, please contact:
The General Office (tel.: 2766 7454; email: cbs.enquiry@polyu.edu.hk).
Additional Documents Required
Interview Arrangement
Aims
To evaluate the potential of applicants for admission to the programme by assessing their translation competency and bilingual communication skills.  
Date of Interview
Between December and August
Duration
About 10 minutes for interview
Medium
English and Putonghua
Mode
Individual interview via Zoom, with possible written test
Remarks
Shortlisted applicants will be invited to interviews. Conditional offers may also directly be granted to those applicants with excellent academic performance in their Associate Degree or Higher Diploma studies.