Vision Screening
Learning through Providing Eye Care and Vision Health to the Community
(Subject Code: SO2S01)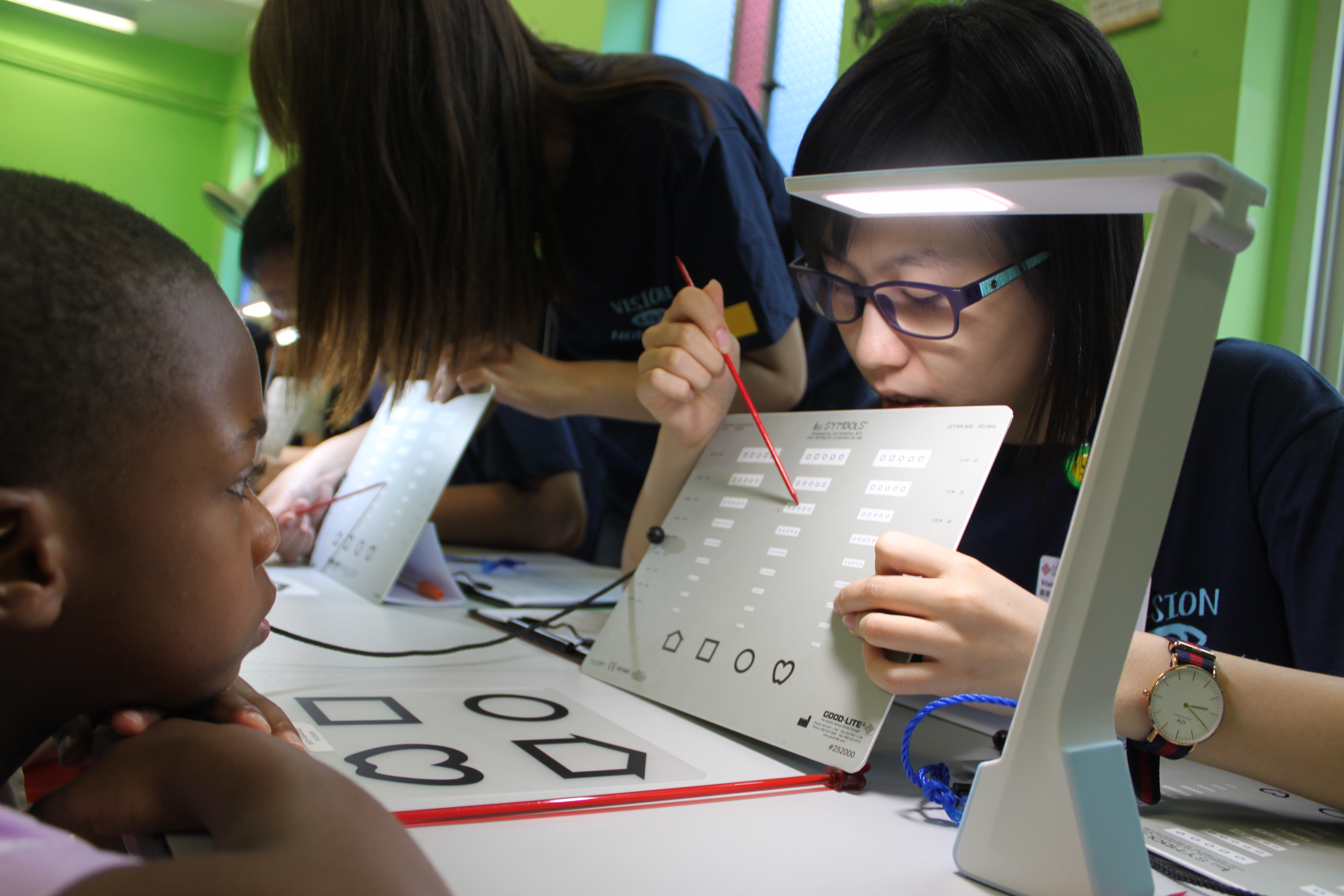 In January 2014, the School of Optometry, The Hong Kong Polytechnic University introduced a new subject "Learning through Providing Eye Care and Vision Health to the Community" that is open to all PolyU students, with an annual intake quota of 360 students. The launch of this General University Requirements (GUR) service-learning subject aims to raise students' awareness of health care issues and nurture their sense of social responsibility. Through the provision of community vision screenings and eye care activities, we facilitate students from different disciplines to apply what they have learned in the classroom and to work towards a common goal of blindness prevention in the community.
This subject is related to "Vision Hong Kong", an intraprofessional charity project of the School of Optometry developed in collaboration with the optometry profession and the optical industry to respond to vision care needs in our community.
Eye diseases and visual disorders span all age groups and contribute to major public health problems in our community. According to the World Health Organization estimates the number of blind people worldwide will double by 2020. The aim of this service learning subject is to engage Polytechnic University students across all disciplines to involve in direct activities to benefit identified under-privileged communities, with the hope that we can help in the prevention of global blindness. Through this introductory-level course, students will gain increased awareness of this major public health issue, learn to appreciate specific strategies in its prevention and control, and to provide active outreach services to help minimize this growing strain on our economic and health care systems.

In this subject, we aim to integrate community services with students' learning opportunities. Students of other discipline will be given an opportunity to work in groups with optometry students and to organize and implement a vision screening project by themselves under the supervision of optometrists. By means of this subject, they can act as community service providers, as well as (care), work and communicate with various disciplines to bring together knowledge they have acquired during their university studies, and then share and apply their special interests with others. The project not only benefits service users, but also provides a very structured environment for students to gain experience working with a number of people in different levels of the community and to better understand societal needs, especially in this major public health concern of blindness prevention. This is in-line with PolyU's motto "To learn and to apply, for the benefit of mankind".
Over the years, SO and its Optometry students have collaborated with various non-governmental organizations and charitable bodies, and there is a continual stream of requests for our community services from past partnerships, including schools and nursing homes. Our target beneficiaries are people who have difficulty accessing vision and eye health care services, including but not limited to the elderly, schoolchildren (especially kindergarten and primary school students), new immigrants, low-income families, refugees, members of ethnic minorities, as well as those with physical or mental disabilities in Hong Kong, Mainland China and other overseas countries.
Bo Charity Foundation
Caritas Hong Kong
China Care Fund
Christian Action
CNEC
Esquel Y.L. Yang Education Foundation
Evangelize China Fellowship
Hong Kong Civic Association
Hong Kong Federation of Handicapped Youth
Hong Kong Sheng Kung Hui
Hong Kong St. John Ambulance
Hong Kong Young Women's Christian Association
Ka Ling School Of The Precious Blood
Methodist Epworth Village Community Centre
Po Leung Kuk
Rotary Club of HK Island West Hong Chi Morninghope School
Shamshuipo Kaifong Welfare Association Primary School
Sik Sik Yuen
Special Olympics Hong Kong
St. James' Settlement
The Hong Kong Jockey Club
The Hong Kong Polytechnic University
The Hong Kong Society for the Aged
The Spastics Association of Hong Kong
Tsim Sha Tsui District Kaifong Welfare Association
Tung Wah Group of Hospitals
Urban Renewal Authority
Wai Ji Christian Service
Yan Chai Hospital
An Giang University (Vietnam)
Hoa Sen University (Vietnam)
Ministry of Education of the People's Republic of China (Mainland China)
Sichuan University - The Hong Kong Polytechnic University Institute for Disaster Management and Reconstruction (Mainland China)