[MHRC Research Symposium] Digital Technologies in Mental Health Care: New Findings and Lessons from Clinical Research
Conference / Lecture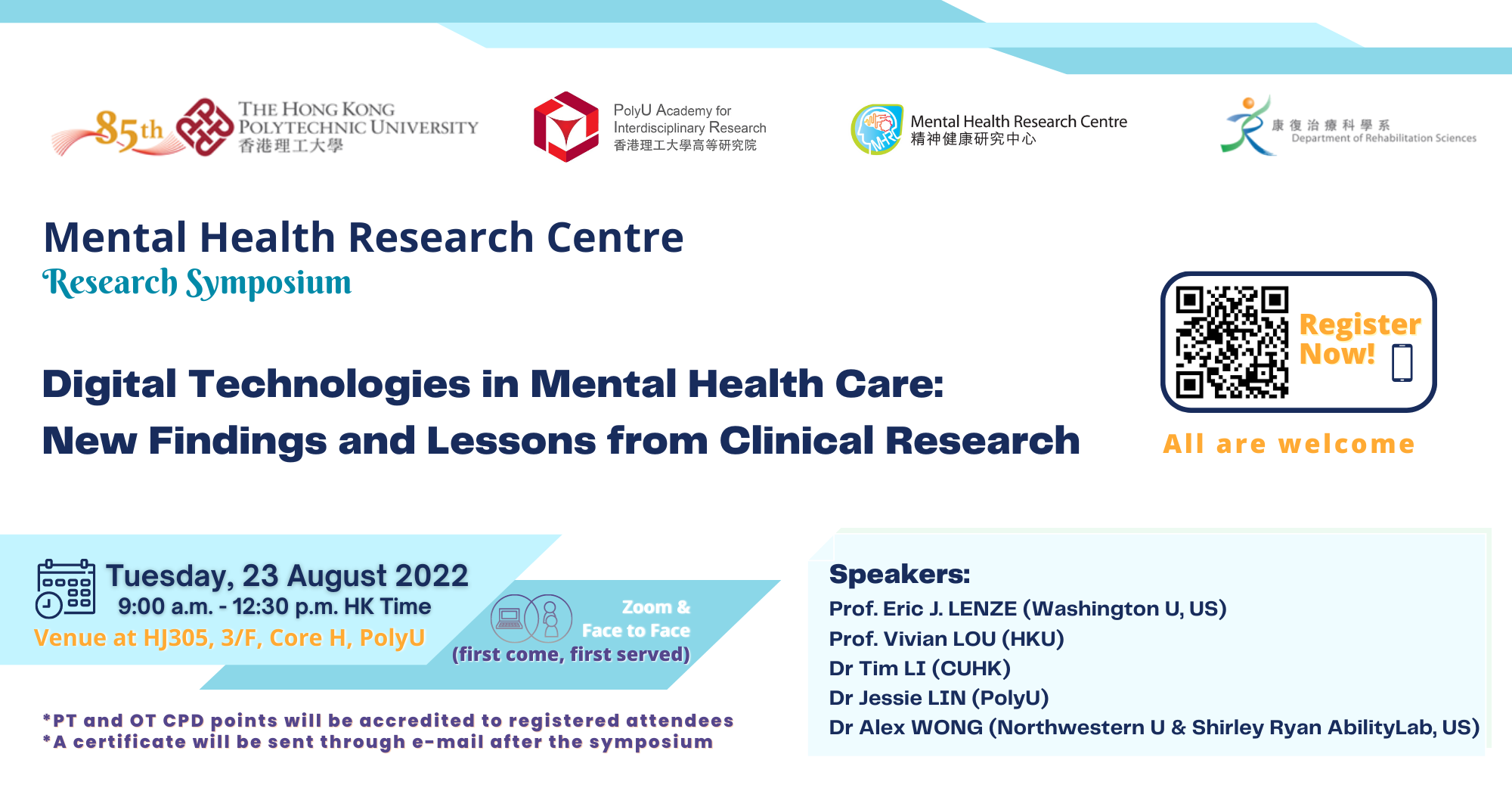 Organiser

Mental Health Research Centre (MHRC), Department of Rehabilitation Sciences and PolyU Academy for Interdisciplinary Research (PAIR)

Venue

Hybrid Mode: HJ305, 3/F, Core H, PolyU & Online via Zoom
Remarks
Registration starts at 8:45 a.m.
Summary
Enjoy free admission, all are welcome.

*First come, first serve basis.
*The seats are limited. If the seats are full, online links will be provided.
*PT and OT CPD points will be accredited to registered attendees.
*A certificate will be sent through e-mail after the symposium.

 

Abstract

Digital technologies have the potential for radical changes in service delivery and the development of new treatments. Healthcare providers around the world are adopting and adapting digital solutions to current challenges such as long waiting times for access to interventions to improve psychological interventions in engaging and tailored ways, and offer new therapeutic contexts in which core psychological processes can be targeted in real time with instant feedback. The COVID-19 pandemic led many countries to develop rapid and flexible approaches to allow the expansion of, and reimbursement for, visits for telemental health. Nevertheless, research on digital health interventions in mental health is still in its developing stage. Preliminary findings suggest great potential. However, collaboration between the research and clinical communities is needed to develop and adapt digital technologies that can improve access to psychological support, service user engagement and treatment outcomes. In this symposium, recent findings of clinical importance from comprehensive research projects on the implementation, acceptance and effectiveness of digital technologies in the treatment of mental disorders will be presented.