---
The Outstanding Alumni Award aims to give public recognition to outstanding graduates for their professional achievements and significant contributions to the community and their alma mater. We are pleased to announce the following awardees of the Outstanding Alumni Award of PolyU Department of Logistics and Maritime Studies 2023 for their remarkable achievements.
Mr Huang Yang - Outstanding Young Alumni Award in Professional Achievement 2023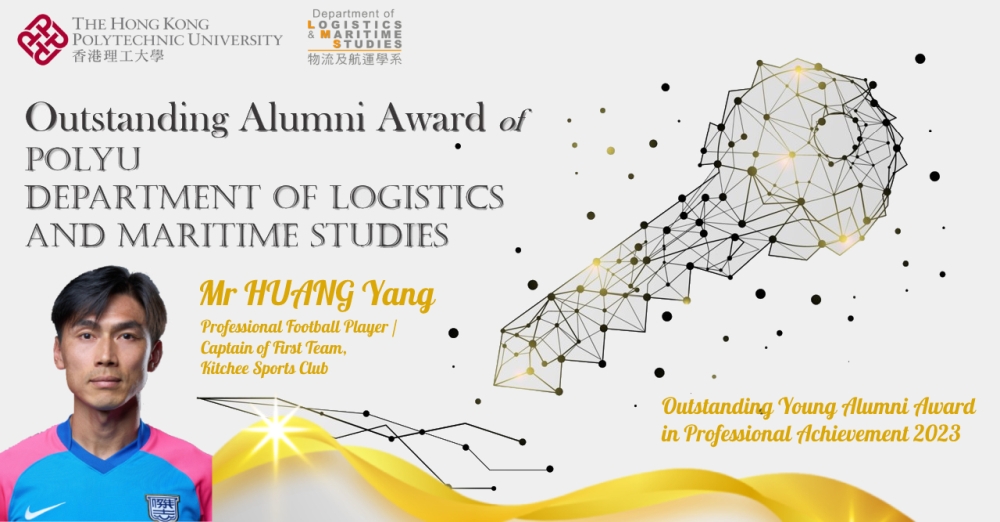 Mr Huang Yang has won 25 championship trophies for the club in his 12 years career as a captain of the Kitchee Football Team and the Hong Kong Football Representative team.
Aside from that, he also won the Hong Kong Footballer of the Year award in 2013 and four times won the Best Eleven award.
Mr Huang Yang has played 68 matches for the Hong Kong Representative Team so far and has led the team to the historic moment in 2023 Asian Cup Final since Hong Kong had not participated in the competition for 56 years.
Mr Law Lap Keung - Outstanding Alumni Award in Professional Achievement 2023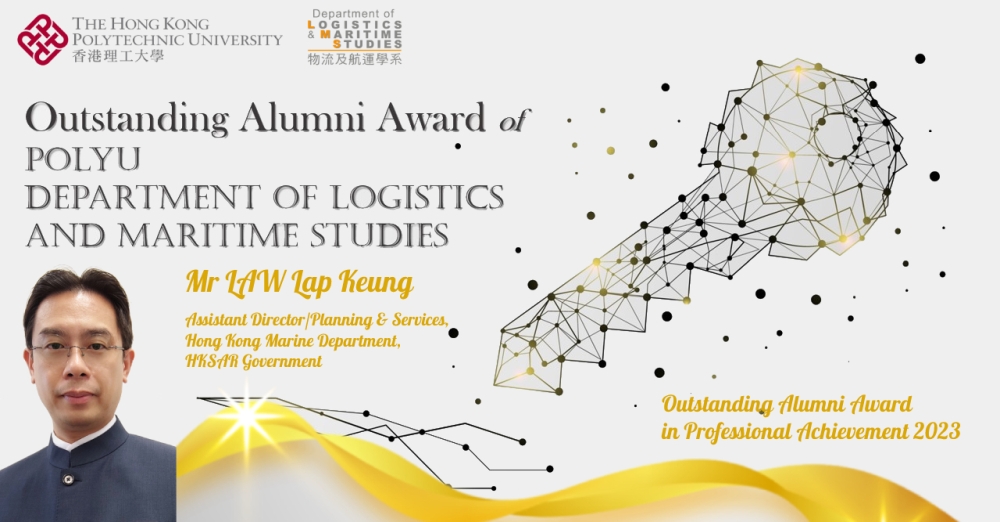 After graduating in 1998, our alumnus Mr Law Lapkeung joined Orient Overseas Container Line Co., Ltd. and worked his way up from a deck cadet to obtaining the qualification of Master Mariner in ten years. Driven by a passion for public service, sustainable port and shipping development, and contributing to the country, Mr Law made the decision to join the Marine Department. Over the next 15 years, he was promoted from a Marine Officer to an Assistant Director, where he oversaw numerous large-scale projects and port operations and formulated several new plans for port optimization, personnel training, and further education.
During the pandemic period, Mr Law closely monitored the movement of various waterways, coordinated the operation of various ports, and oversaw epidemic prevention measures and the supply of materials at various terminals. Thanks to his efforts, Hong Kong was able to resume the supply of daily necessities such as vegetables and meat in a short period of time.
Currently, Mr Law is still working on various aspects of port facilities, safety, and management, which involves people, machines, materials, and laws of all parties, ultimately aiming for sustainable development of the maritime industry.
Mr Law has a deep connection to PolyU and has returned to his alma mater several times to help promote our department and participate in events aimed at explaining opportunities for joining the shipping industry. He hopes that all students of this department will excel in the shipping industry after graduation and create a better future and life.
---